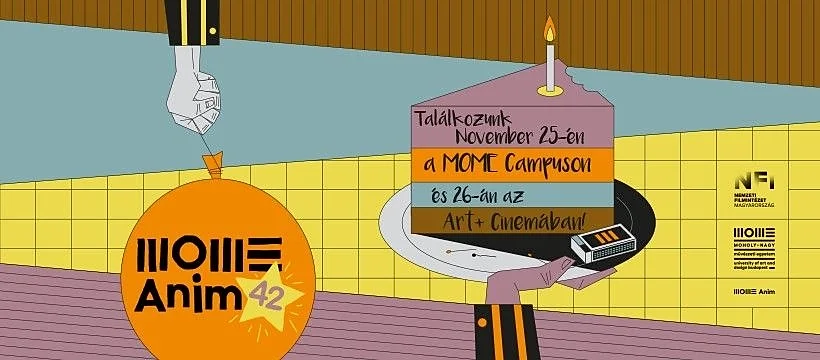 MOME Anim turned 42 - Hungary's most successful animation training is celebrating with professional events and screenings
The MOME Anim programme of Moholy-Nagy University of Art and Design is celebrating its 42th anniversary with a 2-day public event, including professional activities, screenings and the legendary Grafix fair.
The milestone 40th anniversary event was cancelled due to the pandemic, and so Hungary's most successful animation programme had to wait to get to the age of 42 to be able to celebrate in style.
Taking place on Friday, 25 November, it will feature professional events, Hungarian and international presenters, roundtable discussions, master courses and international professional portfolio reviews. After the opening speech of Rector and animation director József Fülöp, a talk will be delivered by British animation director Joseph Wallace, giving an insight into the behind-the-scenes secrets of the production of his 17-minute-long animation short Salvation Has No Name, followed by a presentation by British producer Erika Forzy entitled Talent management and animation. The Zeitgeist roundtable discussion will be moderated by Anna Ida Orosz and feature Edit Bleier, Géza M. Tóth, Áron Gauder, Bella Szederkényi, and Éva Darabos. It will cover generational subjects defining MOME animation and the added cultural values of animation, more specifically the journey taken by the programme over the 42 years of its history and how it became one of the most popular trainings in Hungary and a definitive animation workshop in the international scene. There will be a Creative good practices for artists master course, followed by a portfolio review open to current and former students of MOME Anim, and involving the professionals from the programme, among others.
On Saturday, 26 November, an intriguing film will be screened at Art+ Cinema. Prominent figures of Hungarian art scene and public life, including Ida Orosz Anna, Róbert Puzsér, Orsolya Benkő, Gábor Csupó, and Zita Sárvári acted as curators of the event and put together the programme to bring us a selection of old and new, with the latest diploma films screening in the evening. The event would not be complete without Grafix, the usual fair of the MOME Anim students, selling zines, stickers and illustrations by former and current students.
All events of the two-day programme are free of charge. You can register itt for the professional day.
Free tickets will be shortly available on the Art+ Cinema website.
MORE INFORMATION
Web Anim.mome.hu
FB https://www.facebook.com/MOMEAnim
Insta https://www.instagram.com/momeanim/
More news
A vehicle developed jointly by MOME and the John von Neumann University can revolutionise urban freight delivery: Moholy-Nagy University of Art and Design (MOME) unveiled a hydrogen and solar-powered vehicle at the climate summit in Dubai. The prototype of three-wheeled, multifunctional transport vehicle, developed through the collaboration of the two universities, was first showcased to the public on 1 December at the UN COP28 climate summit, and was sent to Dubai straight from the developers' workshop.
The 17th Moholy-Nagy Award was presented by József Fülöp to film director, screenwriter, and professor emeritus of the Department of Film, Television and Digital Media of the University of California Los Angeles (UCLA), and art director of the Sundance Filmmakers Lab Gyula Gazdag.
The Hungarian Olympic Committee (HOC) signed a collaboration agreement with 23 higher education institutions, including the Moholy-Nagy University of Art and Design on 29 November. The purpose of the Dual Career Programme is to help athletes achieve their goals (whether by providing physical or mental support) and enable them not to have to choose between sports and studying or working.