Moholy-Nagy University of Art and Design
International
MOME has been welcoming international students for over 30 years as part of the
European
Union's
Erasmus
Program
, and we are proud of our collaboration with nearly a hundred art and design universities worldwide. In 2022 September MOME also launched its first two full-time
English-language
master's
degree
programmes
to be followed by more. The growth of our international student body remains a key focus of our future goals since the presence of international students plays a key role in shaping our diverse community and culture.
ENG MA
We offer a wide range of courses in a variety of art and design subjects. Learn more about your chosen subject, find the perfect course and pursue your passion!
Regional Mobility Scholarship
MOME provides tuition fee support to foreign students who are accepted to international programs, come from a specific geographical region, and qualify for the support based on their professional accomplishments.
International Cooperations
Other study options
See the course listing below and find the perfect course at the right level and follow your passion at MOME.
As a non-degree student you can study here one or two semesters . One may study in English at all levels (MA,BA) in all areas, as Media Design, Animation, Graphic Design, Photography
Product & Industrial Design, Textile Design, Metalwork & Jewellery Design, Architecture, Theoretical Studies etc.
As an Erasmus+ student, you can study here for one or two semesters, in English language, at both BA and MA levels in all areas, such as: Media Design, Animation, Graphic Design, Photography, Product Design, Architecture, Theoretical Studies etc.
Moholy-Nagy University of Art and Design is committed to standing with those fleeing the war and pledges solidarity with the Ukrainian academic community.
Student Service Centre and Registrar's Office (TIK) - International Office
Address
1121 Budapest, Zugligeti út 9-25.
Opening hours
Monday, Wednesday: 9:30-11:30, 13:00-15:00
Friday: 9:00-11:30, 12:30-14:00
English MA programmes:
admission@mome.hu,
+36 30 080 0447
Erasmus incoming students
erasmus@mome.hu
+36 20 661 9155
Our Campus
Our university campus has become an open campus in dialogue with its physical and intellectual environment.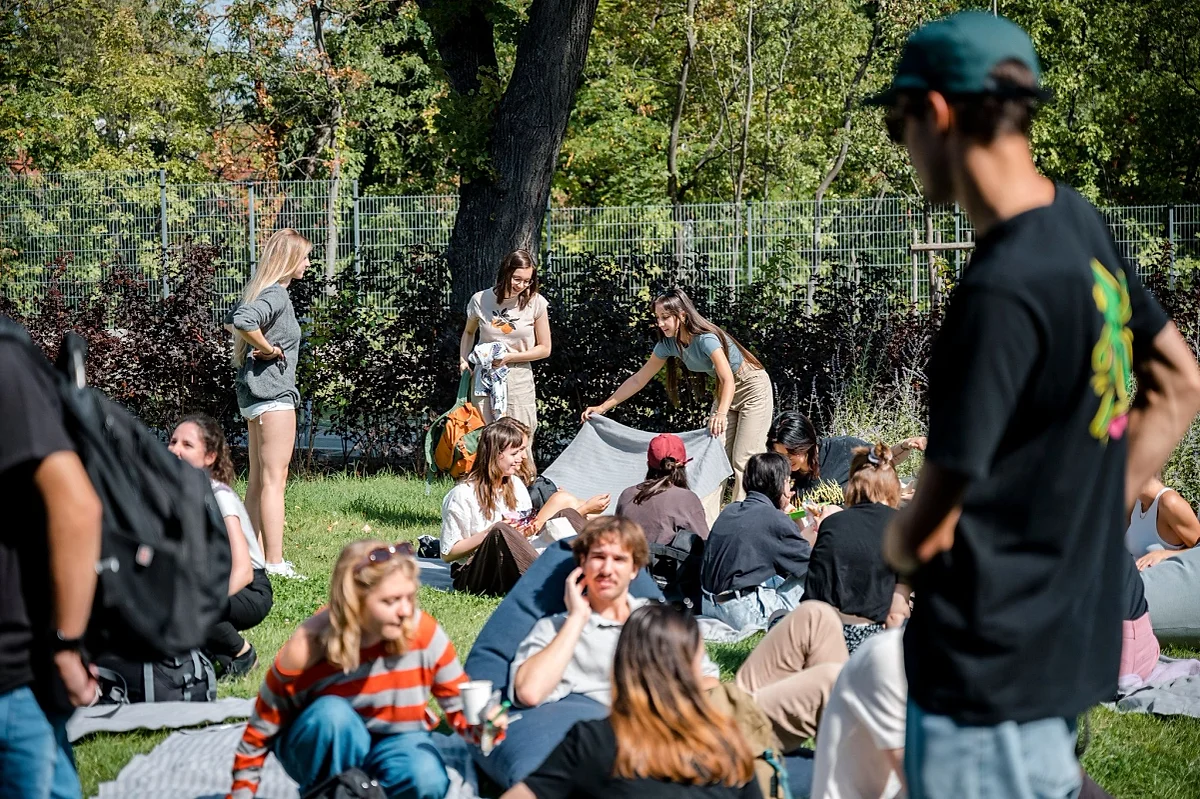 News
Design permeates every corner of the world, incorporates the sometimes opposite values of functionality and aesthetics, and is centered around the living human body – the soma. The recently published Somaesthetics and Design Culture, co-edited by DLA programme lead of the MOME Doctoral School Bálint Veres and world-renowned aesthete-philosopher Richard Shusterman (Florida Atlantic University) explores these issues in a greater depth.
Enhances efficiency, results in better decision-making processes and outcomes, and propels businesses forward in a number of areas – these are just a few pros of gaining a deeper understanding of data visualisation at MOME OPEN's Summer University course.
Flóra Anna Buda won the Palme d'Or for the best short film at the 76th Cannes Film Festival with her French-Hungarian co-production 27, which will be shown to Hungarian audiences at the Fresh Meat Festival starting on 1 June. The director's name is not unfamiliar in the international festival circuit.
Events
Pitch presentation event of MOME IC Incubation Program and HSUP student projects.
The primary goal of the thematic symposium organized by MOME Innovation Center is to enliven academic public life at the university, promote knowledge transfer between disciplines and network.
We are organising an open session on campus to introduce you to opportunities offered by some of our partners and stakeholders.