2nd FPO International Workshop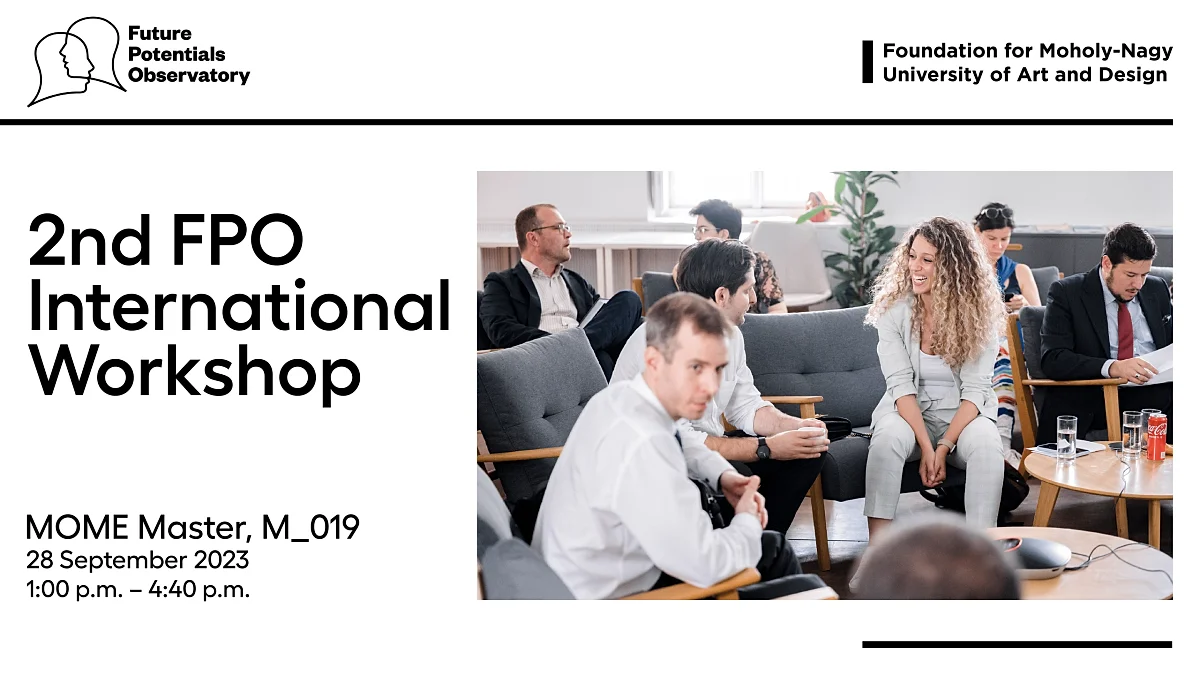 The Future Potentials Observatory (FPO) is pleased to invite you to its 2nd International (hybrid) Workshop dedicated to obtain an overview of its research directions in the fields of Future Potentials, Geopolitical Frontiers, Innovation and Design Horizons and Digital Futures in an East-West context.
PROGRAM

I. Welcome by Zoltán Oszkár Szántó

II. Future Potentials, chaired by Gábor Pörzse
13.05-13.15: Gyula Bakacsi – Zoltán Krajcsák, Future Potential Organizations: Levels and Models
13.15-13.25: Petra Aczél – Pál Bóday – Zoltán Oszkár Szántó, The Potential of the Future Potentials Index
13.25-13.30: Q & A

III. Geopolitical Frontiers, chaired by Esztella Varga
13.30 - 13.40: Kristian Lau Nielsen , East-West Competition and the International Order
13.40 - 13.50: Amira Mouakher – Nuno Morgado, Geopolitical Analysis through Artificial Intelligence?
13.50 - 13. 55: Q & A

IV. Innovation and Design Horizons, chaired by Gyula Bakacsi
13.55 -14.05: Ákos Schneider, Design and Speculation
14.05 -14.15: Gábor Pörzse – Zoltán Csedő – Máté Zavarkó – Zoltán Sára , Innovation and Design Horizons Map
14.15 -14.20: Q & A

V. Digital Futures, chaired by Zoltán Oszkár Szántó
14.20 - 14. 30: Péter Kiss-Tóth, Project Concept
14.30 - 14.40: Balázs Nagy , EIS, DESI 2023 HU Reports
14.40 - 14.45: Q & A
14.45 -15.00: Coffee Break

VI. Advisory Board meeting, chaired by Péter Szabadhegy
15.00 – 16.00: meeting
16.00 - 16.40: Reception

To register, please indicate your intention to participate at the email address fpo@future.potentials.hu .
Event information
Organizer: Future Potentials Observatory (FPO)
Date: 28th September (Thursday) 2023. 1 p.m. - 4:40 p.m.
Venue: MOME MASTER, M_019

Registration: fpo@future.potentials.hu

This event will be held in English.
More events
Learn about AI, pitch your idea, and win €1000 and a trip to the UK!
How does artificial intelligence (AI) shape the future of design, the creative process, and communication? In today's digital landscape, our interpretation and perception of the world around us and the interactions we are involved in is increasingly influenced by AI, and so this essential technology will be the focus of a conference organised by the Moholy-Nagy University of Art and Design (MOME) with authoritative experts.
The Technicity Research Group is organising the Technicity Doctoral Workshop Conference as part of the 8th PhD Day on 12 and 13 December.