Architectural Matters // Csaba Böhm, Bollinger+Grohmann (DE)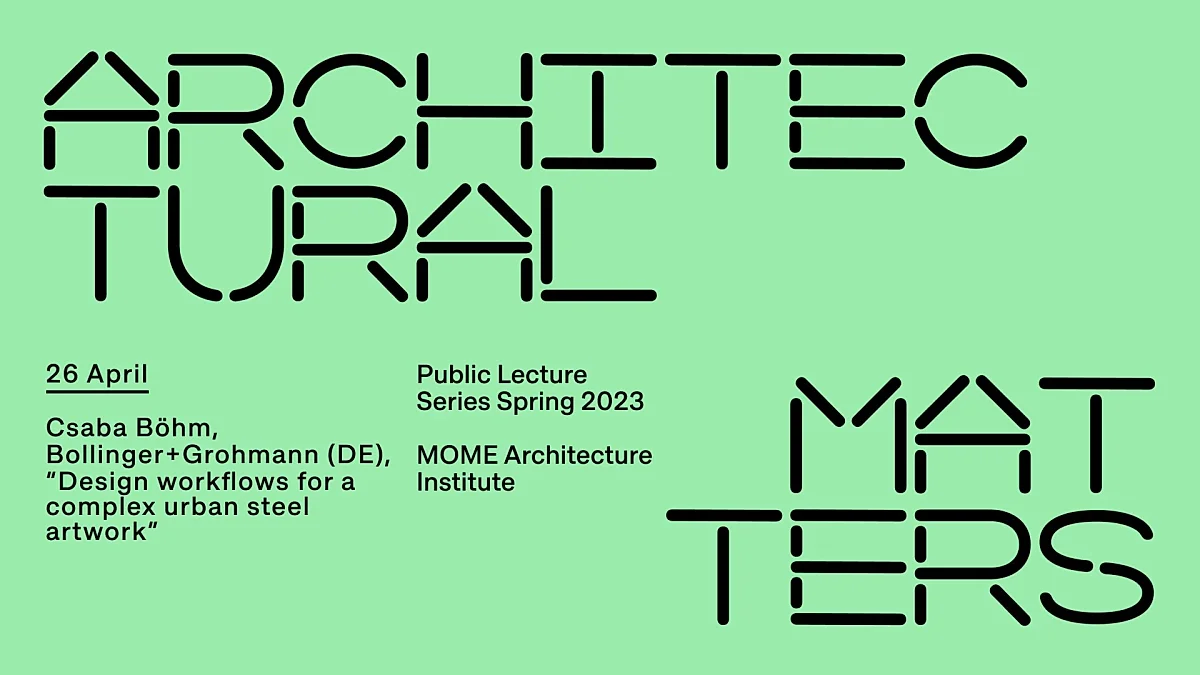 MOME Architecture Institute's Public Lecture Series welcomes prominent Hungarian and International Architects, Designers, and Thinkers to present and discuss their work within the built environment. The Spring 2023 series titled "Architectural Matters" features a diversity of lecturers from around Europe whose work focuses on the materialization of forward-thinking concepts. The wide range of expertise creates an opportunity for discussion and reflection on the state of creating our cities of tomorrow.
Csaba Böhm graduated in 2008 as a structural engineer at Budapest University of Technology and Economics, Faculty of Civil Engineering. During his university studies he had turned his attention to the theory of post-tensioned RC structure design, then as an employee of Pannon-Freyssinet Kft. he got the opportunity to put this knowledge into practice while managing the designing process of the post-tension of numerous construction structures.
From 2009 to 2011, in frames of the training of engineers at Budapest University of Technology and Economics he participated in the practical training of tensioned structure design.
From 2011, as structural designer at the Vienna-based Werkraum Ingenieure ZT GmbH he took part in the expansion and in-service transformation of IKEA Vienna North and in the structural design of the structure of a school building with a capacity of 1200 people (Bildungsquartier 2, Aspern Seestadt, Vienna), managing the whole process.
Between 2017-2020 he's been member of Bollinger + Grohmann's team at their Vienna office. As project leader his major works are the expansion and transformation of Red Bull Arena in Leipzig and the design review of the structure of the high-rise building of MOL Campus.
From 2020, he has been working as the managing director of Bollinger + Grohmann's Budapest office, where, among other projects, he managed the structural design of the urban artwork shown within the presentation.
All lectures are free and open to the public, providing refreshments and followed by time for discussion.
Continuing education credits are available through the Hungarian Chamber of Architects.
For those professionals who are interested in credits registration is mandatory: https://forms.gle/tPebEjuaWC6gRwty6
For more information contact epitesz@mome.hu
More events
The primary goal of the thematic symposium organized by MOME Innovation Center is to enliven academic public life at the university, promote knowledge transfer between disciplines and network.
Diplomacy on Ice: The International Politics of Antarctica
The International Service Design Day takes place on 1 June. To mark this occasion, we invite everyone interested in the subject for an inspiring discussion with Hungarian experts about the most pressing dilemmas currently faced by the Service Design industry.