Designing Relationships: A Conversation with Esther Perel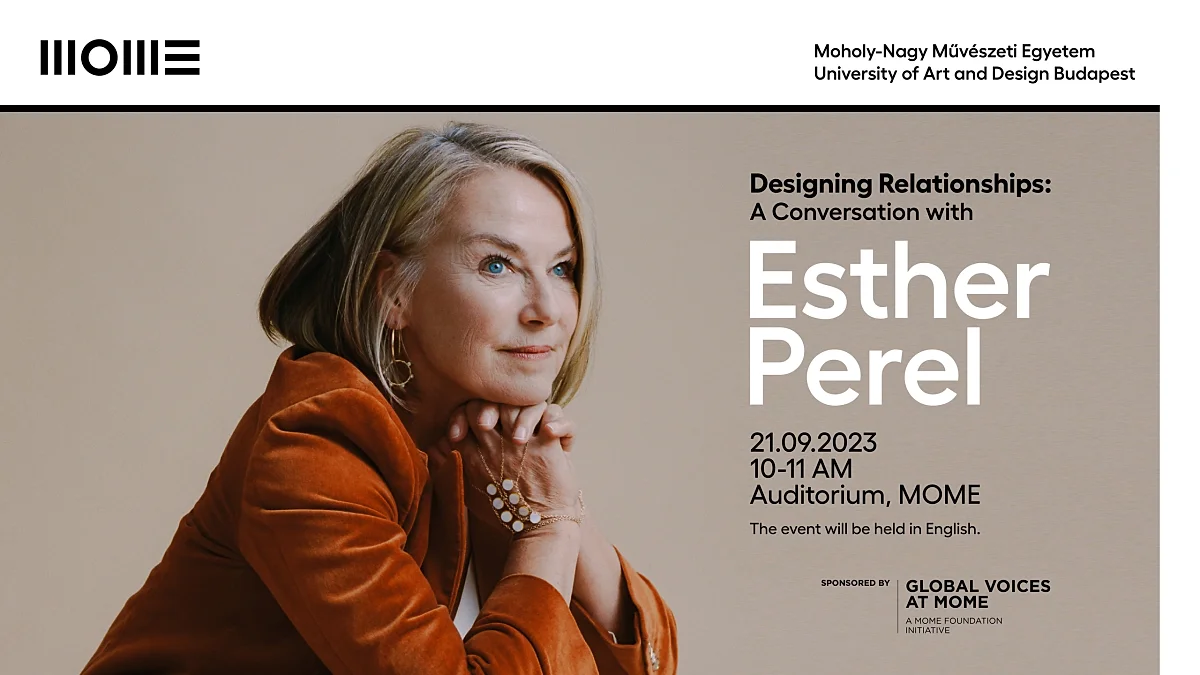 Join us for an exciting and valuable session with world-renowned psychotherapist, bestselling author, and international speaker Esther Perel. Rather than just another lecture, it is an exclusive opportunity for students of MOME and other art universities to gain insight, inspiration, and a deeper understanding of human relationships. 
Dive into a captivating discussion led by seasoned strategist, organizational psychologist and Rector's Appointee Lili Érmezei as Esther Perel imparts her invaluable wisdom on forging and cultivating dynamic, intergenerational, and intercultural relationships. Her work lies at the intersection of human relationships and creativity, making her insights incredibly relevant to students in creative fields, where understanding the complexities of human relationships is vital for creating impactful design and art. Perel's insightful guidance promotes empathy, inclusivity, and a profound appreciation for diverse viewpoints, taking the creative process to new heights. Her valuable advice on communication, vulnerability, and keeping desire alive can help students overcome typical obstacles in their professional and personal lives while mastering the art of self-exploration in the context of teamwork.

Sponsored by the Foundation for Moholy-Nagy University and Design as part of the Global Voices initiative.

This is an event exclusively for the students of MOME and partner institutions. Due to limited seats only attendees with registrations will be able to join us.
Event information
Date: 21/09/2023 10 a.m.
Venue: MOME Auditorium


This is an event exclusively for the students of MOME and partner institutions.
More events
The two-day event will examine the cutting-edge technologies and latest breakthroughs in material research and explore new frontiers in sustainable design and manufacturing through showcasing new materials made from waste.
The Future Potentials Observatory (FPO) is pleased to invite you to its 2nd International (hybrid) Workshop dedicated to obtain an overview of its research directions in the fields of Future Potentials, Geopolitical Frontiers, Innovation and Design Horizons and Digital Futures in an East-West context.
In line with the established practice of international fashion schools and in sync with international fashion week calendars, the MOME FASHION SHOW returns under the professional tutelage of Ildikó Kele and Dóri Tomcsányi. The Fashion Show and Exhibition will feature a selection of diploma works by Textile Design BA and Fashion and Textile Design MA students.