FPO TALKS 2023 - Dr Panka Bencsik: Policing Substance Use: Chicago's Treatment Program for Narcotics Arrests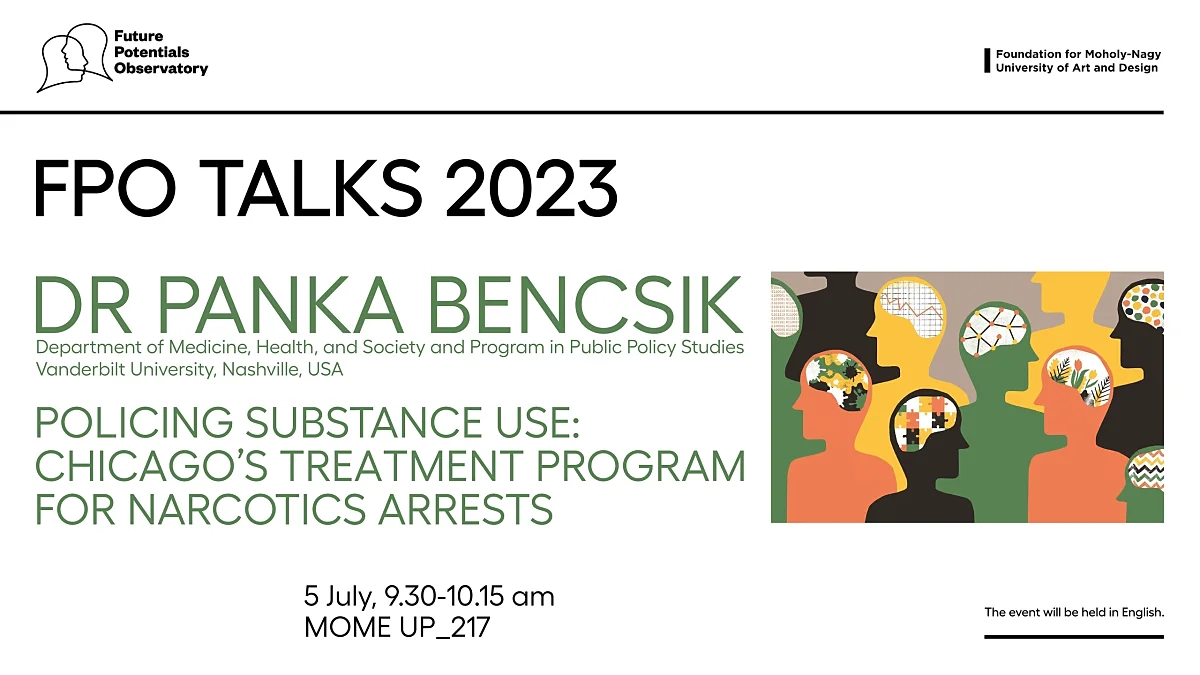 The Future Potentials Observatory invites you to a Speaker Series event titled "FPO TALKS" presented by Dr Panka Bencsik, Assistant Professor of Medicine, Health, and Society and of Public Policy at Vanderbilt University, Nashville, USA.
Dr. Bencsik is an applied microeconomist. Her research interests lie in health economics, the economics of crime, and urban economics. She studies the impacts of the opioid crisis, what influences nutritional choices, how individuals' mental health is impacted by external stressors, and how health carries forward intergenerationally.
She is the founding leader of the world's largest research hub on mental health economics, the Mental Health Economics Special Interest Group. She runs this group under the umbrella of the International Health Economics Association (iHEA).
Date of the event: 5th July, 9.30 – 10.15 (CET)
Venue: MOME (1121 Budapest, Zugligeti út 9-25.), UP_217
Registration is required at fpo@future.potentials.hu .
Event information
Date of the event: 5th July, 9.30 – 10.15 (CET)
Venue: MOME (1121 Budapest, Zugligeti út 9-25.), UP_217
More events
The two-day event will examine the cutting-edge technologies and latest breakthroughs in material research and explore new frontiers in sustainable design and manufacturing through showcasing new materials made from waste.
The Future Potentials Observatory (FPO) is pleased to invite you to its 2nd International (hybrid) Workshop dedicated to obtain an overview of its research directions in the fields of Future Potentials, Geopolitical Frontiers, Innovation and Design Horizons and Digital Futures in an East-West context.
In line with the established practice of international fashion schools and in sync with international fashion week calendars, the MOME FASHION SHOW returns under the professional tutelage of Ildikó Kele and Dóri Tomcsányi. The Fashion Show and Exhibition will feature a selection of diploma works by Textile Design BA and Fashion and Textile Design MA students.