FPO TALKS 2023 - Dr Rowan Lubbock: Fields and Frontiers: Agriculture and the Making of International (Dis)Order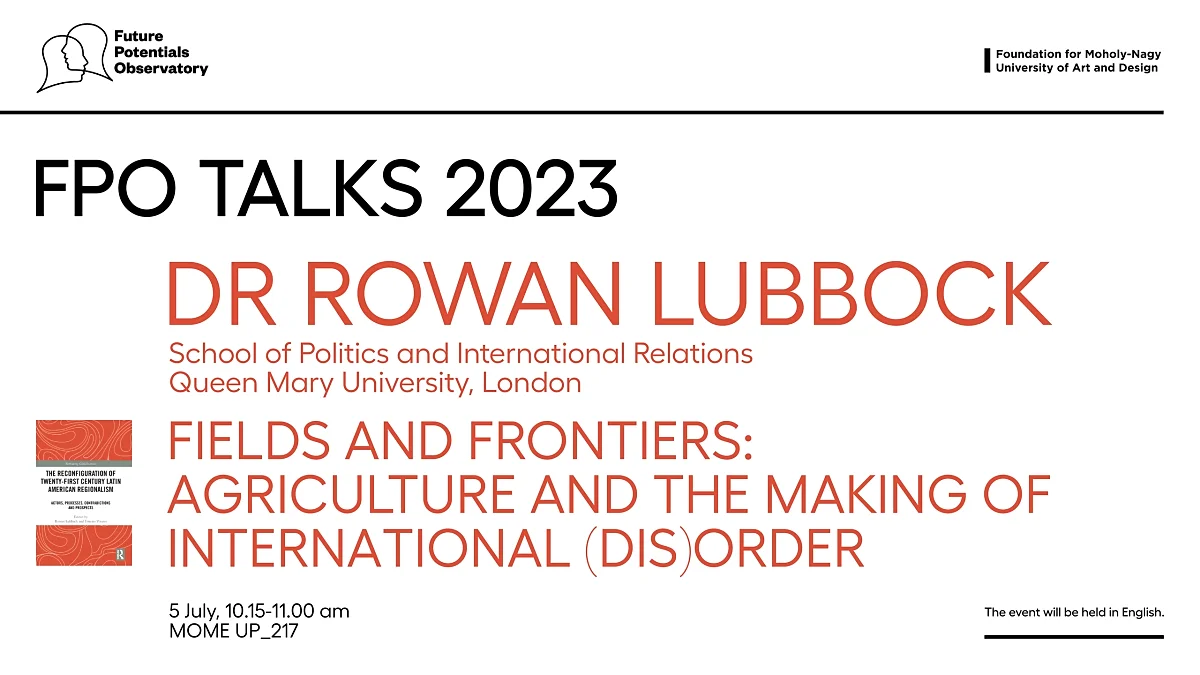 The Future Potentials Observatory invites you to a Speaker Series event titled "FPO TALKS" presented by Dr Rowan Lubbock, Lecturer in International Political Economy of Development at Queen Mary University, London.
His previous research examined the politics of food sovereignty within Venezuela and the Latin American regional institution, the ALBA-TCP (Bolivarian Alliance for the Peoples of Our America-Peoples Trade Treaty), as well as the historical sociology of Latin American regionalism more broadly.
His current project expands on these topics, with a critical analysis of agriculture in the making of international (dis)order. With specific focus on the historical formation of the UN's Food and Agriculture Organisation, this long-term archival research project aims to shed much needed light on the ways in which humanity's transformation of the earth simultaneously transforms 'the international'.
Date of the event: 5th July, 10.15 – 11. 00 (CET)
Venue: MOME (1121 Budapest, Zugligeti út 9-25.), UP_217
Registration is required at fpo@future.potentials.hu.

Event information
Date of the event: 5th July, 10.15 – 11. 00 (CET)
Venue: MOME (1121 Budapest, Zugligeti út 9-25.), UP_217

Registration: fpo@future.potentials.hu
This event will be held in English.
More events
The two-day event will examine the cutting-edge technologies and latest breakthroughs in material research and explore new frontiers in sustainable design and manufacturing through showcasing new materials made from waste.
The Future Potentials Observatory (FPO) is pleased to invite you to its 2nd International (hybrid) Workshop dedicated to obtain an overview of its research directions in the fields of Future Potentials, Geopolitical Frontiers, Innovation and Design Horizons and Digital Futures in an East-West context.
In line with the established practice of international fashion schools and in sync with international fashion week calendars, the MOME FASHION SHOW returns under the professional tutelage of Ildikó Kele and Dóri Tomcsányi. The Fashion Show and Exhibition will feature a selection of diploma works by Textile Design BA and Fashion and Textile Design MA students.