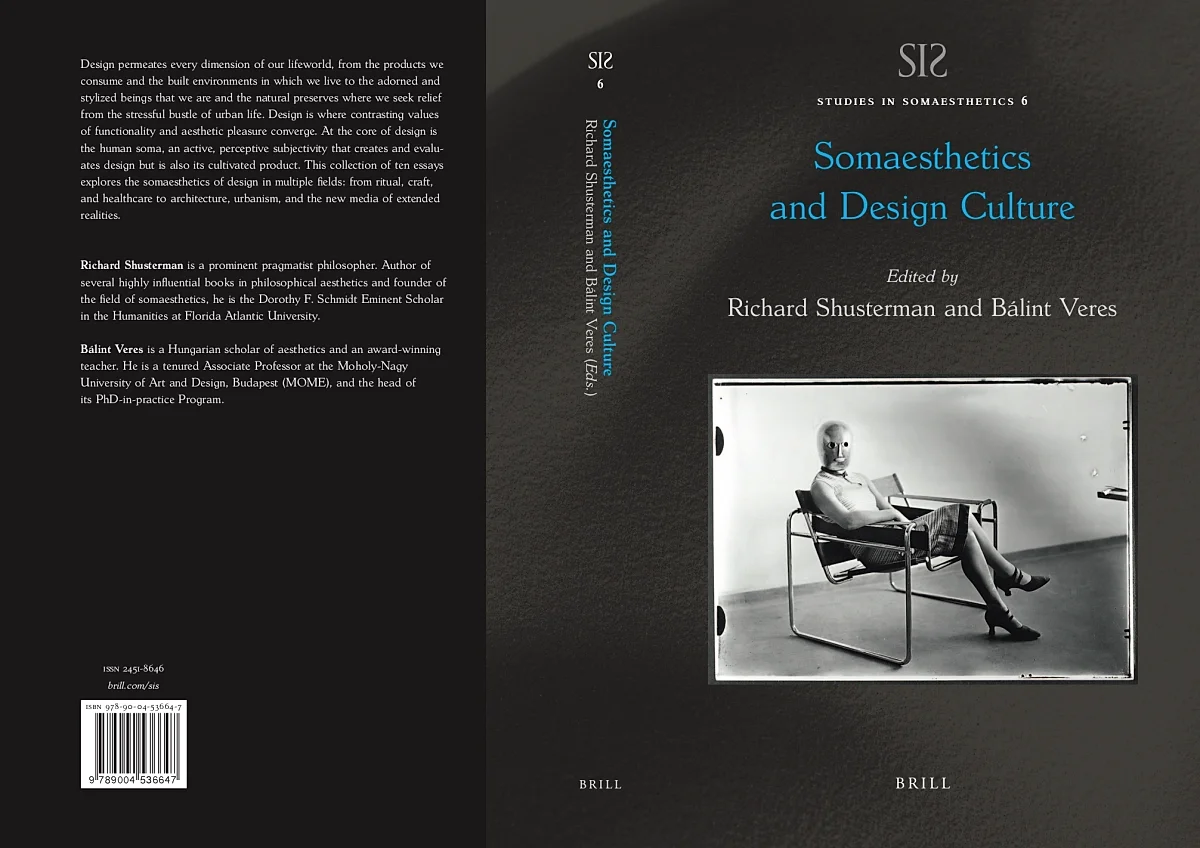 A new book of essays edited by Bálint Veres and Richard Shusterman has been published
Design permeates every corner of the world, incorporates the sometimes opposite values of functionality and aesthetics, and is centered around the living human body – the soma. The recently published Somaesthetics and Design Culture, co-edited by DLA programme lead of the MOME Doctoral School Bálint Veres and world-renowned aesthete-philosopher Richard Shusterman (Florida Atlantic University) explores these issues in a greater depth.
Shusterman was invited to MOME in 2019 and in 2022 as a keynote speaker of major international conferences organised by the Doctoral School (Design Culture and Somaesthetics and The Promise of Pragmatist Aesthetics: Looking Forward after 30 Years).

The recently published volume of 10 essays offers a somaesthetic analysis of design culture. The contributors include philosophers, art historians, design theorists, and practicing designers, and so this interdisciplinary book provides readers from diverse backgrounds (university students and academics) with insight into the overlapping field of design and body-based aesthetic thinking.
The volume features writings by prominent figures of contemporary design such as design professor Guy Julier (Aalto University), who was bestowed a honorary doctoral title by MOME in 2021, Jessica Hemmings (HDK-Valand, Gothenburg), who has been a visiting professor with the MOME Doctoral School since 2021, and our Doctoral School supervisor and member of the management board of the Social Design Network founded by the MOME IC Jonathan Ventura (Shenkar), as well as Madalina Diaconu (Universität Wien), Matthew Crippen (Humboldt Universität zu Berlin), and Dina Shahar (Hadassah Academic College, Jerusalem).

The anthology explores hidden and oftentimes ambiguous connections between our lived somatic experiences and the manifold practices labelled as design, drawing a broad arc from Plato's surprisingly body-oriented cosmology to the implications of human somatic existence embedded in modern and contemporary life forms, including fashion, architecture, urbanism, ritual, public art, social design, augmented reality, cyberization, education, and therapy.

As a ubiquitous phenomenon, design defines not just our environment but us people as well, as we ornament and stylise ourselves in daily life. Design is a fusion of the opposing values of functionality and aesthetics, and is centred around the living human body – soma – an active, perceptive, subjective entity that creates and evaluates the surrounding designed environment, while being nothing but a sophisticatedly turned out product of it.
More news
How to make gastronomy truly sustainable? Moholy-Nagy University of Art and Design (MOME) and SALT Restaurant have reached a major milestone on the road to a circular culinary culture. Their collaborative research resulted in a new plate with zero environmental impact for the sustainable enjoyment of the best haute cuisine has to offer.
The works created by the latest generation of product design students of Moholy-Nagy University of Art and Design (MOME), presented at the S/ALON BUDAPEST home trend fair on 22 to 24 September at the Budapest Arena all share a focus on the passion for the traditions of handcrafting, sustainability, innovation, and emotional connection. Uniquely in Hungary, the fair showcases the latest home decor trends, furniture, lighting solutions, flooring and wall coverings, home textiles, and accessories in extraordinary interiors, and is centered around the relationship of design and nature.
Design Theory MA student Eszter Sára Szabó earned the grant with her exhibition concept developed for beyond galleries, while Art and Design Management MA student Natasa Tereh and Sebestyén Teodor Bárány received the accolade for an impressive showcase designed for the MOME Campus.