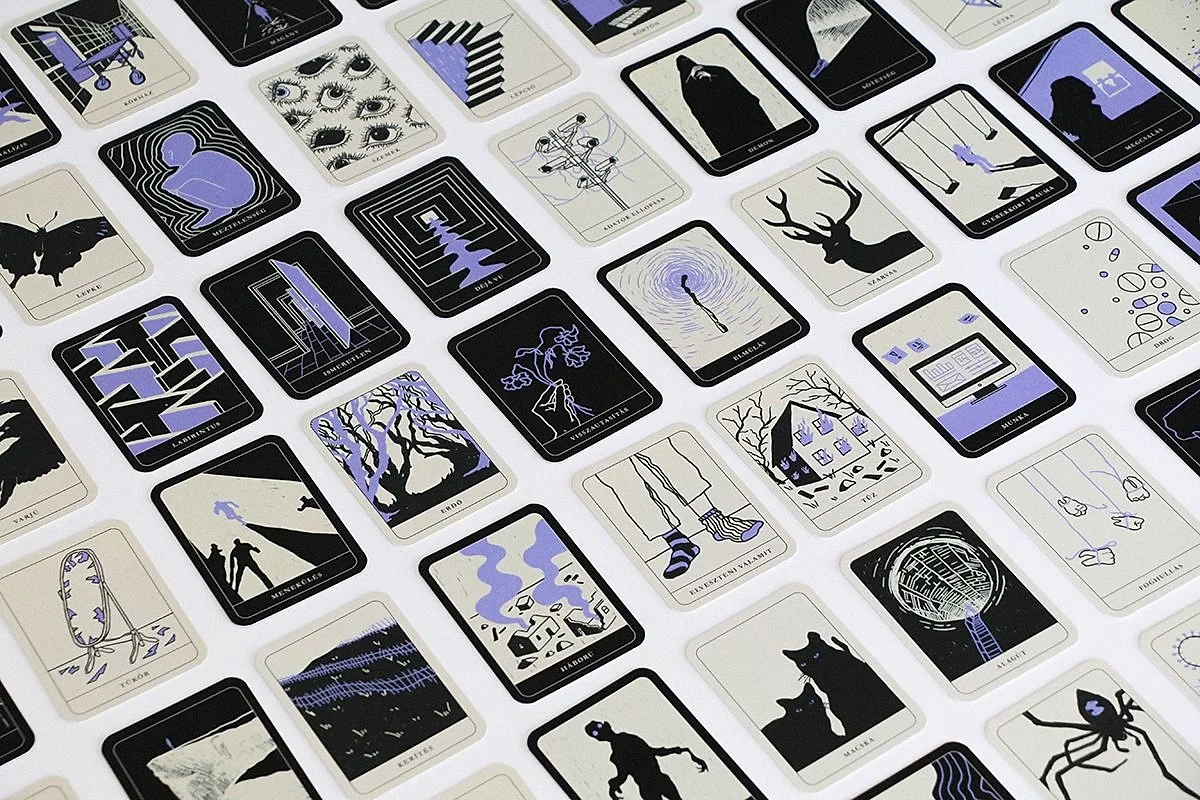 Access cards to our subconscious – Zsófia Kupics's dream interpretation board game
However ridiculous it might sound at first, in our daily life, we are surrounded by cards: loyalty cards at cafés, football cards at the supermarket cash desk, business cards at the office. We use cards to prove our identity, receive discounts, obtain access to places we otherwise wouldn't be able to get in.
In fact, our whole survival revolves around a plastic card. And when we are truly fed up with everything, we use cards to play with for recreation. Sometimes around a table with others, sometimes alone on the computer. Speaking about gadgets, for some strange reason, we are unable to let go of them even in the digital space. We swipe cards, or scroll cards. Symbolically speaking, cards are both everyday and sacred objects at the same time: we trash them, lose them, redeem them, keep them on us, treasure them, spend years collecting them. Zsófia Kupics's card game 'Daydream' is intriguing also for this reason. It uses cards in the truest sense of the word. It is ordinary and mystical at the same time.
More news
The works created by the latest generation of product design students of Moholy-Nagy University of Art and Design (MOME), presented at the S/ALON BUDAPEST home trend fair on 22 to 24 September at the Budapest Arena all share a focus on the passion for the traditions of handcrafting, sustainability, innovation, and emotional connection. Uniquely in Hungary, the fair showcases the latest home decor trends, furniture, lighting solutions, flooring and wall coverings, home textiles, and accessories in extraordinary interiors, and is centered around the relationship of design and nature.
Design Theory MA student Eszter Sára Szabó earned the grant with her exhibition concept developed for beyond galleries, while Art and Design Management MA student Natasa Tereh and Sebestyén Teodor Bárány received the accolade for an impressive showcase designed for the MOME Campus.
A team of MOME students have won first place at the CheckINN Revitalisator competition. First launched by the CheckINN Turisztikai Innovációmenedzsment Kft and MOME last year, the competition invites university and college talents to seek solutions for the reuse of rust zone sites in teamwork. From the nearly 30 teams, INDOOHÁZ received the first prize for giving new life to abandoned railway water reservoirs as bivouacs for backpackers.