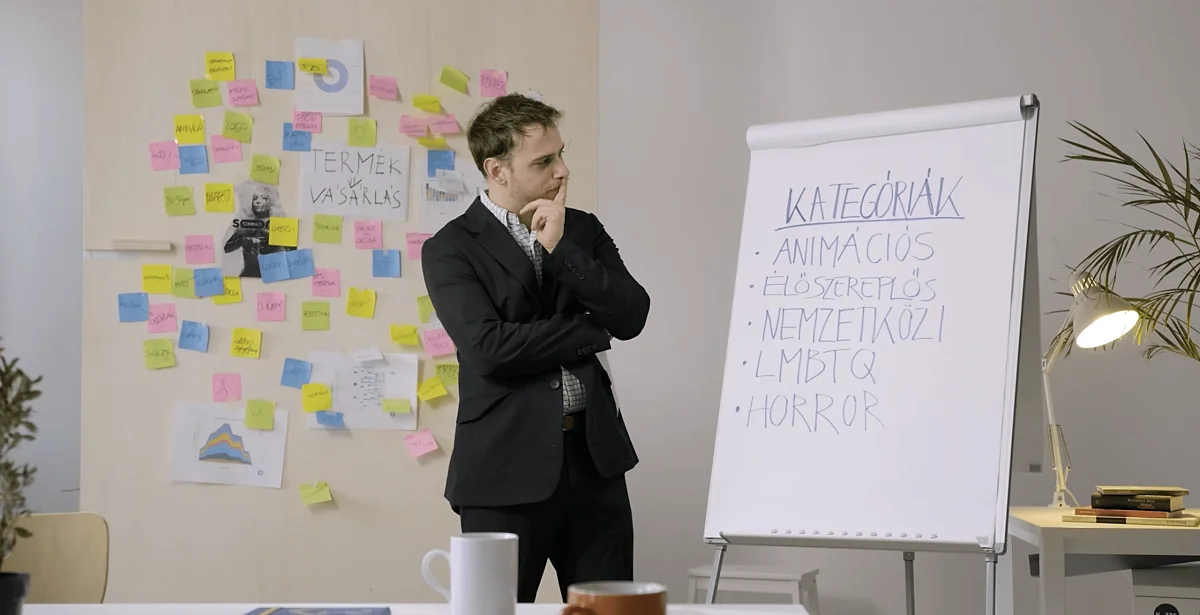 Elindult a X. Friss Hús Fesztivál!
Tegnap kezdődött és június 8-ig tart a Friss Hús Budapest Rövidfilmfesztivál, amelynek humoros promofilmjeit a MOME Média Design szakán készítették. A Fesztiválon a közelmúlt legjobb hazai és nemzetközi rövid mozgóképes alkotásait lehet megnézni. A vetítések többsége a Toldi moziban lesz, magyar versenyfilmeket pedig szabadtéren, a Városháza parkban felállított kivetítőn is meg lehet tekinteni.
A rövidfilm rajongók kedvenc hazai fesztiválján idén is számos MOME-vonatkozású alkotást mutatnak be. Többek közt itt látható először az Annecy Nemzetközi Filmfesztiválra meghívott Turai Balázs Amok című animációs műve, és két MOME-s diplomafilm, Hárshegyi Vivien Felhők felett és Fábián Nikolett Nyugvó köd című munkája. A fesztiválon mutatja be legújabb filmjét a Symphony no. 42-vel nemrég egészen az Oscar-shortlistig jutó Bucsi Réka is.
Média Design szakunk idén is kiemelten foglalkozott a terület fontos fesztiváljával és négy olyan promociós kisfilmet készítettek, amelyek garantáltan kíváncsivá teszik a nagyközönséget is. Nézd meg a kisfilmeket a Friss Hús Facebook-oldalán vagy kattints az alábbi videókra!
Miben sántikálnak a MOME Media Design szakon??
A kisfilmeket a MOME Média Design szak hallgatói készítették:
Bohl Kata, Csillik Martina, Demeter Debóra, Király Pál, Pálinkás-Szűcs Emili, Péri Gergő Gábor, Polónyi-Gyuricza Krisztián, Tóth-Heyn Máté, Vészi Sámuel
Szereplők: Erhardt Miklós, Fábics Natália, Szirtes János, a Média design szak oktatói és Turai Barnabás
More news
How to make gastronomy truly sustainable? Moholy-Nagy University of Art and Design (MOME) and SALT Restaurant have reached a major milestone on the road to a circular culinary culture. Their collaborative research resulted in a new plate with zero environmental impact for the sustainable enjoyment of the best haute cuisine has to offer.
The works created by the latest generation of product design students of Moholy-Nagy University of Art and Design (MOME), presented at the S/ALON BUDAPEST home trend fair on 22 to 24 September at the Budapest Arena all share a focus on the passion for the traditions of handcrafting, sustainability, innovation, and emotional connection. Uniquely in Hungary, the fair showcases the latest home decor trends, furniture, lighting solutions, flooring and wall coverings, home textiles, and accessories in extraordinary interiors, and is centered around the relationship of design and nature.
Design Theory MA student Eszter Sára Szabó earned the grant with her exhibition concept developed for beyond galleries, while Art and Design Management MA student Natasa Tereh and Sebestyén Teodor Bárány received the accolade for an impressive showcase designed for the MOME Campus.