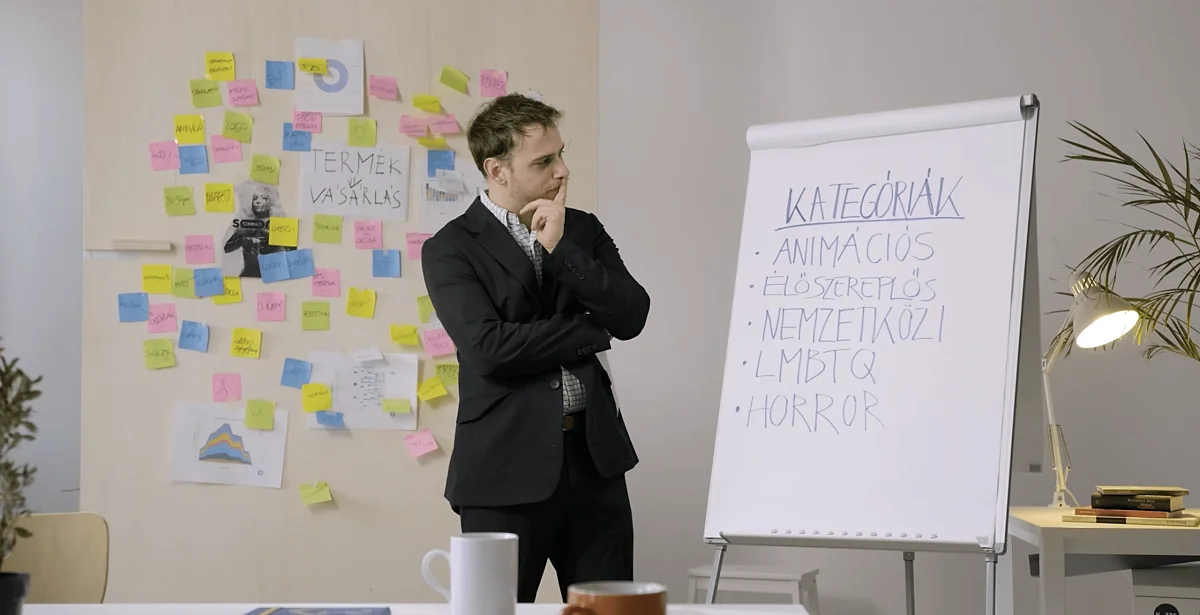 Elindult a X. Friss Hús Fesztivál!
Tegnap kezdődött és június 8-ig tart a Friss Hús Budapest Rövidfilmfesztivál, amelynek humoros promofilmjeit a MOME Média Design szakán készítették. A Fesztiválon a közelmúlt legjobb hazai és nemzetközi rövid mozgóképes alkotásait lehet megnézni. A vetítések többsége a Toldi moziban lesz, magyar versenyfilmeket pedig szabadtéren, a Városháza parkban felállított kivetítőn is meg lehet tekinteni.
A rövidfilm rajongók kedvenc hazai fesztiválján idén is számos MOME-vonatkozású alkotást mutatnak be. Többek közt itt látható először az Annecy Nemzetközi Filmfesztiválra meghívott Turai Balázs Amok című animációs műve, és két MOME-s diplomafilm, Hárshegyi Vivien Felhők felett és Fábián Nikolett Nyugvó köd című munkája. A fesztiválon mutatja be legújabb filmjét a Symphony no. 42-vel nemrég egészen az Oscar-shortlistig jutó Bucsi Réka is.
Média Design szakunk idén is kiemelten foglalkozott a terület fontos fesztiváljával és négy olyan promociós kisfilmet készítettek, amelyek garantáltan kíváncsivá teszik a nagyközönséget is. Nézd meg a kisfilmeket a Friss Hús Facebook-oldalán vagy kattints az alábbi videókra!
Miben sántikálnak a MOME Media Design szakon??
A kisfilmeket a MOME Média Design szak hallgatói készítették:
Bohl Kata, Csillik Martina, Demeter Debóra, Király Pál, Pálinkás-Szűcs Emili, Péri Gergő Gábor, Polónyi-Gyuricza Krisztián, Tóth-Heyn Máté, Vészi Sámuel
Szereplők: Erhardt Miklós, Fábics Natália, Szirtes János, a Média design szak oktatói és Turai Barnabás
More news
MOME has launched English language courses at different levels led by native teachers not just to improve the level of language skills in general but also to teach the vocabulary of the academic terminology, creative fields and the jobs trained at the university.
What does it take for a young designer to be successful? Whether for running their own graphic design or animation studio, founding their own fashion label or working as an employee, future designers need market and entrepreneurial skills to succeed and realise their goals. For this purpose, MOME teachers have developed a course that is unique in the Central Eastern European region, providing students with a business approach specifically reflecting the needs of the creative industries. The Business to Design (B2D) educational programme was created with involvement of prominent professionals and entrepreneurs in the field, MOME alumni, as well as invited international speakers. Its originality lies in it forming part of the curriculum and being a mandatory subject for all BA students.
Battling the effects of global crises that creep into our everyday lives, we may easily find ourselves on a rollercoaster between mounting panic and the impassiveness brought on by a sense of futility. In the face of steadily accumulating challenges, we are justified in wondering how to proceed.