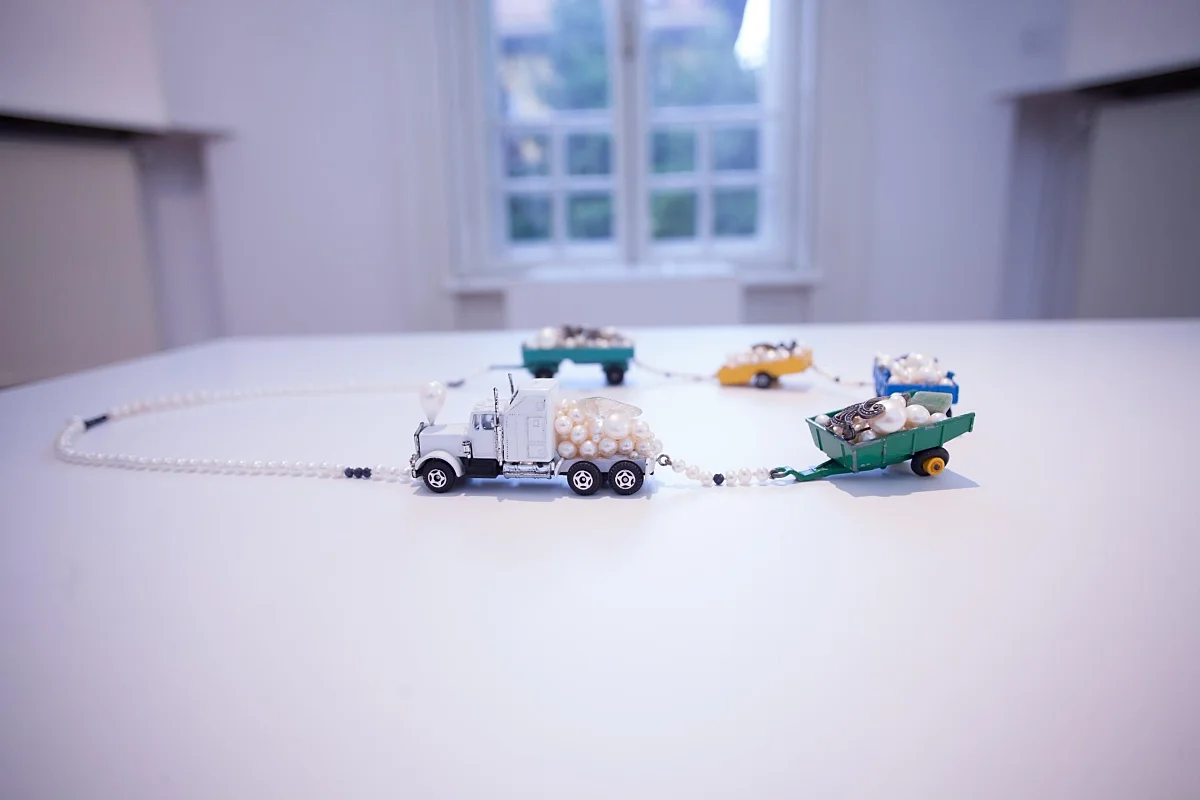 Mome Alumni jewellery exhibition at Romanian Design Week
A Liszt Intézet – Magyar Kulturális Központ Bukarest és a MOME Design Intézetének együttműködésében jött létre a MOME Alumni Jewellery című ékszerkiállítás az intézmény kiállítótereiben, mely a Romanian Design Week, Design Go programjának volt része.
A kiállítás, amelynek kurátora Kecskés Orsolya ékszertervező volt, átfogó képet ad az elmúlt körülbelül húsz évben a MOME-n végzett tervezők munkáiból, olyan MOME Alumni munkákat mutat be, amelyeknek alkotói közül ma már többen ismert formatervező művészek, oktatók. A május 27-ig Bukarestben látogatható tárlatot Dan Piersinaru nyitotta meg. Piersinaru maga is vizuális művész, a délkelet-európai régió egyik legfontosabb kortárs ékszerfesztivál, az idén tíz éves AUTOR fesztivál alapítója, melynek egy ideje magazinja is van.
Az RDW Design Go a romániai Design Hét fesztivál szatellit rendezvénysorozata, amelynek keretében a közönség workshopokon vehet részt, műhelyekbe és kiállításokra látogathat, megrajzolhatja saját design útvonalait a városban, városrészeket, helyeket fedezhet fel, inspirálódhat. Az idei esemény témája, a #forward, a kreatív iparágak fontosságát hangsúlyozza egy, a fenntarthatóság elveit a középpontba helyező jövő megtervezésében.
A kiállítók névsora:
Laufer Miklós István, Tengely Nóra, Bajcsi-Nagy Balázs, Tóth Zoltán, Börcsök Anna, Huber Kinga, Zalavári Fruzsina, Vékony Fanni, Égi Marcell, Fekete Fruzsi, Neuzer Zsófia, Lőrincz Réka, Fazekas Veronika, Kaintz Regina, Ádám Krisztián, Stomfai Krisztina, Marosi László, Gera Noémi, Kocsor Eszter Sára, Dávid Attila Norbert, Horányi Kinga, Király Fanni, Bíró Zsófia Gizella, Kecskés Orsolya, Varga Gergő, Jermakov Katalin, Kövér Dóra Rea
More news
MOME has launched English language courses at different levels led by native teachers not just to improve the level of language skills in general but also to teach the vocabulary of the academic terminology, creative fields and the jobs trained at the university.
What does it take for a young designer to be successful? Whether for running their own graphic design or animation studio, founding their own fashion label or working as an employee, future designers need market and entrepreneurial skills to succeed and realise their goals. For this purpose, MOME teachers have developed a course that is unique in the Central Eastern European region, providing students with a business approach specifically reflecting the needs of the creative industries. The Business to Design (B2D) educational programme was created with involvement of prominent professionals and entrepreneurs in the field, MOME alumni, as well as invited international speakers. Its originality lies in it forming part of the curriculum and being a mandatory subject for all BA students.
Battling the effects of global crises that creep into our everyday lives, we may easily find ourselves on a rollercoaster between mounting panic and the impassiveness brought on by a sense of futility. In the face of steadily accumulating challenges, we are justified in wondering how to proceed.