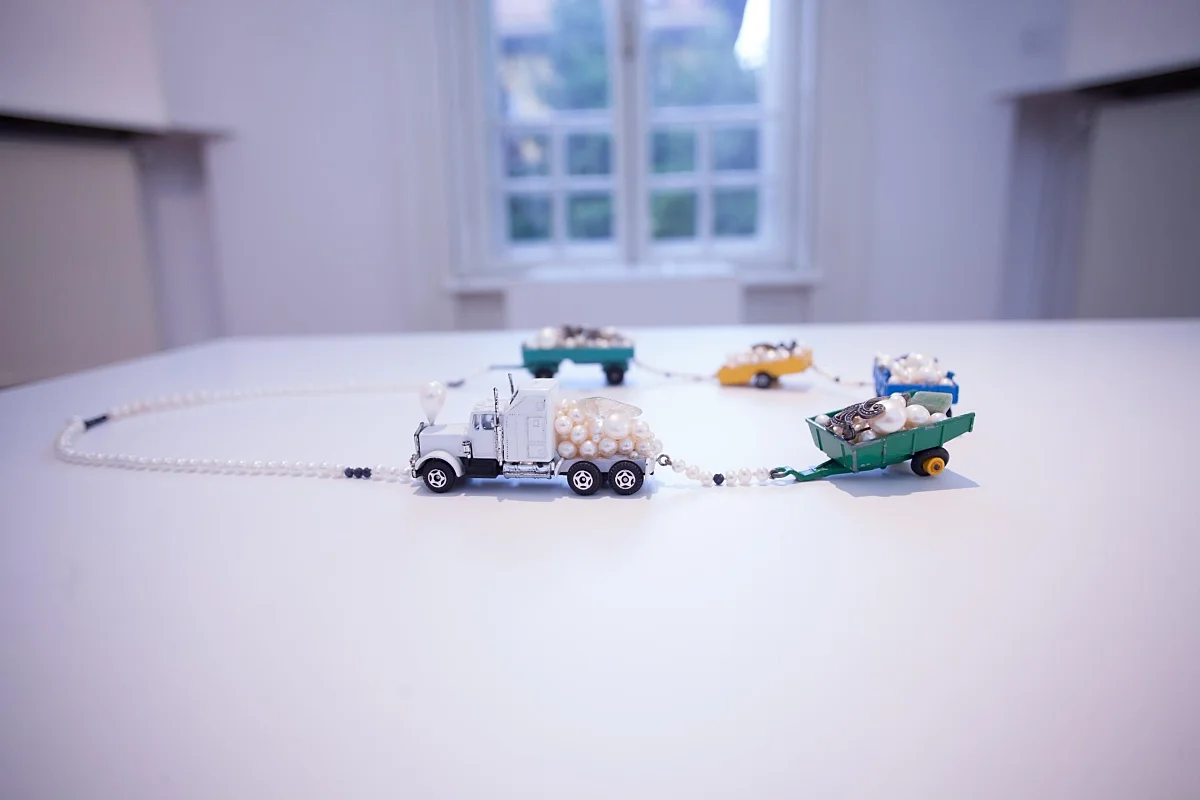 Mome Alumni jewellery exhibition at Romanian Design Week
A Liszt Intézet – Magyar Kulturális Központ Bukarest és a MOME Design Intézetének együttműködésében jött létre a MOME Alumni Jewellery című ékszerkiállítás az intézmény kiállítótereiben, mely a Romanian Design Week, Design Go programjának volt része.
A kiállítás, amelynek kurátora Kecskés Orsolya ékszertervező volt, átfogó képet ad az elmúlt körülbelül húsz évben a MOME-n végzett tervezők munkáiból, olyan MOME Alumni munkákat mutat be, amelyeknek alkotói közül ma már többen ismert formatervező művészek, oktatók. A május 27-ig Bukarestben látogatható tárlatot Dan Piersinaru nyitotta meg. Piersinaru maga is vizuális művész, a délkelet-európai régió egyik legfontosabb kortárs ékszerfesztivál, az idén tíz éves AUTOR fesztivál alapítója, melynek egy ideje magazinja is van.
Az RDW Design Go a romániai Design Hét fesztivál szatellit rendezvénysorozata, amelynek keretében a közönség workshopokon vehet részt, műhelyekbe és kiállításokra látogathat, megrajzolhatja saját design útvonalait a városban, városrészeket, helyeket fedezhet fel, inspirálódhat. Az idei esemény témája, a #forward, a kreatív iparágak fontosságát hangsúlyozza egy, a fenntarthatóság elveit a középpontba helyező jövő megtervezésében.
A kiállítók névsora:
Laufer Miklós István, Tengely Nóra, Bajcsi-Nagy Balázs, Tóth Zoltán, Börcsök Anna, Huber Kinga, Zalavári Fruzsina, Vékony Fanni, Égi Marcell, Fekete Fruzsi, Neuzer Zsófia, Lőrincz Réka, Fazekas Veronika, Kaintz Regina, Ádám Krisztián, Stomfai Krisztina, Marosi László, Gera Noémi, Kocsor Eszter Sára, Dávid Attila Norbert, Horányi Kinga, Király Fanni, Bíró Zsófia Gizella, Kecskés Orsolya, Varga Gergő, Jermakov Katalin, Kövér Dóra Rea
More news
How to make gastronomy truly sustainable? Moholy-Nagy University of Art and Design (MOME) and SALT Restaurant have reached a major milestone on the road to a circular culinary culture. Their collaborative research resulted in a new plate with zero environmental impact for the sustainable enjoyment of the best haute cuisine has to offer.
The works created by the latest generation of product design students of Moholy-Nagy University of Art and Design (MOME), presented at the S/ALON BUDAPEST home trend fair on 22 to 24 September at the Budapest Arena all share a focus on the passion for the traditions of handcrafting, sustainability, innovation, and emotional connection. Uniquely in Hungary, the fair showcases the latest home decor trends, furniture, lighting solutions, flooring and wall coverings, home textiles, and accessories in extraordinary interiors, and is centered around the relationship of design and nature.
Design Theory MA student Eszter Sára Szabó earned the grant with her exhibition concept developed for beyond galleries, while Art and Design Management MA student Natasa Tereh and Sebestyén Teodor Bárány received the accolade for an impressive showcase designed for the MOME Campus.