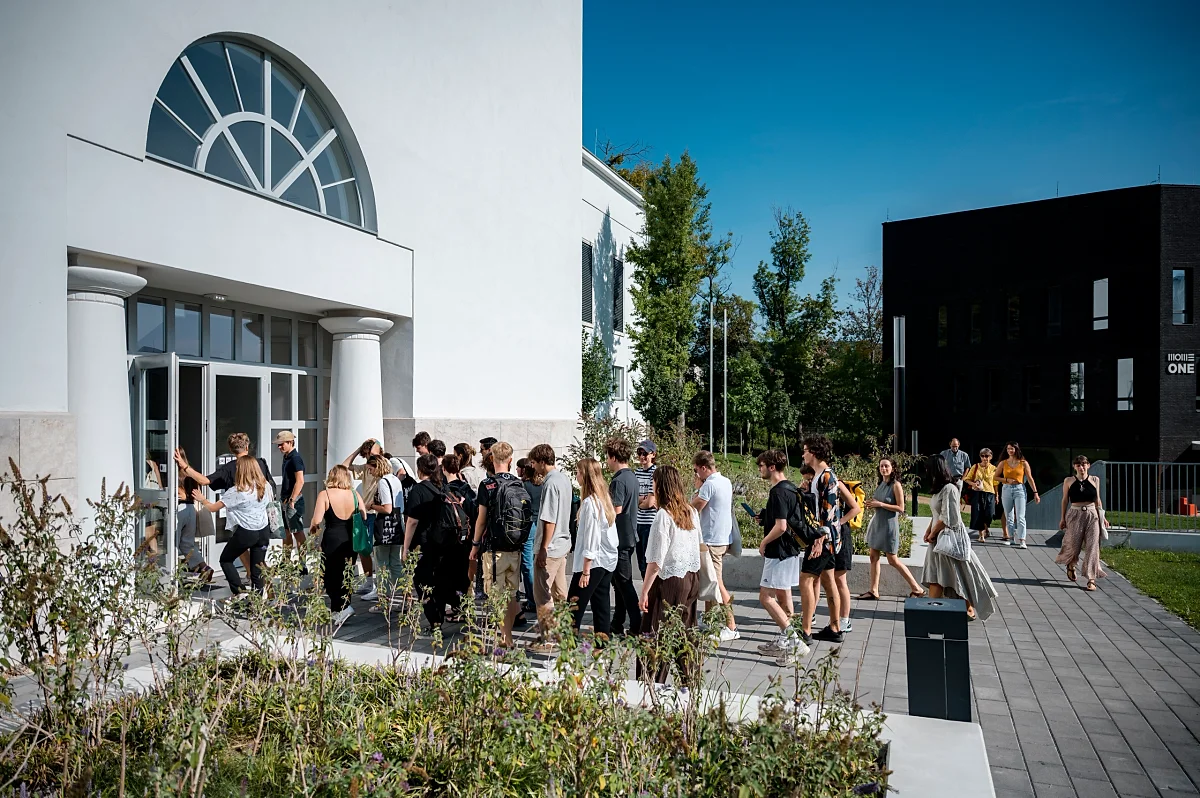 MOME sees a rise in application volume
A record high application rate has been recorded by MOME this year: In 2023, the number of applicants to our university, and in particular, of students with MOME as their first choice has increased further, representing a statistically outstanding change at national level.
8 percent and 12 percent more students have applied to our BA and MA programmes, while the number of those with MOME as their first choice for BA and MA is up 3.5 percent and 6 percent, respectively, compared to last year.
There is an exceedingly high number of applicants to our Animation, Architecture, Product Design, and Media Design trainings, alongside a growing interest in our new and entirely English language programmes. Our Design and Visual Arts Teacher programme is also in great demand, and belongs to teacher training, one of the most popular areas of training this year.

Applicants were required to first upload their portfolio to the MOME website for selection by the admissions committees of the Graphic Design, Animation, Photography, and Architecture BA programmes. The code numbers of students proceeding to the second round of the aptitude test have been published on the university website.

During the e-administration period launching on 20 April, applicants can verify their recorded details and uploaded documents, track the progress of their application process, as well as check their recorded/received results and entrance examination scores. At this point, they will have one opportunity to change the order of their application choices in addition to uploading the documents and results obtained following submission of their applications. The entrance exam cut-off scores and results are expected to be announced on 26 July 2023.

Since 2022, the Foundation for Moholy-Nagy University of Art and Design has doubled the funds and grants available to students, which means first-year students joining in September 2023 can enjoy ideal circumstances.

(This piece was written using articles from felvi.hu)
More news
One of the most important events in the life of nearly 250 students will take place shortly. The diploma defences will be held between 5 and 21 June, and like in previous years, many of them will be open to the public. The Diploma Exhibition of masterworks will be on display on 17 and 18 June at several locations across the Campus. Once again, MOME's graduation ceremony will feature world-renowned creative professionals and artists whose career and oeuvre can serve as a model for students.
What will the future bring in education, healthcare, or transportation? What will life be like in 2043? These are the questions that participants of the Jump into the future! creative competition can once again reflect on together with MOME teachers. With help from the university's teachers, they can develop their designs as part of a several-week-long intensive mentoring process.
School teaching practice has always been an important focus of MOME's teacher training, as real-life school setting is the best preparation environment for those looking to become a teacher. Each year, MOME's Design and Visual Arts Teacher programme, which produces 10 graduates, is in great demand, and belongs to teacher training, one of the most popular areas of training.