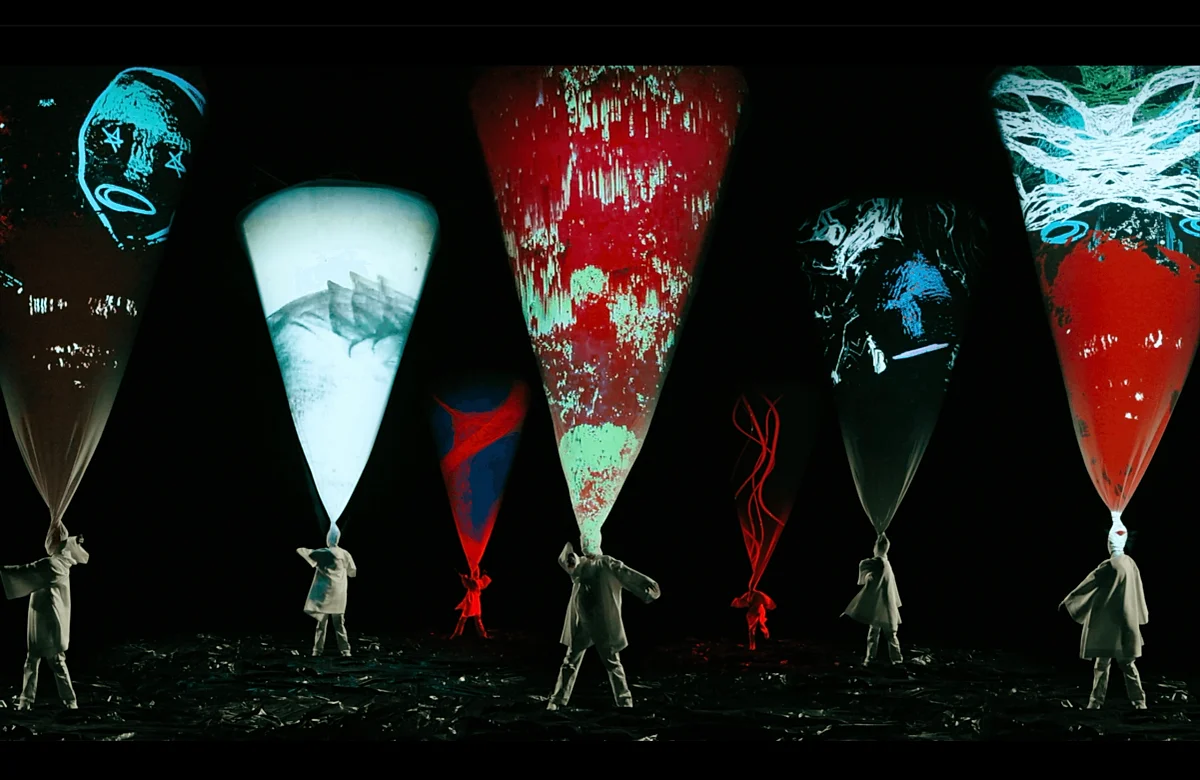 MOME students involved in the new OIEE music video
Bence Kocsis (OIEE) and Blanka Kicsák (Art and Design Management MA student) began working together during MOME's mentoring programme, resulting in a new music video by OIEE – OFF BEAT ECHO.
The music was created in collaboration with Grammy Award-winning mixer and producer Steve Dub (Chemical Brothers). In making the music video shot at the MOME Film Studio, MOME students offered visual reflections on the subject of the song together with artists from different areas.

As a special technological twist, the video did not undergo any digital postprocessing apart from colour grading despite its futuristic feel, which means what you see, from the projections to holographic imaging, is what you get.
The artworks were inspired by the lyrics and mood of the song, dealing with our constant inner conflict between the pressure for continuous progress coming from society and our environment coupled with our addiction to stimuli, and the desire for leading a slower-paced and quieter existence.


Bence Kocsis (OIEE) - Director, Art Director and Producer, Music (MOME)
Gábor Karcis - Mapping, projection (MOME)
Sándor Körei - sculptor (MKE)
Nóra Barna - dancer, Media Design student (MOME)
Nikola Mrkobrad - product designer (MOME)
Blanka Kicsák - Art and Design Management (MOME)
Péter Kiss - cinematographer, editor
Tamás Cseke - photo (MOME)
Dániel Székács - Mapping, projection (MOME)

Continue to the music video: https://youtu.be/omCAk2YWSlM
More news
The CEE Animation Forum in Pilsen is a major animation industry pitch forum of the region, with animation professionals presenting their ideas and getting networking opportunities. Each year, MOME animation students attend the event. This year Dániel Diószeghy and Zoé Nagy presented their diploma projects, and a separate presentation and exhibition were put on by the Animation programme.
His films are regularly screened at the Moholy-Nagy University of Art and Design (MOME). With the power to captivate every generation, they paint an authentic historical portrait of Hungary before the regime change. Gyula Gazdag is a film director, screenwriter, professor emeritus of the Department of Film, Television and Digital Media of the University of California Los Angeles (UCLA), and Artistic Director of the Sundance Filmmakers Lab founded by Robert Redford. He was named one of the ten best film teachers in the United States by Daily Variety in 2010. This year, he has joined the ranks of the Moholy-Nagy Award holders, and will be presented with the award for his formative educational work on 30 November by Rector József Fülöp.
Paris is the capital of photography in November when Paris Photo, the world's largest photography event, takes place. At the same time as Paris Photo, which attracts tens of thousands of visitors from France and abroad, the Concorde Atlantique hosts Polycopies, a fair dedicated to photo books. From 8 to 12 November, the Photography Department took part in Polycopies for the first time with its own stand.