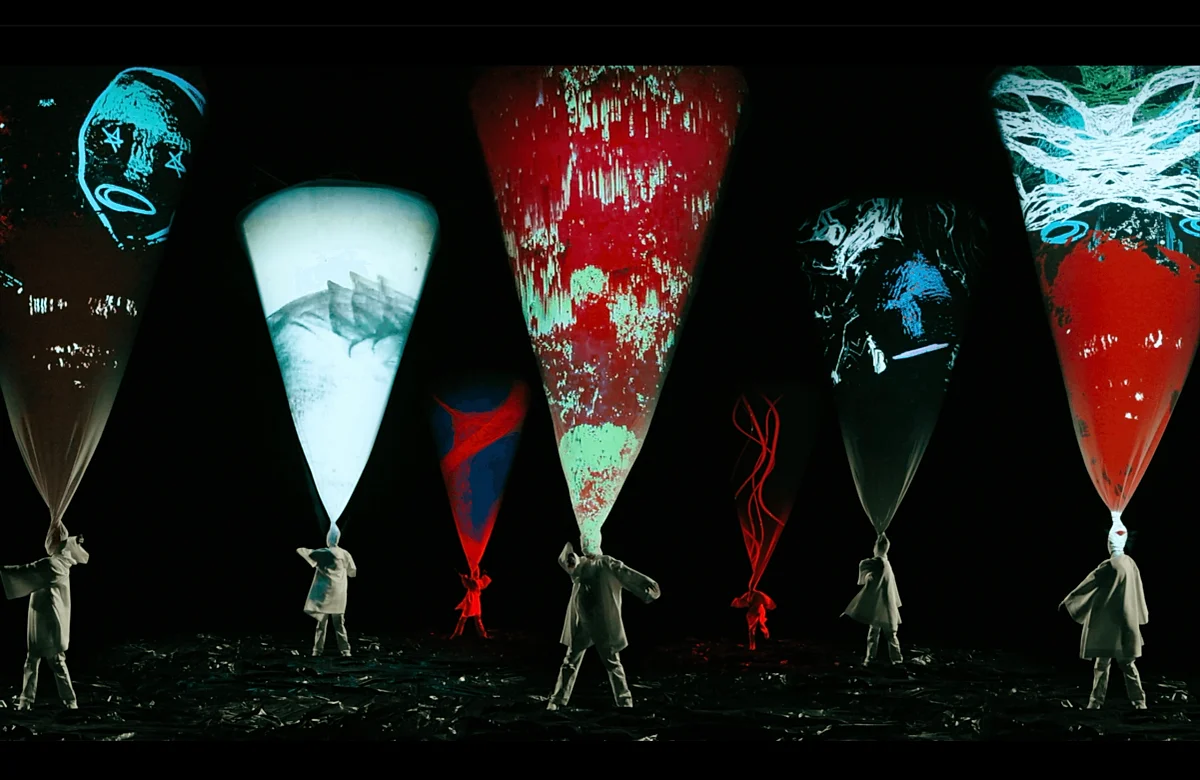 MOME students involved in the new OIEE music video
Bence Kocsis (OIEE) and Blanka Kicsák (Art and Design Management MA student) began working together during MOME's mentoring programme, resulting in a new music video by OIEE – OFF BEAT ECHO.
The music was created in collaboration with Grammy Award-winning mixer and producer Steve Dub (Chemical Brothers). In making the music video shot at the MOME Film Studio, MOME students offered visual reflections on the subject of the song together with artists from different areas.

As a special technological twist, the video did not undergo any digital postprocessing apart from colour grading despite its futuristic feel, which means what you see, from the projections to holographic imaging, is what you get.
The artworks were inspired by the lyrics and mood of the song, dealing with our constant inner conflict between the pressure for continuous progress coming from society and our environment coupled with our addiction to stimuli, and the desire for leading a slower-paced and quieter existence.


Bence Kocsis (OIEE) - Director, Art Director and Producer, Music (MOME)
Gábor Karcis - Mapping, projection (MOME)
Sándor Körei - sculptor (MKE)
Nóra Barna - dancer, Media Design student (MOME)
Nikola Mrkobrad - product designer (MOME)
Blanka Kicsák - Art and Design Management (MOME)
Péter Kiss - cinematographer, editor
Tamás Cseke - photo (MOME)
Dániel Székács - Mapping, projection (MOME)

Continue to the music video: https://youtu.be/omCAk2YWSlM
More news
One of the most important events in the life of nearly 250 students will take place shortly. The diploma defences will be held between 5 and 21 June, and like in previous years, many of them will be open to the public. The Diploma Exhibition of masterworks will be on display on 17 and 18 June at several locations across the Campus. Once again, MOME's graduation ceremony will feature world-renowned creative professionals and artists whose career and oeuvre can serve as a model for students.
What will the future bring in education, healthcare, or transportation? What will life be like in 2043? These are the questions that participants of the Jump into the future! creative competition can once again reflect on together with MOME teachers. With help from the university's teachers, they can develop their designs as part of a several-week-long intensive mentoring process.
School teaching practice has always been an important focus of MOME's teacher training, as real-life school setting is the best preparation environment for those looking to become a teacher. Each year, MOME's Design and Visual Arts Teacher programme, which produces 10 graduates, is in great demand, and belongs to teacher training, one of the most popular areas of training.