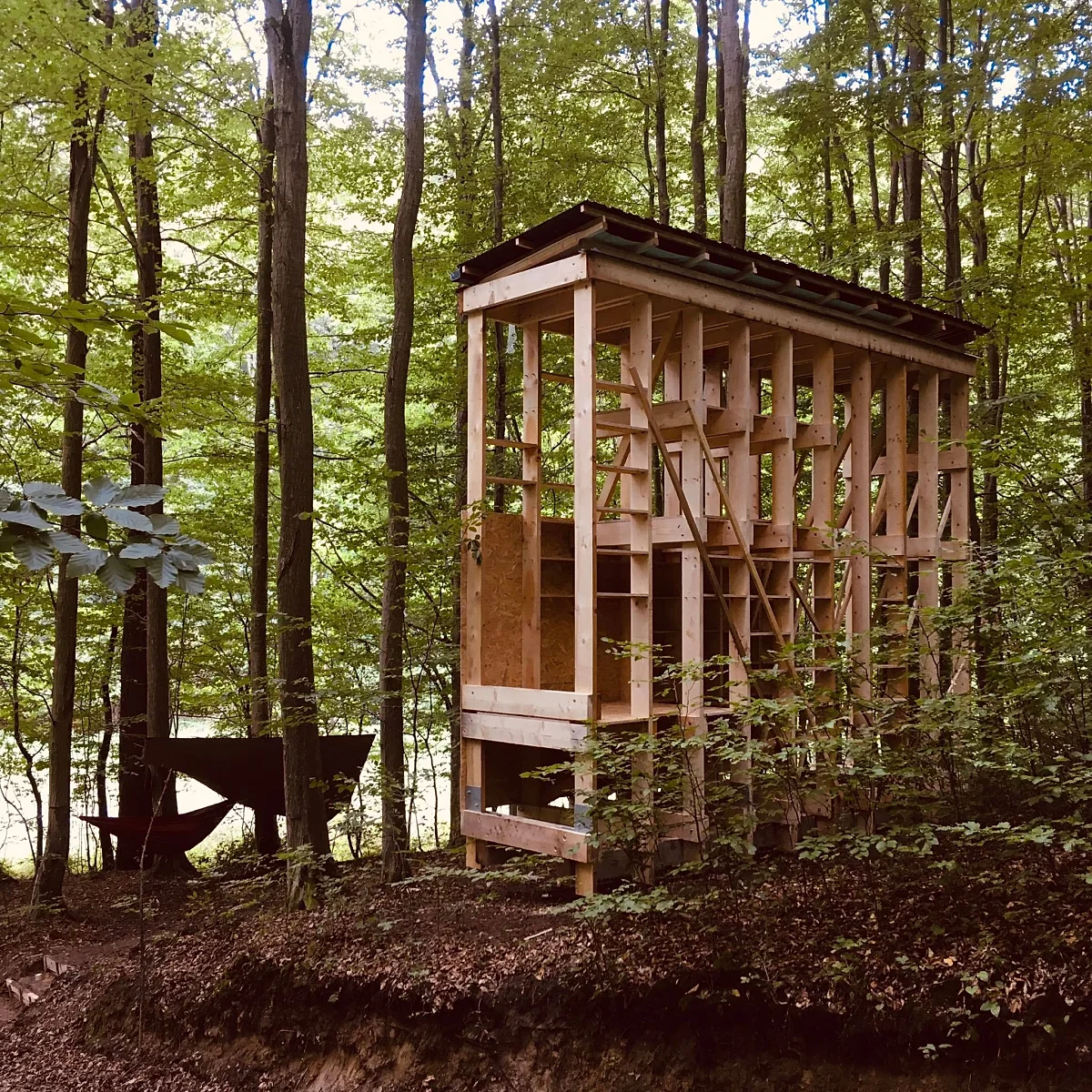 READING CABIN in Csingervölgy
A marriage of art and nature, the reading cabin built according to a design by MOME's architecture students can also be used as a bivouac shelter.
As Dániel Baló, teacher of the MOME students designing the reading cabin told the Veszprém County News Portal, the basic concept was developed by students Imola Fazakas and Liza Formanek as part of a university course and further improved in the next semester together with their fellow students.
The idea of a bivouac shelter was incorporated into the concept to enable hikers to spend the night at the cabin and even heat up food using a gas heater. The interior of the 1.5 meters wide, 5 meters tall and 6 meters long cabin consists of two bookshelves facing each other, with bunks stacked above.
According to Baló, the students made everything themselves with the exception of the glass windows. The cabin was built over a week, using ground screws provided by a business free of charge, and burnt planks. The covered, open porch is accessible to everyone, while the cabin itself, which can house up to 6 people, can be unlocked after putting in a code.
To read more, visit https://www.veol.hu/helyi-kultura/2022/09/a-muveszet-es-a-termeszet-talalkozasa-a-csinger-volgyi-parkerdoben
To read more, visit https://welovebalaton.hu/cikk/2022/9/13/latnivalok-kultura-erdei-olvasokabint-kapott-az-ajkai-molnar-gabor-parkerdo
Listen to the 17 November broadcast of Kossuth Rádió radio station on the subject: https://mediaklikk.hu/kossuth-radio/cikk/2022/11/16/vendeg-a-haznal-kert-es-gyerekirodalom/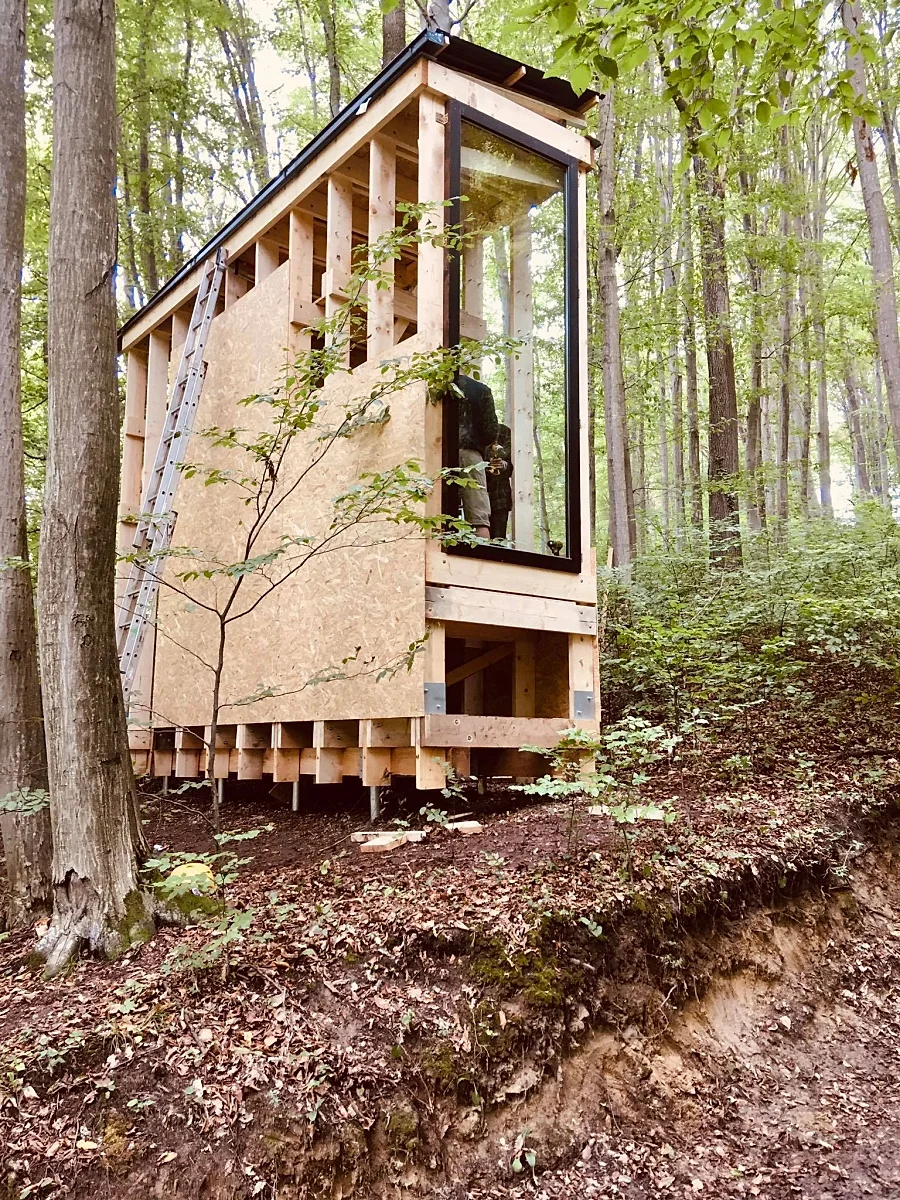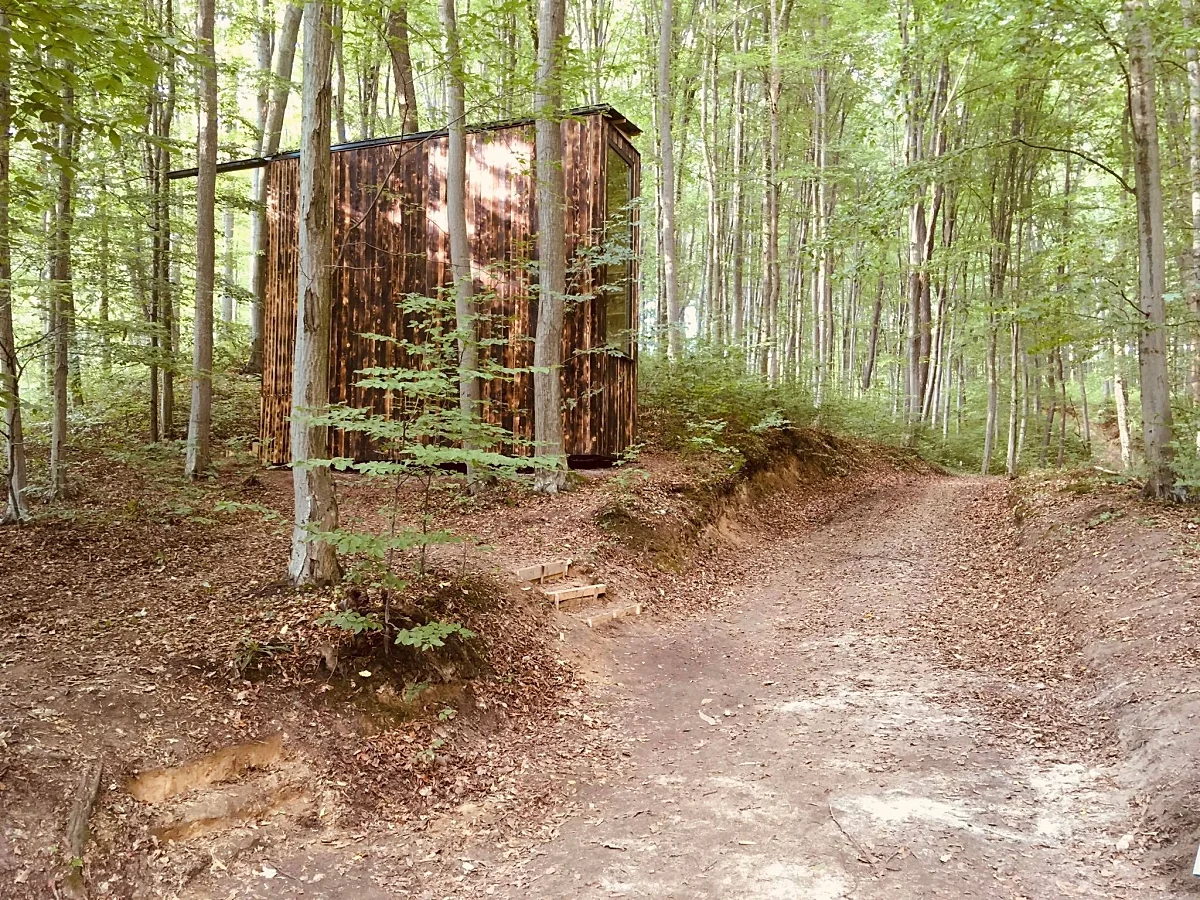 More news
How to make gastronomy truly sustainable? Moholy-Nagy University of Art and Design (MOME) and SALT Restaurant have reached a major milestone on the road to a circular culinary culture. Their collaborative research resulted in a new plate with zero environmental impact for the sustainable enjoyment of the best haute cuisine has to offer.
The works created by the latest generation of product design students of Moholy-Nagy University of Art and Design (MOME), presented at the S/ALON BUDAPEST home trend fair on 22 to 24 September at the Budapest Arena all share a focus on the passion for the traditions of handcrafting, sustainability, innovation, and emotional connection. Uniquely in Hungary, the fair showcases the latest home decor trends, furniture, lighting solutions, flooring and wall coverings, home textiles, and accessories in extraordinary interiors, and is centered around the relationship of design and nature.
Design Theory MA student Eszter Sára Szabó earned the grant with her exhibition concept developed for beyond galleries, while Art and Design Management MA student Natasa Tereh and Sebestyén Teodor Bárány received the accolade for an impressive showcase designed for the MOME Campus.