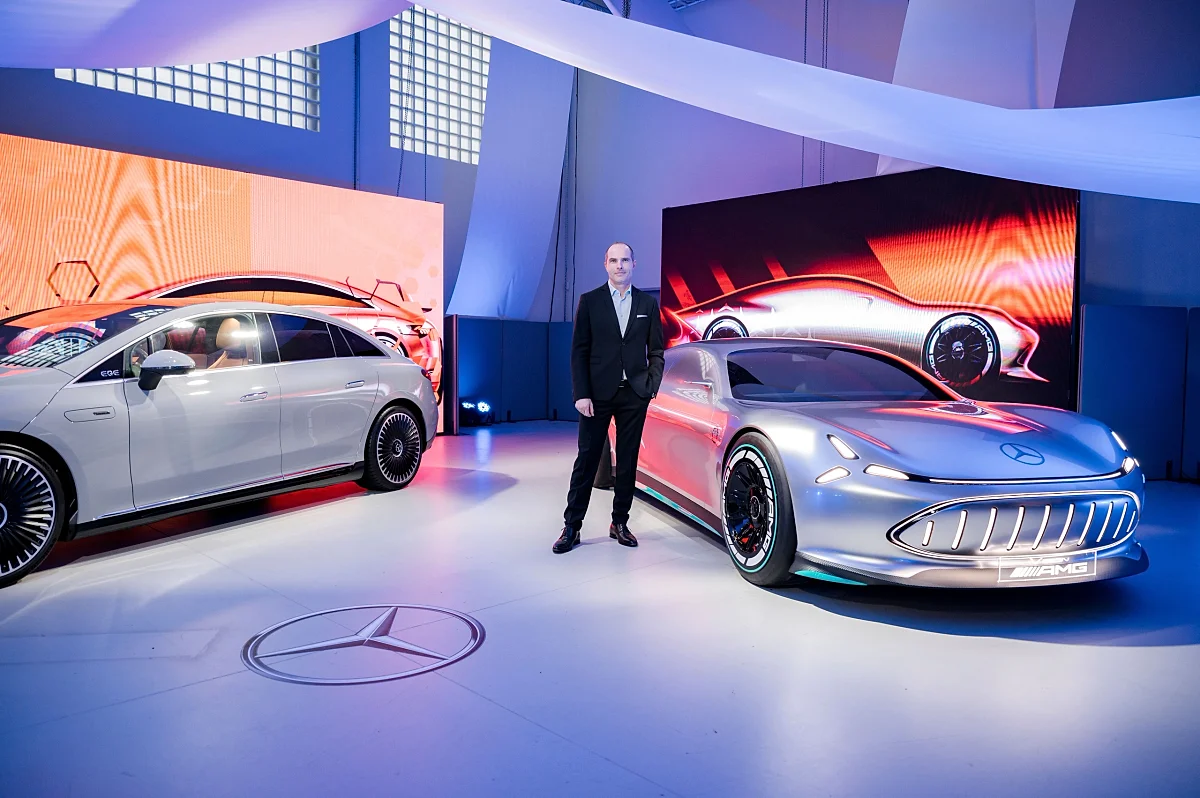 Shaping the future of mobility in Budapest
The success story of Moholy-Nagy University of Art and Design of Budapest and Mercedes-Benz began twenty years ago. To mark the occasion, we interviewed Robert Lešnik, Head of Exterior Design at Mercedes-Benz.
The world-famous German automotive company and the Hungarian university celebrated 20 years of cooperation with a groundbreaking exhibition, SHIFT: Exhibition in two realities. It took place from 27 to 30 October 2022 and offered visitors a truly phygital experience. Walking through MOME's emblematic spaces and gardens, visitors could not only explore the works of alumni in the form of posters, 3D-printed models, and animations but also digitally observe the individual design concepts through augmented reality. Thus, concept vehicles such as an SUV helping colonists in future Mars mission, or one racing through forest fires caused by climate change could be projected into the garden of the MOME campus, just as well as a virtual replica of a self-driving sports car, or a zero-emission luxury cruiser. This was followed by a brief visit to the Mobility Design Lab, the university's vehicle design studio. As a closing moment of the exhibition, Robert Lešnik presented the all-electric Mercedes-AMG EQE model and the unique Vision AMG show car, which was brought to the MOME Campus straight from Stuttgart.
We asked the Head of Exterior Design at Mercedes-Benz about the joint program of MOME and Mercedes-Benz, the impact of digitalization on the automotive industry, and the future of mobility. Interview.
More news
Various social problems that need to be addressed have come to play an increasingly prominent role in everyday life, begging the question how to go about solving them.
Two of our graduate students from last year, Szabolcs Fülöp (Graphic Design MA) and Erzsébet Jiang (Fashion and Textile Design MA), are among this year's GRADUATION PROJECTS winners. The review, whose history stretches back to 2002, focuses on work by design students in higher education in the Czech Republic, Poland, Hungary and Slovakia. It has already acknowledged numerous Hungarian students, many of whom are MOME graduates.
Starting from this semester, students can also take an accredited Permaculture Design Course (PDC). The full-house public launch event took place on 4 March in the MOME Auditorium, introducing permaculture as a design system and approach that simulates ecological processes in nature and draws on the synergies between landscape, man and natural resources.