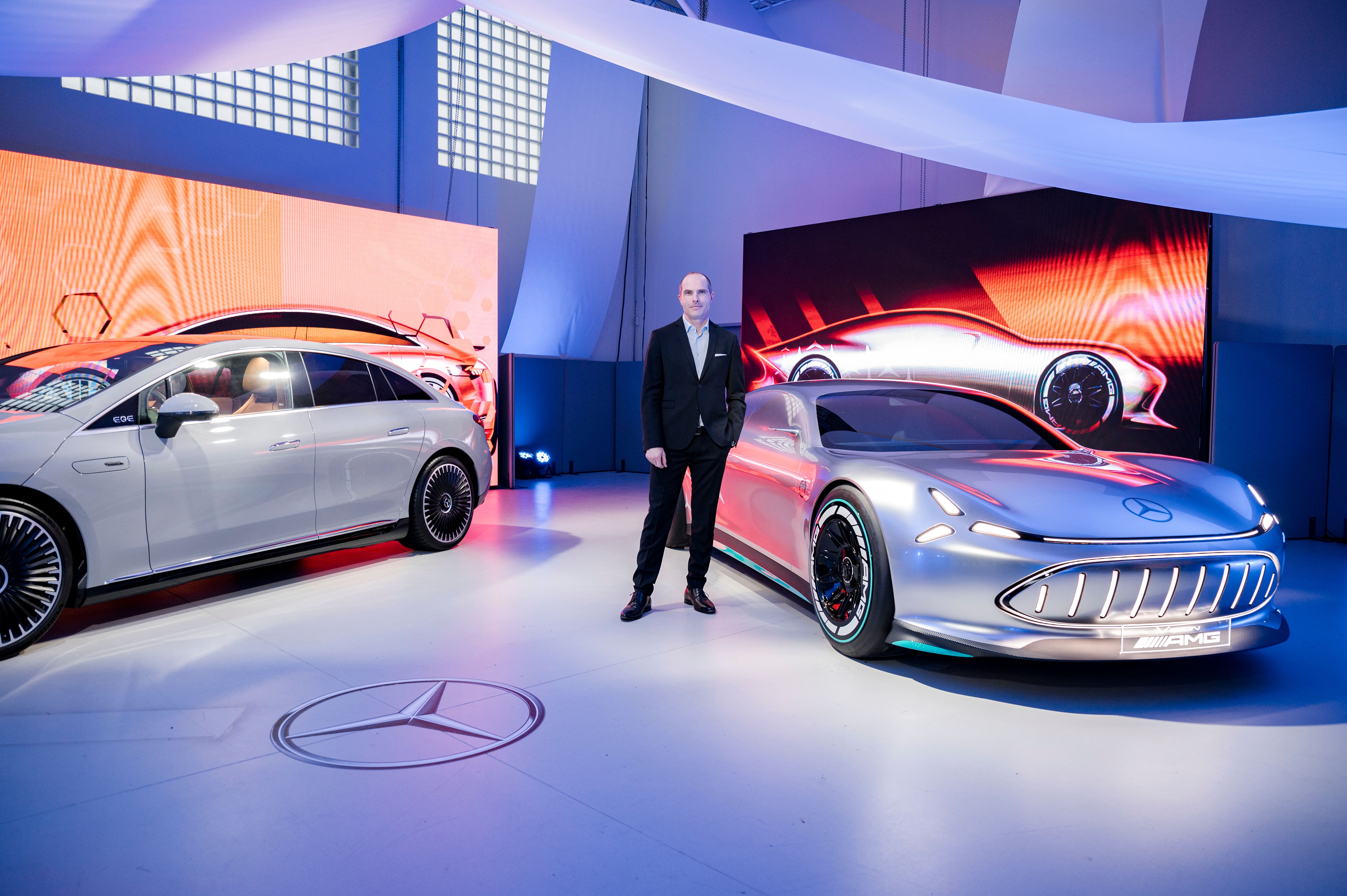 Shaping the future of mobility in Budapest
The success story of Moholy-Nagy University of Art and Design of Budapest and Mercedes-Benz began twenty years ago. To mark the occasion, we interviewed Robert Lešnik, Head of Exterior Design at Mercedes-Benz.
The world-famous German automotive company and the Hungarian university celebrated 20 years of cooperation with a groundbreaking exhibition, SHIFT: Exhibition in two realities. It took place from 27 to 30 October 2022 and offered visitors a truly phygital experience. Walking through MOME's emblematic spaces and gardens, visitors could not only explore the works of alumni in the form of posters, 3D-printed models, and animations but also digitally observe the individual design concepts through augmented reality. Thus, concept vehicles such as an SUV helping colonists in future Mars mission, or one racing through forest fires caused by climate change could be projected into the garden of the MOME campus, just as well as a virtual replica of a self-driving sports car, or a zero-emission luxury cruiser. This was followed by a brief visit to the Mobility Design Lab, the university's vehicle design studio. As a closing moment of the exhibition, Robert Lešnik presented the all-electric Mercedes-AMG EQE model and the unique Vision AMG show car, which was brought to the MOME Campus straight from Stuttgart.
We asked the Head of Exterior Design at Mercedes-Benz about the joint program of MOME and Mercedes-Benz, the impact of digitalization on the automotive industry, and the future of mobility. Interview.
More news
Kiemelkedő, nemzetközi alkotók előadásait hallhatta a szakma és a nagyközönség a Moholy-Nagy Művészeti Egyetem animációs képzésének születésnapi rendezvényén. A hallgatók bepillantást nyerhettek más európai alkotók animációs filmkészítésének gyakorlatába, a portfolio review pedig lehetőséget adott a hallgatói munkák bemutatására.
Moholy-Nagy University of Art and Design (MOME) further expands its international education portfolio following the successful launch of its first two English MA programmes. Students looking to continue their education in the creative industries will now have the opportunity to study Animation and Design in English language from September 2023, in addition to Photography and Interaction Design, building a valuable network and gaining future-shaping, competitive knowledge while still at university.
A fenti címmel január végéig látható kiállítás a MOME-n és a budapesti Koreai Kulturális Központban. A kulturális intézet alapításának tizedik évfordulójára a szöuli Nemzeti Hangul Múzeummal és egyetemünkkel közösen rendezett tárlat célja, hogy a koreai írásrendszer, azaz a hangul szépségét egyszerű és intuitív módon közvetítse a koreaiul nem beszélők számára is.