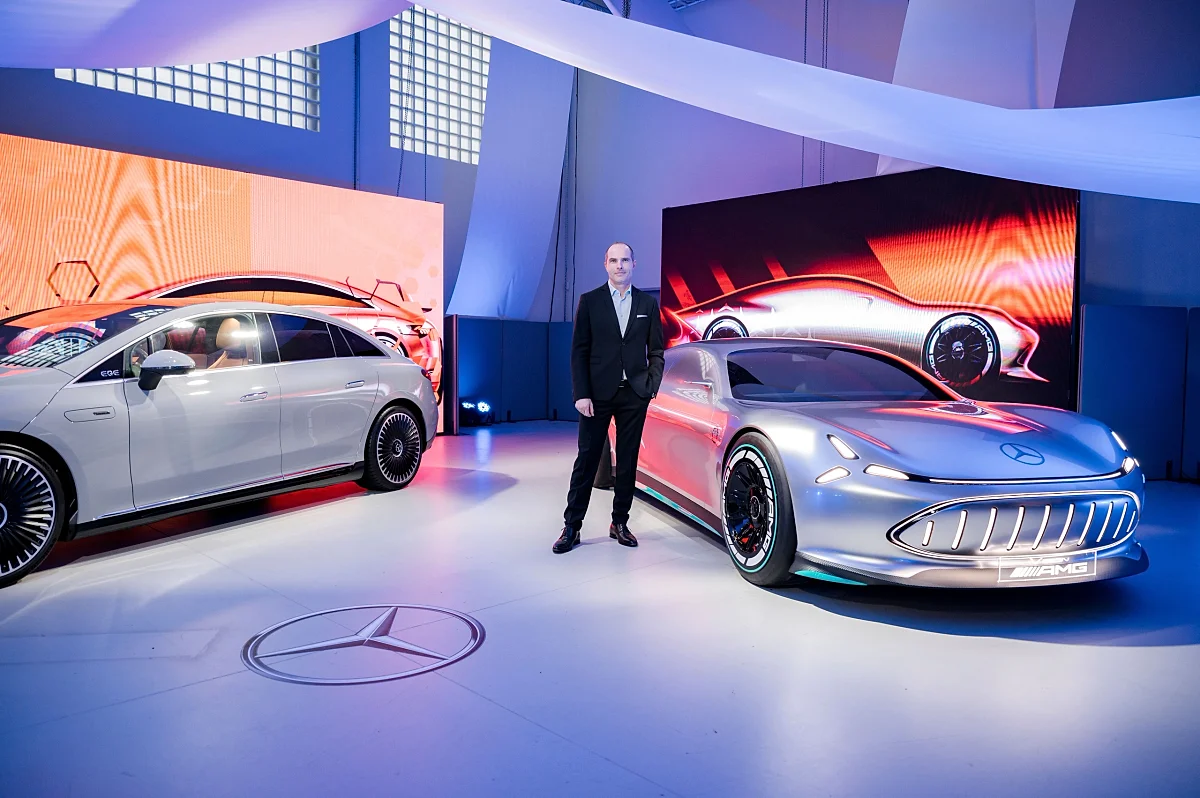 Shaping the future of mobility in Budapest
The success story of Moholy-Nagy University of Art and Design of Budapest and Mercedes-Benz began twenty years ago. To mark the occasion, we interviewed Robert Lešnik, Head of Exterior Design at Mercedes-Benz.
The world-famous German automotive company and the Hungarian university celebrated 20 years of cooperation with a groundbreaking exhibition, SHIFT: Exhibition in two realities. It took place from 27 to 30 October 2022 and offered visitors a truly phygital experience. Walking through MOME's emblematic spaces and gardens, visitors could not only explore the works of alumni in the form of posters, 3D-printed models, and animations but also digitally observe the individual design concepts through augmented reality. Thus, concept vehicles such as an SUV helping colonists in future Mars mission, or one racing through forest fires caused by climate change could be projected into the garden of the MOME campus, just as well as a virtual replica of a self-driving sports car, or a zero-emission luxury cruiser. This was followed by a brief visit to the Mobility Design Lab, the university's vehicle design studio. As a closing moment of the exhibition, Robert Lešnik presented the all-electric Mercedes-AMG EQE model and the unique Vision AMG show car, which was brought to the MOME Campus straight from Stuttgart.
We asked the Head of Exterior Design at Mercedes-Benz about the joint program of MOME and Mercedes-Benz, the impact of digitalization on the automotive industry, and the future of mobility. Interview.
More news
How to make gastronomy truly sustainable? Moholy-Nagy University of Art and Design (MOME) and SALT Restaurant have reached a major milestone on the road to a circular culinary culture. Their collaborative research resulted in a new plate with zero environmental impact for the sustainable enjoyment of the best haute cuisine has to offer.
The works created by the latest generation of product design students of Moholy-Nagy University of Art and Design (MOME), presented at the S/ALON BUDAPEST home trend fair on 22 to 24 September at the Budapest Arena all share a focus on the passion for the traditions of handcrafting, sustainability, innovation, and emotional connection. Uniquely in Hungary, the fair showcases the latest home decor trends, furniture, lighting solutions, flooring and wall coverings, home textiles, and accessories in extraordinary interiors, and is centered around the relationship of design and nature.
Design Theory MA student Eszter Sára Szabó earned the grant with her exhibition concept developed for beyond galleries, while Art and Design Management MA student Natasa Tereh and Sebestyén Teodor Bárány received the accolade for an impressive showcase designed for the MOME Campus.