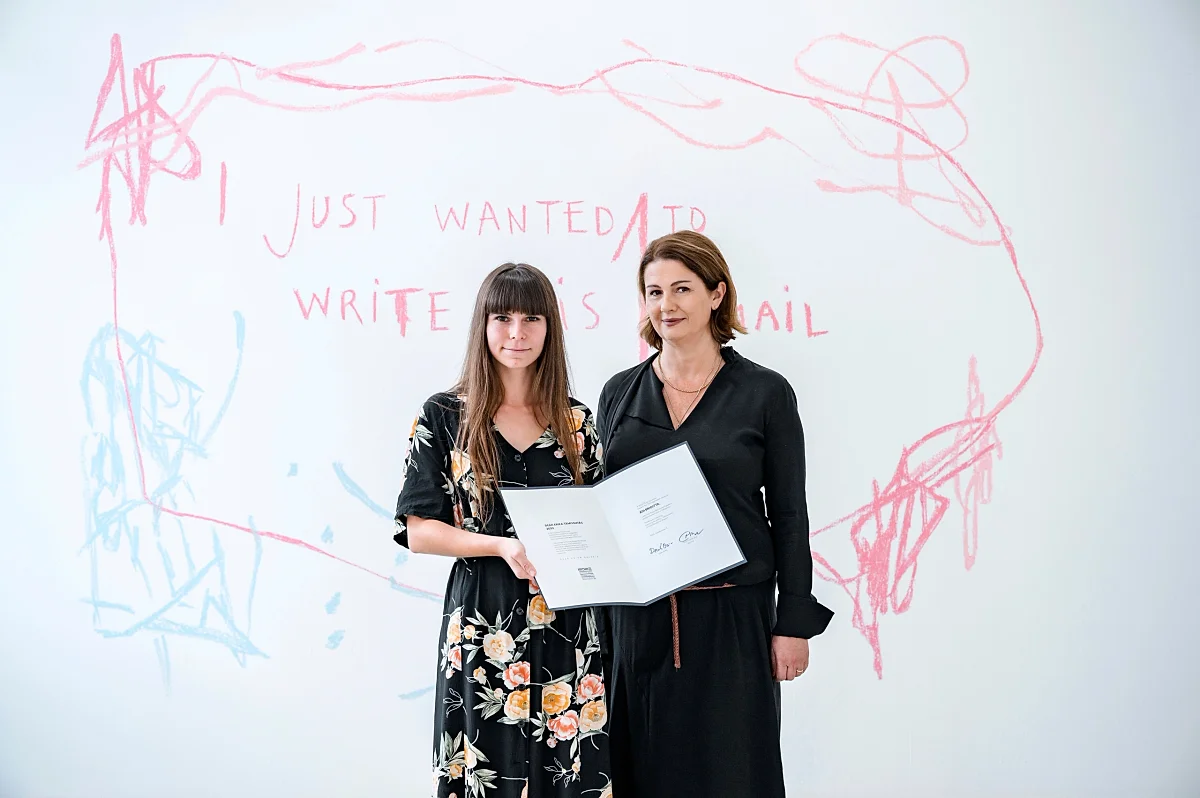 The awarding of this year's Deák Erika Grant has taken place
The winning entry of Design Theory MA student Brigitta Ádi, this year's recipient of the Deák Erika Grant, explored the character of urban public spaces through the ephemeral and location-specific artistic interventions of the early 90s.
Since 2020, students of MOME's Institute for Theoretical Studies can apply for the 1-year grant that specifically helps emerging theoreticians and curators.
The HUF 500,000 grant is awarded to a senior Design Theory MA or Art and Design Management MA student graduating in the year of submitting the application and selected by a jury of three, consisting of university teachers and professionals.
For the first time, Erika Deák, founder of the eponymous grant and owner of the Erika Deák contemporary fine art gallery, also participated in the decision-making.
"I want to help by enabling the new generation of theoreticians and curators to see the big picture in contemporary art instead of getting lost in the details", she said.
At her initiative, the grant has been awarded as part of the collaboration to altogether 5 students over 5 years. The aim of the grant is to support one graduating student each year carrying out in-depth research in the field of contemporary art, and to help develop and strengthen the students' professional attitudes.
More news
MOME has launched English language courses at different levels led by native teachers not just to improve the level of language skills in general but also to teach the vocabulary of the academic terminology, creative fields and the jobs trained at the university.
What does it take for a young designer to be successful? Whether for running their own graphic design or animation studio, founding their own fashion label or working as an employee, future designers need market and entrepreneurial skills to succeed and realise their goals. For this purpose, MOME teachers have developed a course that is unique in the Central Eastern European region, providing students with a business approach specifically reflecting the needs of the creative industries. The Business to Design (B2D) educational programme was created with involvement of prominent professionals and entrepreneurs in the field, MOME alumni, as well as invited international speakers. Its originality lies in it forming part of the curriculum and being a mandatory subject for all BA students.
Battling the effects of global crises that creep into our everyday lives, we may easily find ourselves on a rollercoaster between mounting panic and the impassiveness brought on by a sense of futility. In the face of steadily accumulating challenges, we are justified in wondering how to proceed.