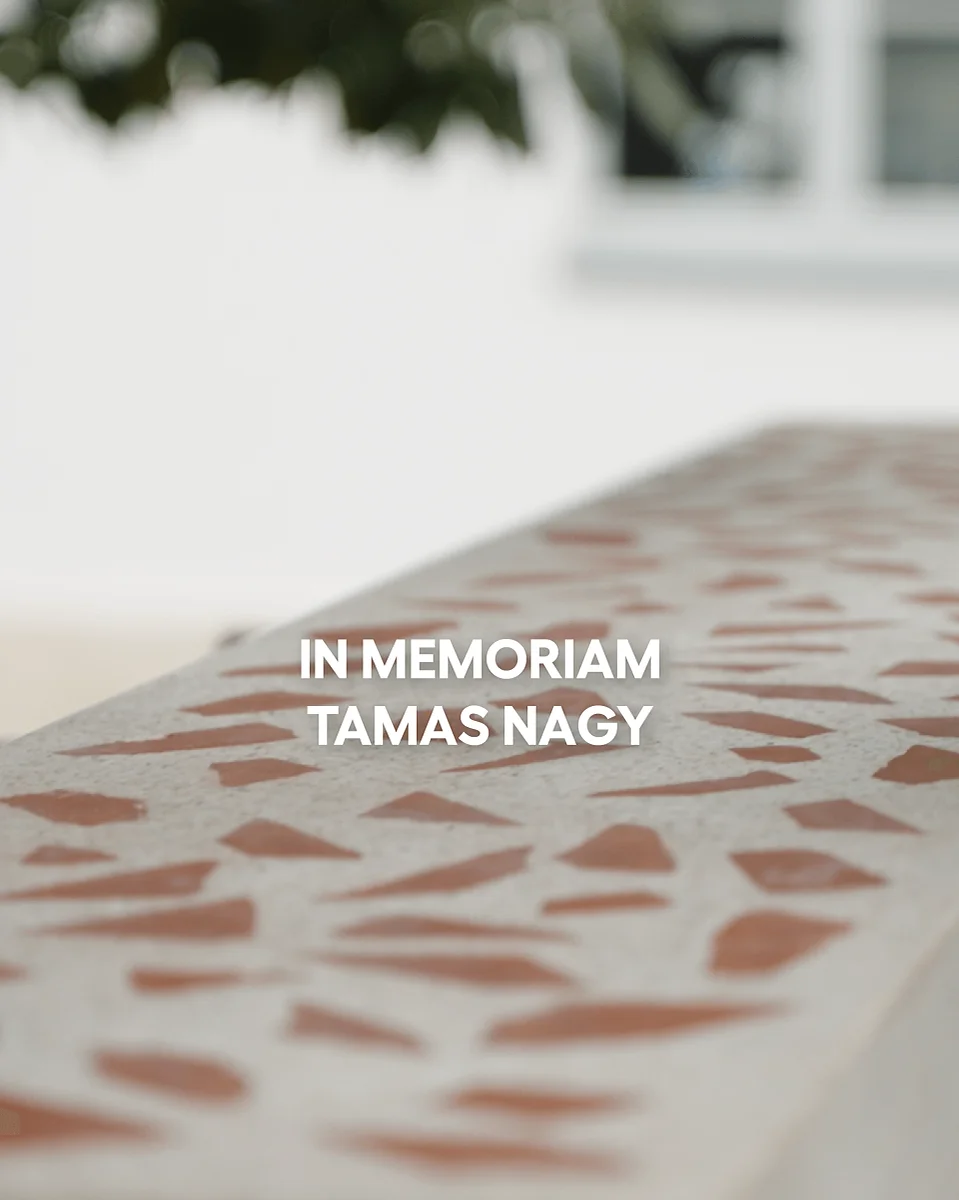 The bench created as part of the 'Tamás Nagy: Teacher Architect' exhibition has earned its rightful place at the MOME Campus
In memory of one of the most influential professors at the Institute of Architecture, the community of our university has unveiled a piece of public furniture, honouring his legacy.
Tamás Nagy (1951-2020) was one of the most outstanding figures in Hungarian architecture in the period after the fall of communism, and our university paid tribute to his legacy last year with an exhibition titled 'Tamás Nagy: Teacher Architect'.
As part of the event, visitors placed individual bricks in a mould, which was poured with concrete and left to solidify on-site. This public bench has now found its rightful place on the MOME campus.
Former students jointly placed the bench on the pedestal on the meadow behind the Master building, enclosed by the Gondűző building.
The commemoration recalls numerous innovations introduced by Nagy, many of which still define our education today, such as reviving the tradition of construction camps and raising them to a professional level, and introducing, and introducing: hands-on experience into the curriculum.
More news
One of the most important events in the life of nearly 250 students will take place shortly. The diploma defences will be held between 5 and 21 June, and like in previous years, many of them will be open to the public. The Diploma Exhibition of masterworks will be on display on 17 and 18 June at several locations across the Campus. Once again, MOME's graduation ceremony will feature world-renowned creative professionals and artists whose career and oeuvre can serve as a model for students.
What will the future bring in education, healthcare, or transportation? What will life be like in 2043? These are the questions that participants of the Jump into the future! creative competition can once again reflect on together with MOME teachers. With help from the university's teachers, they can develop their designs as part of a several-week-long intensive mentoring process.
School teaching practice has always been an important focus of MOME's teacher training, as real-life school setting is the best preparation environment for those looking to become a teacher. Each year, MOME's Design and Visual Arts Teacher programme, which produces 10 graduates, is in great demand, and belongs to teacher training, one of the most popular areas of training.