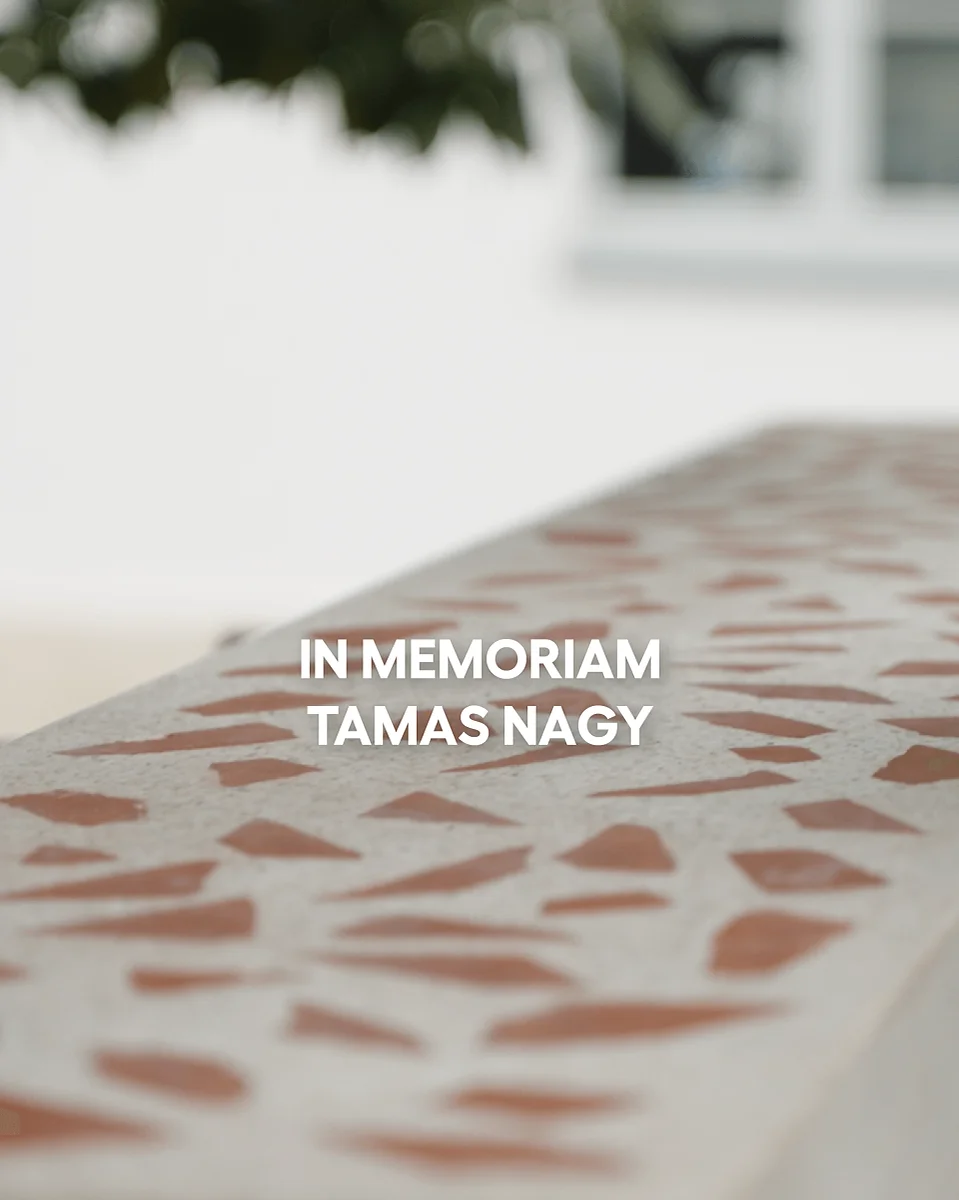 The bench created as part of the 'Tamás Nagy: Teacher Architect' exhibition has earned its rightful place at the MOME Campus
In memory of one of the most influential professors at the Institute of Architecture, the community of our university has unveiled a piece of public furniture, honouring his legacy.
Tamás Nagy (1951-2020) was one of the most outstanding figures in Hungarian architecture in the period after the fall of communism, and our university paid tribute to his legacy last year with an exhibition titled 'Tamás Nagy: Teacher Architect'.
As part of the event, visitors placed individual bricks in a mould, which was poured with concrete and left to solidify on-site. This public bench has now found its rightful place on the MOME campus.
Former students jointly placed the bench on the pedestal on the meadow behind the Master building, enclosed by the Gondűző building.
The commemoration recalls numerous innovations introduced by Nagy, many of which still define our education today, such as reviving the tradition of construction camps and raising them to a professional level, and introducing, and introducing: hands-on experience into the curriculum.
More news
A vehicle developed jointly by MOME and the John von Neumann University can revolutionise urban freight delivery: Moholy-Nagy University of Art and Design (MOME) unveiled a hydrogen and solar-powered vehicle at the climate summit in Dubai. The prototype of three-wheeled, multifunctional transport vehicle, developed through the collaboration of the two universities, was first showcased to the public on 1 December at the UN COP28 climate summit, and was sent to Dubai straight from the developers' workshop.
What and how can we study at MOME in ten or even twenty years? How can the university stay up-to-date and provide answers to the pressing challenges of the century, and the needs of the future? The Foundation for the Moholy-Nagy University of Arts and Design asked the university community to develop a 21st century education model, the "University of the Future 2025-2045", in line with the international ambitions of the institution, as part of the model change. At the MOME Senate meeting in early December, the programme was approved by the Senate of the University without abstention or dissenting votes, with a 100% approval rate - a reform with such a high level of support has never been seen before in the history of the institution.
The 17th Moholy-Nagy Award was presented by József Fülöp to film director, screenwriter, and professor emeritus of the Department of Film, Television and Digital Media of the University of California Los Angeles (UCLA), and art director of the Sundance Filmmakers Lab Gyula Gazdag.