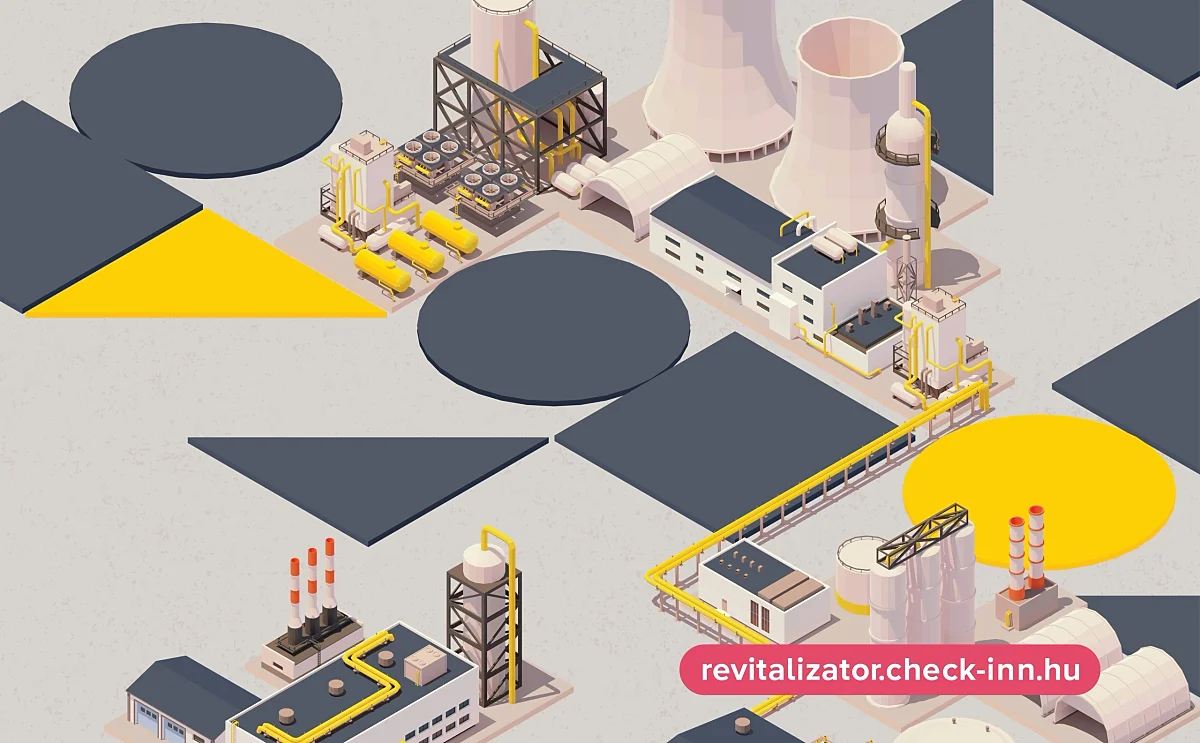 The future of old industrial buildings can be rewritten by university students participating in MOME and CheckINN's joint idea competition
After last year's exciting launch, the Revitalisator competition co-organised by the CheckINN tourism innovation hub and MOME to reward ideas for repurposing rust zone sites is once again open for entries. The competition serves a dual purpose: for one, it helps students interested in tourism and architecture launch their career, and for another, it takes a major step towards sustainable urban development by seeking viable ideas. The submission deadline is 4 June, and the two winning entries are awarded HUF 3 million each.
Hungary has 12 hectares of rust zone – sites that were previously in industrial or commercial use but now stand abandoned. CheckINN and MOME's idea competition is designed to encourage the urban development approach of thinking of them as valuable areas with a huge potential. Despite being difficult to repurpose, they are essential for modern and sustainable city development in several ways. Many of them have contamination issues, so the first step in their revitalisation is cleaning, which results in an immediate improvement in the quality of life of residents in the neighbourhood. They nearly always have an existing road network, utilities, and even buildings, which means their rejuvenation requires fewer resources. Most importantly, their redeployment could offset the building in of unspoiled nature areas.
The altogether 26 teams of last year's competition creatively reinvented abandoned sites in several Hungarian cities including Pécs, Nyíregyháza, Lillafüred, Visegrád, Veszprém, Eger, and Budapest. One of the winning teams, DiveIN, designed a diver base using the former Népgőzfürdő public steam bath and the Molnár cave, while the other winner, Cruisin' proposed to develop a cultural space in the former Népsziget shipyard to debut young artists. FényPont's design would transform the 60-metre-high rust zone tower into a lookout, and the adjacent boiler room into a community space, and Aktív Zemplén spotted the potential for an active relaxation centre for runners, hikers and cyclists in the former border patrol building. For the majority of the contenders, the use of environmentally friendly building materials and renewable energy sources, and utilising resources as sparingly as possible for their designs were important considerations.
The second CheckINN Revitalisator competition is open until 4 June 2023 for teams of three students in higher education, each with an active student status. Though there is no restriction in terms of field of study, the students need to be interested in tourism, architecture, and design. According to the organisers, there are three keys to victory: selecting an inspiring location (making it a good idea to do a little research on Hungary's rust zones), making sure the advantages offered by the site can be exploited as best as possible for the touristic function envisioned by the team, and having a 2-minute-long video providing the most powerful and original presentation of the idea.
The top ten concepts will be selected by professionals invited by CheckINN and MOME, and the shortlisted teams will proceed to further develop their designs under the tutelage of prominent mentors. This year's mentors are architect, founder of the GUBAHAMORI architect studio and MOME doctoral candidate Sándor Guba; architect, member of the Pálma architect community and MOME alumnus Dániel Eke, and Deputy General Manager of KviHotel Budapest Péter Palicz. In addition to professional guidance, presentation consultations will also be provided to support the teams, particularly needed for the exciting pitch event of the finals. With the help of the impressive presentations, the finalists will showcase their designs to the public and the profession, and so the competition will also offer an excellent opportunity for networking.
Entries can be submitted by 4 June 2023 via this link.
More news
In June, two Hungarian film festivals will feature several former and graduating MOME students: Fresh Meat Budapest International Short Film Festival, followed by the Kecskemét Animation Film Festival.
Flóra Anna Buda won the Palme d'Or for the best short film at the 76th Cannes Film Festival with her French-Hungarian co-production 27, which will be shown to Hungarian audiences at the Fresh Meat Festival starting on 1 June. The director's name is not unfamiliar in the international festival circuit.
What is the level of design maturity among businesses in the Central Eastern European region – in other words, how extensively do they harness design to increase growth and business performance?