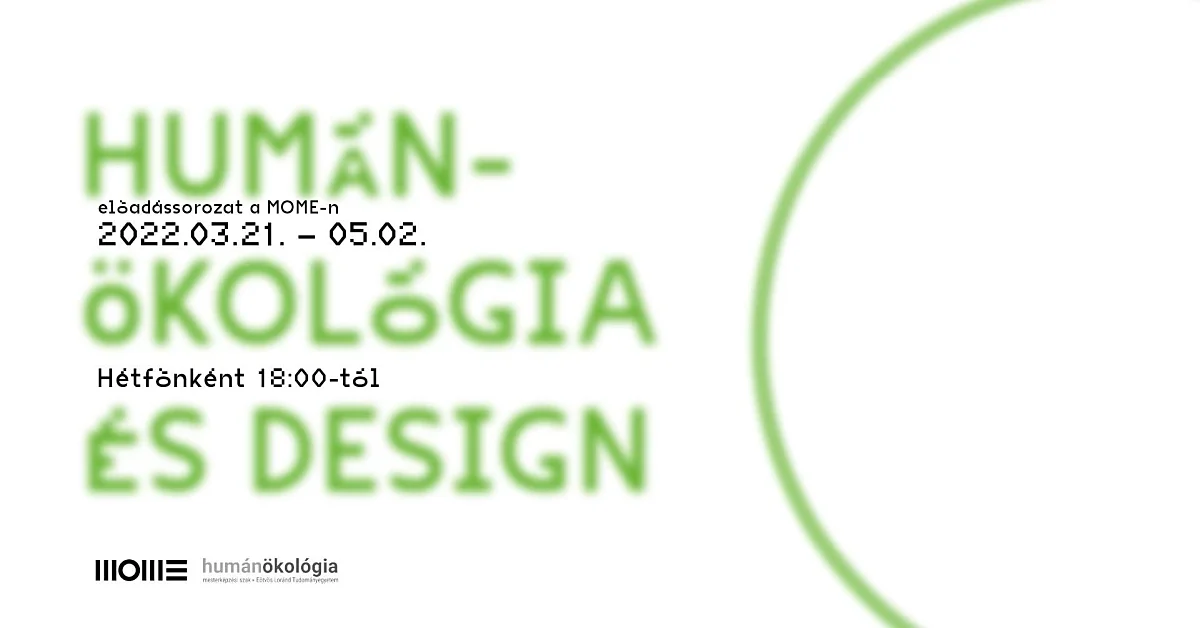 The video recordings of the spring Human Ecology and Design presentation series are now available
In the spring semester, a presentation series under the title Human Ecology and Design took place with coordination by the MOME Institute for Theoretical Studies and Péter Haba and participation of ELTE's Human Ecology MA. Video recordings of the presentations are now publicly available for viewing.
In the first presentation, human ecologist and head of ELTE's Human Ecology MA András Takács-Sánta explored the basic issues affecting our future and arising in relation to the ecological crisis.
A sorozat második előadásában Lányi András filozófus, az ELTE Humánökológia MA szak alapítója, aki a globális ökológiai válság társadalmi recepcióját, az ebből fakadó morális dilemmákat és a fejlődés/fenntarthatóság fogalmak körüli zavart járta körül.
A harmadi előadásban Antal Miklós ökológiai közgazdász, az MTA-ELTE Lendület Új Vízió Kutatócsoportjának vezetője és az ELTE Humánökológia mesterszak oktatója volt a vendégünk, aki a világ alapvető közgazdasági struktúráinak körüljárása után a közgazdaságtan ökológiai reformjáról beszélt.
Munkácsy Béla energiaföldrajz-kutató, az ELTE TTK Környezet- és Tájföldrajzi Tanszékének adjunktusa, az ELTE Humánökológia MA szak oktatója előadásában a szélerőművek és a táj kapcsolatát vizsgálta:
"Korunk szélturbinája szembetűnő elemként jelenik meg a tájban. Minden olyan elképzelés, ami ennek elrejtését, takarását célozza, összeegyeztethetetlen magával a technológiával. Érthető tehát az a törekvés, ami a jobb tájba illesztést célozza, ám gyakran ennél is hatékonyabb eszköz a közösségi tervezés vagy a gazdasági érdekeltség kialakítása. Néhány esettanulmány segítségével ezeket az eszközöket tekinti át az előadás."
A tavaszi Humánökológia és design előadássorozat ötödik részében Jakabfi-Kovács Boglárka építész, fenntartható design oktató, és Juhász Janka építész (mindketten a MOME Doktori Iskola hallgatói) előadása hallható a rendszerszemléletű designról és a proenvironmentális építész szerepekről.
A Humánökológia és design című előadássorozat utolsó részében Poszthumanizmus és design
témában tart előadást Schneider Ákos (az Elméleti Intézet oktatója, designkultúra-kutató, MOME Doktori Iskola végzett hallgatója) valamint meghallgathatjuk Szalai Dániel (a MOME Doktori Iskola hallgatója, képzőművész) A transztehén felé című előadását.
More news
MOME has launched English language courses at different levels led by native teachers not just to improve the level of language skills in general but also to teach the vocabulary of the academic terminology, creative fields and the jobs trained at the university.
What does it take for a young designer to be successful? Whether for running their own graphic design or animation studio, founding their own fashion label or working as an employee, future designers need market and entrepreneurial skills to succeed and realise their goals. For this purpose, MOME teachers have developed a course that is unique in the Central Eastern European region, providing students with a business approach specifically reflecting the needs of the creative industries. The Business to Design (B2D) educational programme was created with involvement of prominent professionals and entrepreneurs in the field, MOME alumni, as well as invited international speakers. Its originality lies in it forming part of the curriculum and being a mandatory subject for all BA students.
Battling the effects of global crises that creep into our everyday lives, we may easily find ourselves on a rollercoaster between mounting panic and the impassiveness brought on by a sense of futility. In the face of steadily accumulating challenges, we are justified in wondering how to proceed.