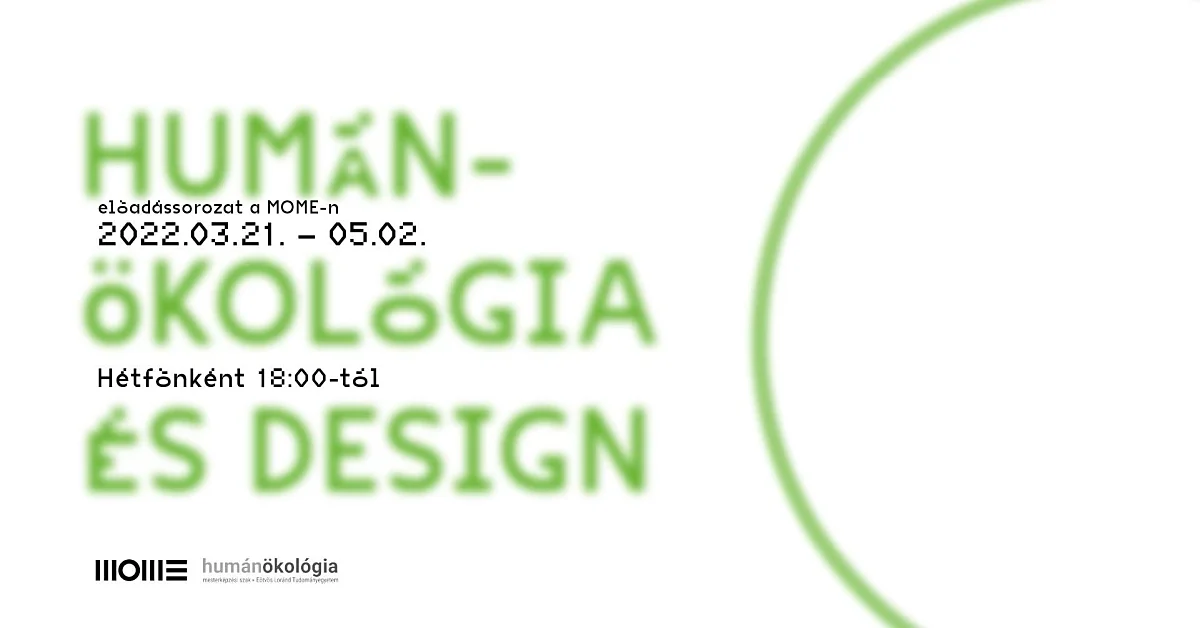 The video recordings of the spring Human Ecology and Design presentation series are now available
In the spring semester, a presentation series under the title Human Ecology and Design took place with coordination by the MOME Institute for Theoretical Studies and Péter Haba and participation of ELTE's Human Ecology MA. Video recordings of the presentations are now publicly available for viewing.
In the first presentation, human ecologist and head of ELTE's Human Ecology MA András Takács-Sánta explored the basic issues affecting our future and arising in relation to the ecological crisis.
A sorozat második előadásában Lányi András filozófus, az ELTE Humánökológia MA szak alapítója, aki a globális ökológiai válság társadalmi recepcióját, az ebből fakadó morális dilemmákat és a fejlődés/fenntarthatóság fogalmak körüli zavart járta körül.
A harmadi előadásban Antal Miklós ökológiai közgazdász, az MTA-ELTE Lendület Új Vízió Kutatócsoportjának vezetője és az ELTE Humánökológia mesterszak oktatója volt a vendégünk, aki a világ alapvető közgazdasági struktúráinak körüljárása után a közgazdaságtan ökológiai reformjáról beszélt.
Munkácsy Béla energiaföldrajz-kutató, az ELTE TTK Környezet- és Tájföldrajzi Tanszékének adjunktusa, az ELTE Humánökológia MA szak oktatója előadásában a szélerőművek és a táj kapcsolatát vizsgálta:
"Korunk szélturbinája szembetűnő elemként jelenik meg a tájban. Minden olyan elképzelés, ami ennek elrejtését, takarását célozza, összeegyeztethetetlen magával a technológiával. Érthető tehát az a törekvés, ami a jobb tájba illesztést célozza, ám gyakran ennél is hatékonyabb eszköz a közösségi tervezés vagy a gazdasági érdekeltség kialakítása. Néhány esettanulmány segítségével ezeket az eszközöket tekinti át az előadás."
A tavaszi Humánökológia és design előadássorozat ötödik részében Jakabfi-Kovács Boglárka építész, fenntartható design oktató, és Juhász Janka építész (mindketten a MOME Doktori Iskola hallgatói) előadása hallható a rendszerszemléletű designról és a proenvironmentális építész szerepekről.
A Humánökológia és design című előadássorozat utolsó részében Poszthumanizmus és design
témában tart előadást Schneider Ákos (az Elméleti Intézet oktatója, designkultúra-kutató, MOME Doktori Iskola végzett hallgatója) valamint meghallgathatjuk Szalai Dániel (a MOME Doktori Iskola hallgatója, képzőművész) A transztehén felé című előadását.
More news
How to make gastronomy truly sustainable? Moholy-Nagy University of Art and Design (MOME) and SALT Restaurant have reached a major milestone on the road to a circular culinary culture. Their collaborative research resulted in a new plate with zero environmental impact for the sustainable enjoyment of the best haute cuisine has to offer.
The works created by the latest generation of product design students of Moholy-Nagy University of Art and Design (MOME), presented at the S/ALON BUDAPEST home trend fair on 22 to 24 September at the Budapest Arena all share a focus on the passion for the traditions of handcrafting, sustainability, innovation, and emotional connection. Uniquely in Hungary, the fair showcases the latest home decor trends, furniture, lighting solutions, flooring and wall coverings, home textiles, and accessories in extraordinary interiors, and is centered around the relationship of design and nature.
Design Theory MA student Eszter Sára Szabó earned the grant with her exhibition concept developed for beyond galleries, while Art and Design Management MA student Natasa Tereh and Sebestyén Teodor Bárány received the accolade for an impressive showcase designed for the MOME Campus.