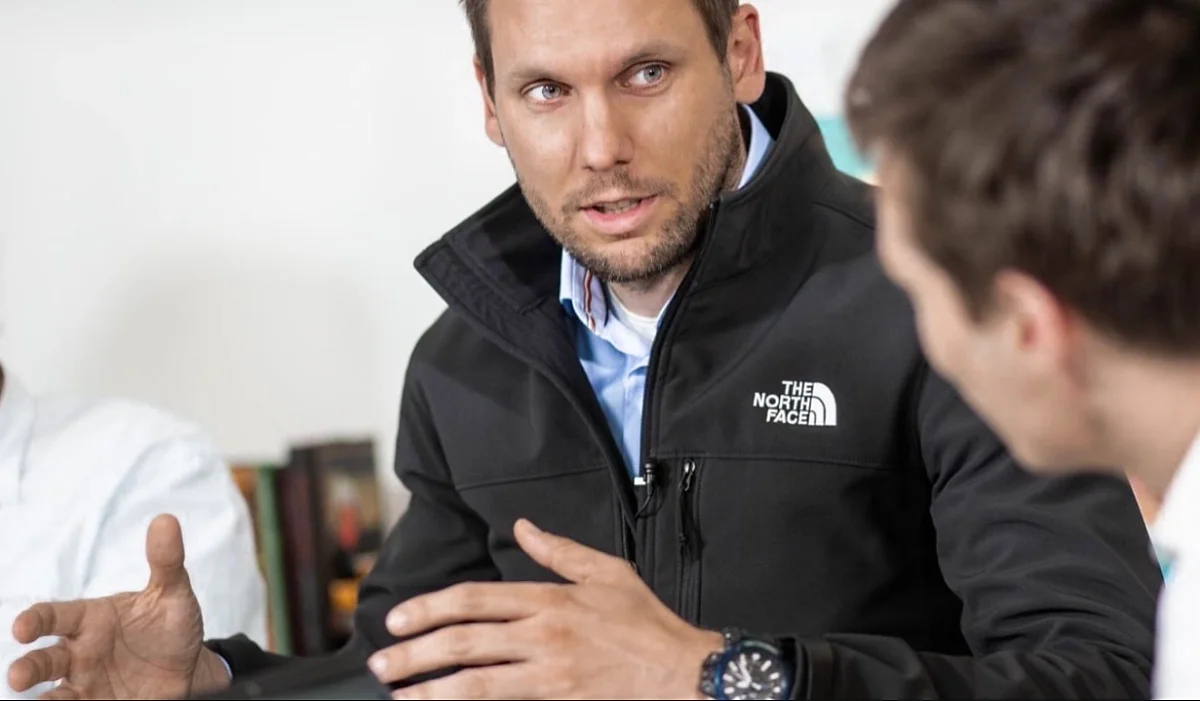 Trends need not only be understood but also shaped: world-renowned experts to join MOME
Gergely Böszörményi-Nagy, President of MOME Foundation, announced important news at the late-April meeting of the Senate. We asked him about these in a short interview.
2022.04.25.
An important detour before proceeding to the technical questions: MOME was among the first higher education institutions to take action, and perhaps most proactively, to help refugees from Ukraine. What is the status of the university's engagement?
From the start, we had two timeframes in mind. Our most urgent task was to provide humanitarian relief, and in this vein we opened our campus and dormitory to refugees. We have established excellent collaboration with various aid organisations, and continue to provide a home to those in need received through these organisations. It is just as important, however, to build systems, as the war and its consequences will define Central European reality for years. For this reason, we found a way to help students whose studies have been disrupted at similar institutions in Ukraine join our programmes not just temporarily but on a permanent basis.
We see this as a point of honour. I am thankful to MOME citizens for teaming up with us in taking fast and tangible action. Feedback and grateful messages from those afflicted and the events organised by them and mobilising our entire community will be forever remembered at our campus.
This summer will mark the 2nd anniversary of MOME's model change. What is your assessment of this period?
Much of the feedback I receive suggests that MOME's transformation is the success story of Hungarian higher education. What I normally say to this with sincerity and no false modesty is that we should revisit this subject in a couple of years. What we do must stand the test of time. So far, the results have been promising, and we have cause for pride. All the more so since this is a concerted effort of many people, who deserve appreciation.
In less than two years, we have nearly quadrupled MOME's budget, and granted the most substantial pay rise in the history of Hungarian higher education. We have founded the Excellence Scholarship bearing the name of Professor Stefan Lengyel, and doubled the amount of academic and social grants available to our students. We have been the first in Hungary to grant our students ownership of all intellectual property created by them at the university. We have launched our first English-language MA programmes to attract not only Hungarian talents but also the best Central Europe has to offer from the Baltics to the Western Balkans. We have placed our research and development activity on a completely new footing, focusing on the incubation of ideas conceived at the university and collaboration with economic players. We have also started developing a globally unique entrepreneurial training tailored to the specific requirements of the creative industries that will be integrated into the curriculum of every BA student from 2023. Our newly established Tender Directorate has managed to secure various EU fundings one after that other. We have prepared the ground for the university's digitalisation and paperless administration, and made a decision to become Hungary's first carbon neutral university by 2030. We cannot proceed with everything at a speed I would consider ideal, but slowly everything is getting on track.
You announced several pieces of news at the April meeting of the university's Senate that fundamentally affect MOME's future. What are these exactly?
To all intents and purposes, they are further milestones of MOME's scale-up. Let me start with a particularly forward-looking piece of news - in September 2022, the International Advisory Board of our foundation will be set up. I would like to strongly underline that its members will not only lend their names and faces to advancing MOME's growth, but will also be actively involved in its work. They will be tasked with developing live contact with our university's professional workshops and students, leveraging their experience to give them regular feedback and advice.
Who will be the members of this new body and what is there to know about them?
We have asked András Szántó, who has been supporting my efforts to renew the university as chief advisor for over a year, to lead the work. András is a strategist who has been living in the USA for decades and is credited with reinventing institutions and brands such as Art Basel and the Metropolitan Museum of Art, Stanford University and Rolls-Royce.
The board will be joined by Professor Ulrich Weinberg, head of the world-famous Hasso-Plattner-Institut, Zuzanna Skalska, co-founder of the School of Form in Warsaw and a truly versatile creative industry entrepreneur, and Aric Chen, professor at the Design and Innovation Department of the Tongji University in Shanghai and Artistic Director of the Het Nieuwe Instituut in Rotterdam. Having all three of them on our board is a great honour and at the same time a major opportunity for our university. We find it important to also have our alumni community represented in the board. I am particularly delighted over Györgyi Gálik's acceptance of our offer. After graduating from MOME, she obtained her doctoral degree at the Royal College of Art, headed the urban development programme of the British Design Council, and is currently building strategic partnerships for the Institute for Innovation and Public Purpose in London, working with Mariana Mazzucato, one of the world's most impactful economists. This is no ordinary list.
In the past days, there have been some important decisions in areas directly affecting academic work...
What is important over the long term is the launch of the development of MOME's new training model at the initiative of the foundation. We need to stay ahead of the game in order to be able to not only interpret but also shape the trends underlying the needs of young generations and reflected year by year in admission numbers. The goal is to construct a special knowledge transfer framework unique to MOME that could set our university apart globally from the second half of the 2020s on. The concept would need to be able to answer the question what job a university has in the 21st century as well as how we can make use of László Moholy-Nagy's intellectual legacy in practice and how we should reorganise our BA and MA programmes. The final product will feature both the traditions developed over MOME's 142-year-long history and the most recent reforms such as the incorporation of entrepreneurial skills into the basic training. All this needs to be arranged in a coherent, "spherical" format. The process will last for three years and will be based on extensive dialogue, and the work done by citizens of the university and external experts together coordinated by deputy rector for strategy Dániel Barcza. Members of our International Advisory Board will also join in.
A new development particularly close to my heart is that from 2023 MOME instructors will have the opportunity to take a research sabbatical. It is a widespread practice globally at major universities to provide an opportunity to instructors for intellectual recreation, as well as for expanding and updating their knowledge far away from the university but with continued academic status and salary. The significance is two-fold: first, it can help boost MOME's reputation as an academic employer, providing a more competitive offer to instructors both in Hungarian and international comparison. Second, and more importantly, introduction of the research sabbatical serves the best interest of students by ensuring they are being taught by instructors with improved competence.
We have also made a decision to ask the Senate to prepare the next call for applications now for the post of the Rector. This might come as a surprise to many, as József Fülöp's mandate will only expire in 2024, and traditionally in Hungary, the next call for applications is only announced a few months before the expiry of the previous mandate. This is another new practice being introduced at MOME. For one thing, there will be an international call for applications in order to have the widest possible range of the best candidates to choose from. Naturally, this would not put Hungarian applicants at a disadvantage, but rather create genuine competition which, I believe, will greatly benefit the university. For another, at least one year is allotted for the call for applications phase in order to allow time for in-depth discussions with the most promising candidates, increasing the likelihood of making the right choice. The latter is critical, given that the success of MOME's model change will in most part will be decided during the next rector's term. The call for applications and especially its result must reflect the ambition we set in 2020 to become the top Central European university in the creative industry.
Your campus in Zugliget is rumoured to be facing quite an eventful period.
The improvement of our physical environment starts by addressing various gaps. Our foundation is closing a successful tender for the provision of furniture and plants to help make the campus more liveable and cosier. Moving on, the Prototype Lab facilitating experimentation with the latest high tech equipment might open this year at the initiative of Dávid Holló and his workshop, the first engineering team in the history of the MOME Innovation Centre. It is a helpful and productive means of breaking down the barriers between various disciplines, as well as between creativity and technology. And let's not forget that this years we are also celebrating the 20th anniversary of the collaboration between MOME and Mercedes-Benz. We will pay homage to our shared success by moving the Mobility Lab, one of MOME's most inspiring "guild" housing vehicle design students to a larger and more spectacular space, in addition to several other activities, whose details I cannot yet share.
Last but not least the feasibility study for a new idea - MOME Studios - has also begun. Since the majority of our staff and students do not use a car to reach the campus, there is no need for our currently large university parking lot. The space occupied by the parking lot could be used instead to house MOME Studios, a collection of students' and researchers' studios and workshops, constructed from recycled containers. In the next months we are planning to reach out to MOME citizens to ask them what they think about the project.
More news
The works created by the latest generation of product design students of Moholy-Nagy University of Art and Design (MOME), presented at the S/ALON BUDAPEST home trend fair on 22 to 24 September at the Budapest Arena all share a focus on the passion for the traditions of handcrafting, sustainability, innovation, and emotional connection. Uniquely in Hungary, the fair showcases the latest home decor trends, furniture, lighting solutions, flooring and wall coverings, home textiles, and accessories in extraordinary interiors, and is centered around the relationship of design and nature.
Design Theory MA student Eszter Sára Szabó earned the grant with her exhibition concept developed for beyond galleries, while Art and Design Management MA student Natasa Tereh and Sebestyén Teodor Bárány received the accolade for an impressive showcase designed for the MOME Campus.
A team of MOME students have won first place at the CheckINN Revitalisator competition. First launched by the CheckINN Turisztikai Innovációmenedzsment Kft and MOME last year, the competition invites university and college talents to seek solutions for the reuse of rust zone sites in teamwork. From the nearly 30 teams, INDOOHÁZ received the first prize for giving new life to abandoned railway water reservoirs as bivouacs for backpackers.