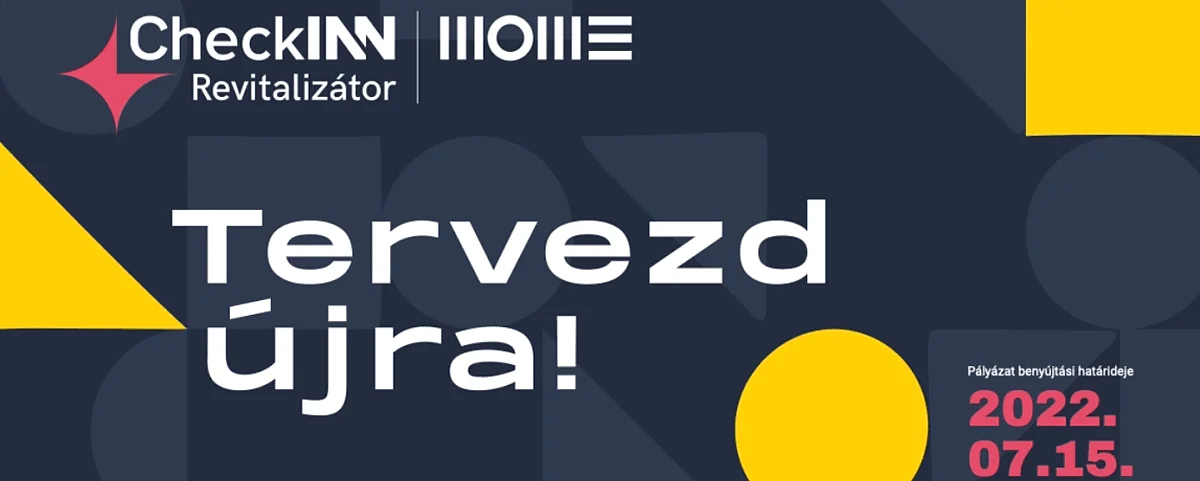 University students can create Hungary's new iconic spots through MOME and CheckINN's competition
Hungary has many brown fields, i.e. areas or buildings that have seen better days, and now stand abandoned after losing their original purpose. The joint idea competition of CheckINN and Moholy-Nagy University of Art and Design (MOME) is designed to help young people spot the potential of these places for being turned into new iconic hangouts. 3 million forints will be awarded to each of the best concepts and can be used freely by the winners for starting their career.
There are several abandoned plots and buildings all over Hungary that have lost their original industrial, commercial, transportation or defence purpose. These sites – many of them historic monuments – have retained the unique ambience of their times and functions, which might be the start of a new life for them. Moholy-Nagy University of Art and Design and CheckINN Turisztikai Innovációmenedzsment Kft. now encourages Hungarian university students to take a rust zone spot or building and reinvent it to fit their own lifestyles and creativity.
The goal is to provide the building or the entire plot with a new look and function while preserving its original values. Another important consideration is to help the site to be developed integrate back into modern urban or country life and gain long-term local and touristic significance aligned with the principle of sustainability. The top two concepts will be awarded a grant of three million forints.
The CheckINN Revitaliser competition is inviting applications from teams of three studying in Hungarian higher education and eager for an adventure in the areas of tourism, architecture and design. Entries can be submitted using the revitalizator.check-inn.hu link by 30 June 2022 and should include a 2-minute creative material of no fixed format introducing the team, the site or building to be revitalised, or the concept of reuse for touristic purposes.
The ten projects will be selected for the shortlist by a professional jury designated by CheckINN and MOME, and will be developed in more detail in the second round based on the students' individual skill levels. At this stage, teams will be supported by renowned specialists in the fields of tourism, architecture and design. 3 million forints awarded to each of the top two concepts can be used freely by the winners for starting their career.
The reinvention of brown fields is experiencing a renaissance across Europe, evidenced in Hungary by a series of successful developments organically incorporated into the city such as the former Hungarian Optical Works (MOM), Millenáris Park (previously occupied for years by Ganz Electricity Works), or the largest system of halls in the history of Hungarian railways, also unparalleled in Europe, the Northern Vehicle Repair Shop, housing the new centre for the Hungarian State Opera since its refurbishment in 2020. The purpose of the CheckINN Revitaliser competition is to provide young people with an opportunity to create similar value to those represented by these inspiring projects, helping to make their environment more liveable and bring variety to creative and design culture as well as to the touristic landscape in Hungary.
About the CheckINN Touristic Innovation HUB
CheckINN is a touristic innovation management platform created for creative brains and innovative concept owners ready to reinvent touristic services, and for those with ground-breaking ideas. It is a club for those wanting to get ahead in an area of tourism, launch something novel and looking for professional and business partners, supporters, sponsors or investors for their plans. The ambition of CheckINN Touristic Innovation Management is to promote the industry and encourage innovative thinking and entrepreneurial spirit among higher education students.
Moholy-Nagy University of Art and Design
The University plays a definitive role in shaping Hungarian creative and design culture and training talents. A large number of creative industry specialists are MOME graduates and acclaimed artists in their respective fields both locally and internationally. MOME acts a bridge between various arts, research and development. With the adoption of a tri-polar university model, the university's operation is organised along research and development, technology and education.
Since August 2020, the 142-year-old Moholy-Nagy University of Art and Design (MOME), has been operating in a foundation model. As part of the model change, MOME has developed a long-term strategy, reinvented its research and development activity, launched the digitalisation of its internal processes, and proceeded to modernise training. In addition to providing a traditionally high level art and design education, the university will introduce entrepreneurial training for all of its BA students, and launch its first English-language MAs from 2022. In 2021, MOME's budget nearly quadrupled, and the foundation also decided to grant the most substantial pay rise to teachers in the history of Hungarian higher education.
Press contacts, interviews:
Veronika Ötvös, +36303270449, otvos.veronika@kirkekreativ.hu
More news
How to make gastronomy truly sustainable? Moholy-Nagy University of Art and Design (MOME) and SALT Restaurant have reached a major milestone on the road to a circular culinary culture. Their collaborative research resulted in a new plate with zero environmental impact for the sustainable enjoyment of the best haute cuisine has to offer.
The works created by the latest generation of product design students of Moholy-Nagy University of Art and Design (MOME), presented at the S/ALON BUDAPEST home trend fair on 22 to 24 September at the Budapest Arena all share a focus on the passion for the traditions of handcrafting, sustainability, innovation, and emotional connection. Uniquely in Hungary, the fair showcases the latest home decor trends, furniture, lighting solutions, flooring and wall coverings, home textiles, and accessories in extraordinary interiors, and is centered around the relationship of design and nature.
Design Theory MA student Eszter Sára Szabó earned the grant with her exhibition concept developed for beyond galleries, while Art and Design Management MA student Natasa Tereh and Sebestyén Teodor Bárány received the accolade for an impressive showcase designed for the MOME Campus.