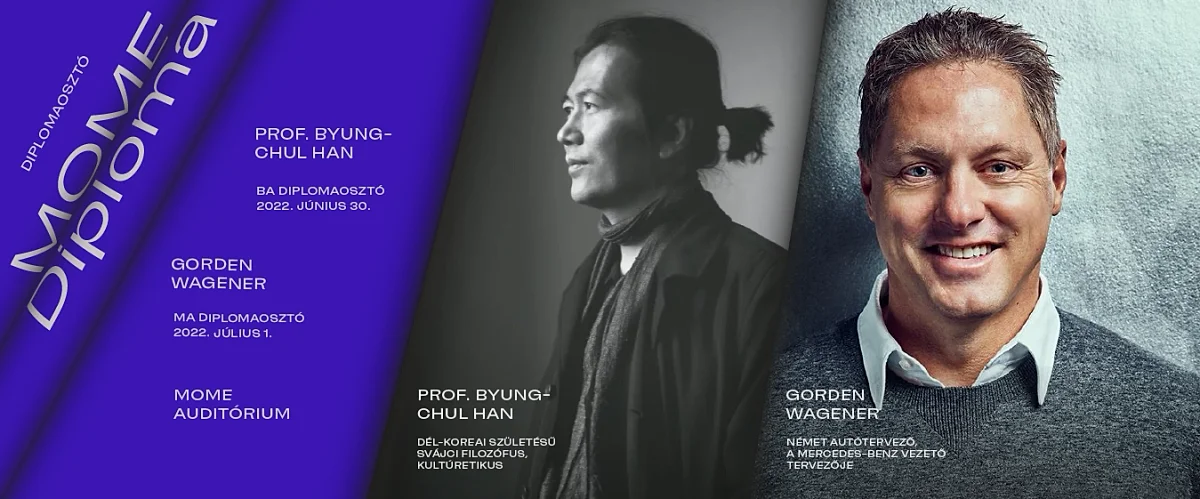 World-renowned philosopher and star designer at MOME
The Foundation for Moholy-Nagy University of Art and Design invited a prominent figure of philosophy and of design each to this year's graduation ceremony. Philosopher and culture theoretician Byung-Chul Han and chief design officer for Mercedes-Benz Gorden Wagener will deliver a speech at the BA and MA graduation ceremony, respectively.
At this year's BA graduation ceremony, the main graduation speech will be delivered South Korea-born philosopher Byung-Chul Han, one of the world's most original thinkers. Han is a relentless critic of neoliberalism, the postmodern Zeitgeist and a lifestyle centred around digital devices, and author of international bestsellers such as The Burnout Society, Saving Beauty and Psychopolitics. In his most recent writing Noema he is seeking an answer to the question of how arts can help formulate a new, forward-looking narrative for the people of the 21st century. Han hardly ever agrees to speaks in front a public, so his appearance at MOME is a rare and exceptional gesture.
The speaker of our MA graduation ceremony Gorden Wagener is a German car designer and chief design officer of Mercedes-Benz. This year marks the 20th anniversary of the mutually satisfactory collaboration between MOME and one of the world's top automotive brands. In addition to delivering a speech at the graduation ceremony to celebrate the anniversary in style, Wagener will also inaugurate Mobility Lab, the latest pride of MOME Campus geared towards the future of transportation, together with MOME's management.
Dates:
MOME BA graduation ceremony: 30 June
MOME MA graduation ceremony: 1 July
20 years of strategic collaboration between MOME and Mercedes Benz

Gorden Wagener, chief design officer for Mercedes-Benz received his industrial product designer degree in 1993. He studied under Stefan Lengyel, head of the product design department of Essen University at the time and guest professor at MOME, who forged the link between Mercedes and our university. Ever since, MOME students and lecturers have been actively involved in the design programmes of the automotive brand. Wagener took over management of the product design department of Mercedes in 2008, and since then has completely reinvented the the luxury brand's forms and design philosophy to also incorporate Bauhaus motifs. The milestone anniversary of the collaboration between MOME and Mercedes-Benz will feature a unique event series at the Campus.
More news
How to make gastronomy truly sustainable? Moholy-Nagy University of Art and Design (MOME) and SALT Restaurant have reached a major milestone on the road to a circular culinary culture. Their collaborative research resulted in a new plate with zero environmental impact for the sustainable enjoyment of the best haute cuisine has to offer.
The works created by the latest generation of product design students of Moholy-Nagy University of Art and Design (MOME), presented at the S/ALON BUDAPEST home trend fair on 22 to 24 September at the Budapest Arena all share a focus on the passion for the traditions of handcrafting, sustainability, innovation, and emotional connection. Uniquely in Hungary, the fair showcases the latest home decor trends, furniture, lighting solutions, flooring and wall coverings, home textiles, and accessories in extraordinary interiors, and is centered around the relationship of design and nature.
Design Theory MA student Eszter Sára Szabó earned the grant with her exhibition concept developed for beyond galleries, while Art and Design Management MA student Natasa Tereh and Sebestyén Teodor Bárány received the accolade for an impressive showcase designed for the MOME Campus.