Renáta Dezső | Doctoral Dissertation Defense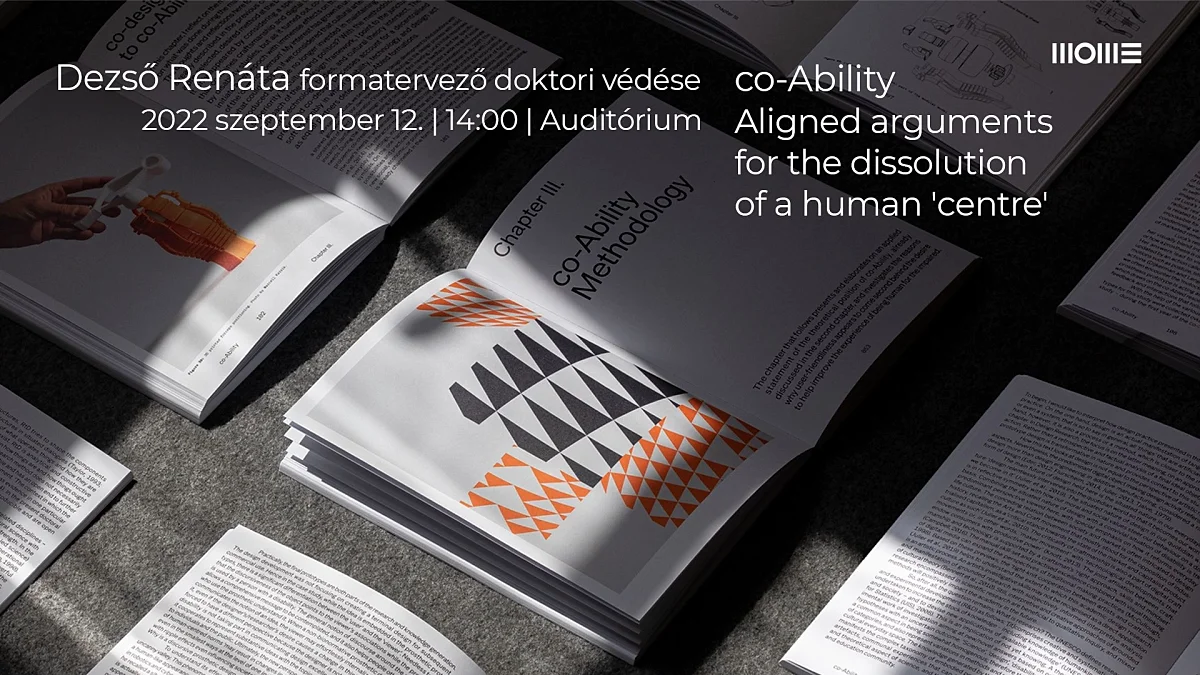 The MOME Doctoral School kindly invites you to Renáta Dezső designer's dissertation defense.
The MOME Doctoral School kindly invites you to Renáta Dezső designer's dissertation defense.

The language of the public doctoral examination is English.

Discipline: DLA in Applied Arts
Supervisor: Ákos Lipóczki DLA, associate professor, Design Institute
Doctoral dissertation: co-Ability - Aligned arguments for the dissolution of a human "Centre" | Theses
Masterwork: co-Ability Methodology

Examination Board
Chairman: György Könczei DSc professor, Eötvös Lóránd University, Bárczy Gusztáv Faculty of Special Needs Education
Committee Members: Andor Wesselényi-Garay PhD professor, Széchenyi István University, Győr; Hungarian Academy of Arts, researcher and Attila Horányi PhD associate professor, MOME Institute for Theorethical Studies
Opponents: Jessica Hemmings PhD professor University of Gothenburg, researcher, MOME visiting professor and József Zalavári DLA professor, University of Sopron

Date: 12 September 2022, 2 pm
Place: MOME Auditorium |1121 Budapest, Zugligeti street 9-25.
Event information
Date: 2022. September 12., 14:00 - 16:00
Place: MOME AUDITORIUM
More events
The two-day event will examine the cutting-edge technologies and latest breakthroughs in material research and explore new frontiers in sustainable design and manufacturing through showcasing new materials made from waste.
The Future Potentials Observatory (FPO) is pleased to invite you to its 2nd International (hybrid) Workshop dedicated to obtain an overview of its research directions in the fields of Future Potentials, Geopolitical Frontiers, Innovation and Design Horizons and Digital Futures in an East-West context.
In line with the established practice of international fashion schools and in sync with international fashion week calendars, the MOME FASHION SHOW returns under the professional tutelage of Ildikó Kele and Dóri Tomcsányi. The Fashion Show and Exhibition will feature a selection of diploma works by Textile Design BA and Fashion and Textile Design MA students.