Inner Sky I exhibition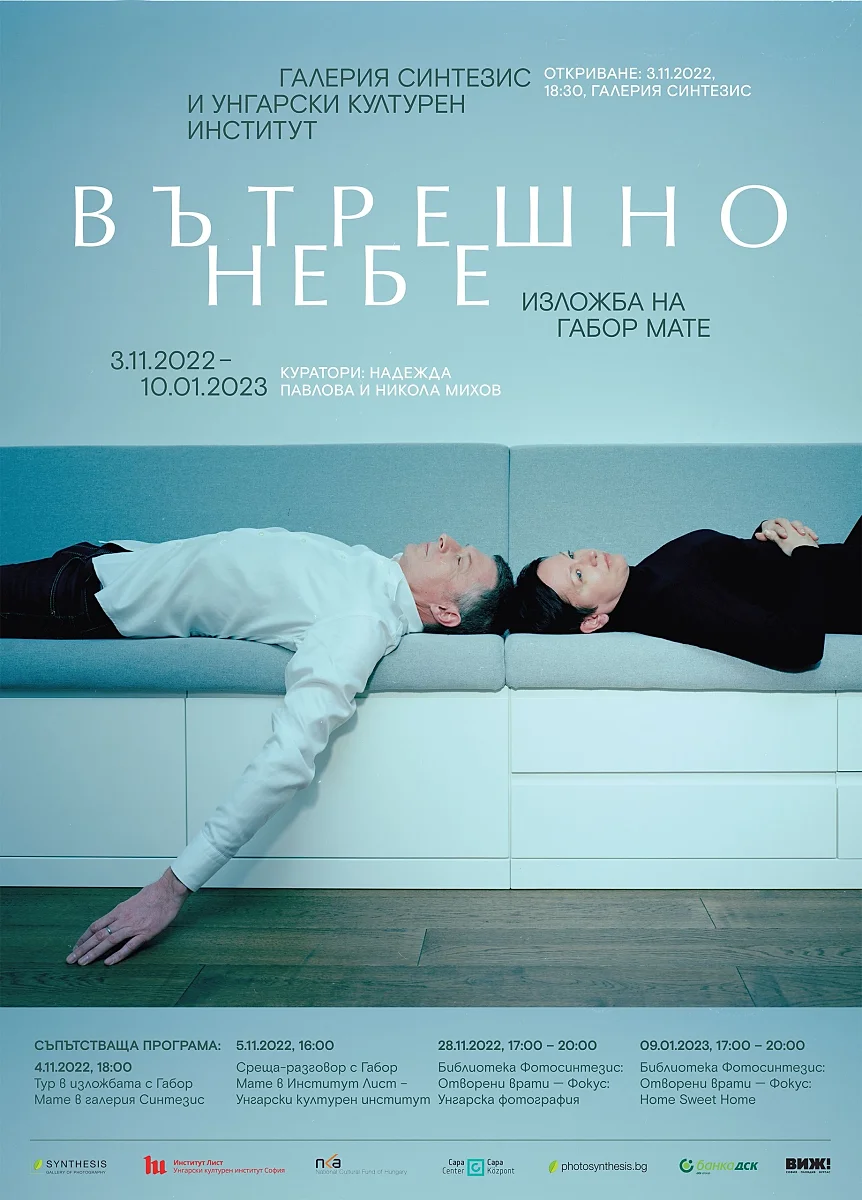 The exhibition of head of the MOME Photography BA Gábor Máté in Sofia is on display until 10/01/2023 at the spaces of the Liszt Institute in Sofia – Hungarian Cultural Centre Sofia and Sythesis Gallery.
The exhibition Inner Sky by Hungarian photographer Gábor Máté is presented in the two spaces of Synthesis Gallery and Liszt Institute - Hungarian Cultural Center. It traces the complex link between the personalities of parents and the characters of their children. Children's success, happiness and desires hang by a slender thread, spun by their parents.

If we accept that the future does indeed belong to the children, then it sits at stake in the hands of their parents. Does it matter whether a child has grown up with divorced parents, or in a family which has stayed together against all odds? What trace does the relationship between the parents leave on the child's soul? Gábor Máté uses the language of photography to seek answers to these questions, giving the children a voice.

*the exhibition title is inspired by a Marin Bodakov's poem

This exhibition was organised with support of Liszt Institute - Hungarian Cultural Center, Photosynthesis, The National Cultural Fund of Hungary (NKA) and DSK Bank.

Media partner: Vij! Magazine.

The exhibition catalogue is published by Synthesis Gallery and Vij! Magazine with the support of the Robert Capa Contemporary Photography Center, Budapest.
Event information
Venue: Liszt Institute – Hungarian Cultural Centre Sofia
The exhibition is running between 03/11/2022 and 10/01/2023.
More events
At the end of March, Mirko Ilić, graphic designer and poster artist, will visit our university (MOME Budapest, Hungary) from New York.
On Wednesday, March 22, from 17:00 to 19:00, Annabella Hevesi will talk about the adventures and challenges an emerging designer can face during product development - at home, as a woman. Since 2018, Annabella has been the lead designer of the Line and Round studio, and they worked with clients such as the Opera House, Sopron Basket and the Four Seasons Hotel.
Prominent figure of the contemporary Hungarian ceramics art, Mária Geszler will give a lecture at MOME on 22 March at 4 pm.