MOME Online Open Day - International MA Programmes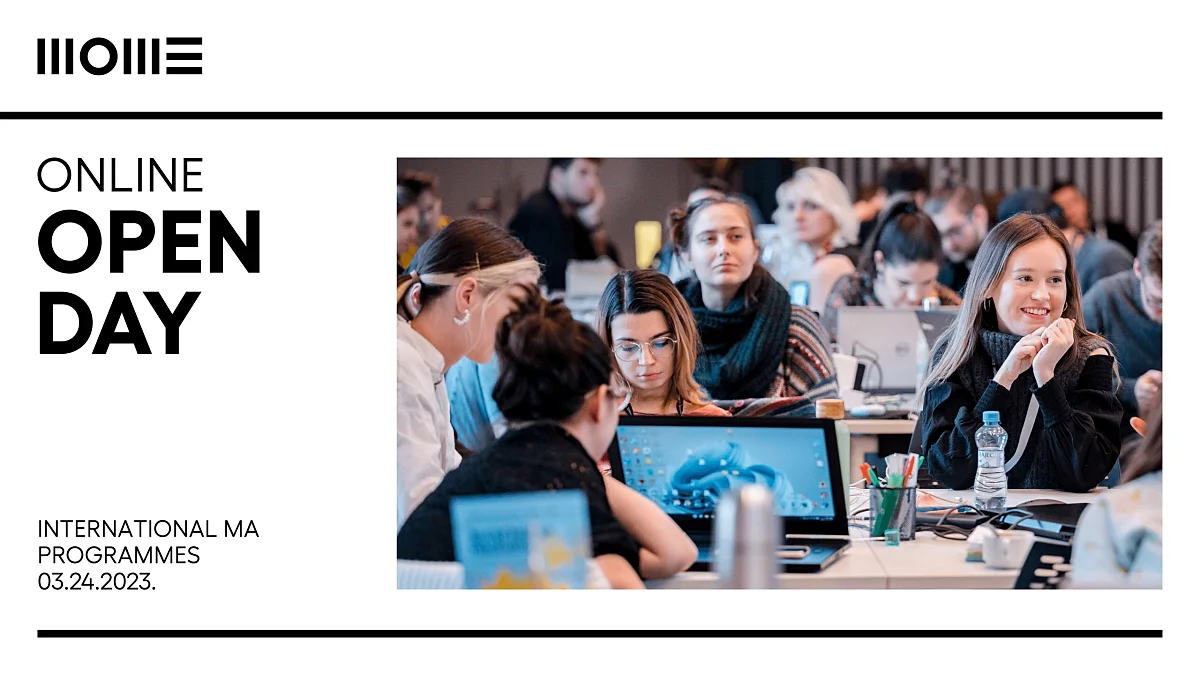 If you are interested in our MA programmes offered in English language, come and join our MOME Open Day in March.
From autumn 2023, our Animation, Design, Interaction Design, and Photography MAs will only be available in English. Our online Open Day event on 24 March will focus specifically on these programmes.

You can meet the head of programmes and ask them questions about application requirements, the curriculum, and career opportunities.
The detailed event schedule will shortly be posted here and in the Facebook event.
Participation is free of charge but requires prior registration. We look forward to seeing you at the Open Day.

Event Schedule:

1:30 - 2:00 p.m. - General information about the admission procedure for all 4 MA programmes in English

2:00 - 3:00 p.m. - Animation MA: Introduction to the programme and discussion led by the heads of programme
2:00 - 4:00 p.m. - Design MA: "I as a professional" workshop - short introduction to the programme, followed by individual and group tasks led by heads and lecturers of the programme

4:00 - 6:30 p.m. - Interaction Design MA: Introduction, discussion with the heads and lecturers of the programme, and portfolio reviews

5:00 - 7:00 p.m. - Photography MA: Introduction to the programme, portfolio reviews

Programme specific schedule:
Animation MA: 2:00 - 3:00 p.m.
Presentation of and discussion about the programme and its 3 specialisations: Animation, Video Game, and Immersive Storytelling
Meet our MA students and our alumnus and Berlinale nominee Domonkos Erhardt (From the Corner of My Eyes)
Design MA: 2:00 - 4:00 p.m.
"I as a professional" workshop
Whether you have already applied to the MOME Design MA programme or are only planning to do so, here is a workshop where you can review your career journey together with teachers of the course. Together, we will see where you are and where you want to go and explore how our programme can help you grow professionally. The session will involve both individual and group work, rounded off by a short presentation. There will also be opportunity to ask questions about the application process in person.

Facilitators: Dorottya Féja (Lecturer), Panni Pais (Lecturer, Head of programme)

The workshop will use Teams and Miro, so use of a laptop, tablet or desktop computer suitable for the purpose is recommended.

Number of participants: up to 20
Interaction Design MA: 4:00 - 6:30 p.m.
4:00-4:20 p.m.: Introducing the Interaction Design MA programme: programme structure, courses by semesters, information about focus subjects such as man, market, technology, speculative design

4:20-4:40 p.m.: Discussion with our teachers Lais Kantor and Tamás Fogarasy: What is the digital product development course about?

4:40-5:00 p.m.: Interactive Q&A session, where participants can ask their questions using Miro Board, and we will provide answers live

5:00-6:30 p.m.: portfolio review – 15 minutes per review - limited seats only, please register: https://bit.ly/open-day-portfolio-review
Photography: 5:00-7:00 p.m.
5:00-5:15: Introduction to the programme

5:15-7:00: Portfolio reviews - 20 minutes per review (no more available slots)
More events
In line with the established practice of international fashion schools and in sync with international fashion week calendars, the MOME FASHION SHOW returns under the professional tutelage of Ildikó Kele and Dóri Tomcsányi. The Fashion Show and Exhibition will feature a selection of diploma works by Textile Design BA and Fashion and Textile Design MA students.
The Budapest Design Week has been bringing together design professionals and enthusiast of the capital in mid-October for 20 years with exciting events. As part of these, Moholy-Nagy University of Art and Design once again presents a selection of diploma projects by freshly graduated MA students, this time downtown, off the University Campus.
A 5-day intensive course to help you learn the business basics and the design thinking methodologies to develop an initial Proof ofConcept (PoC)!