EGYES, EGYES, JÓ LETT!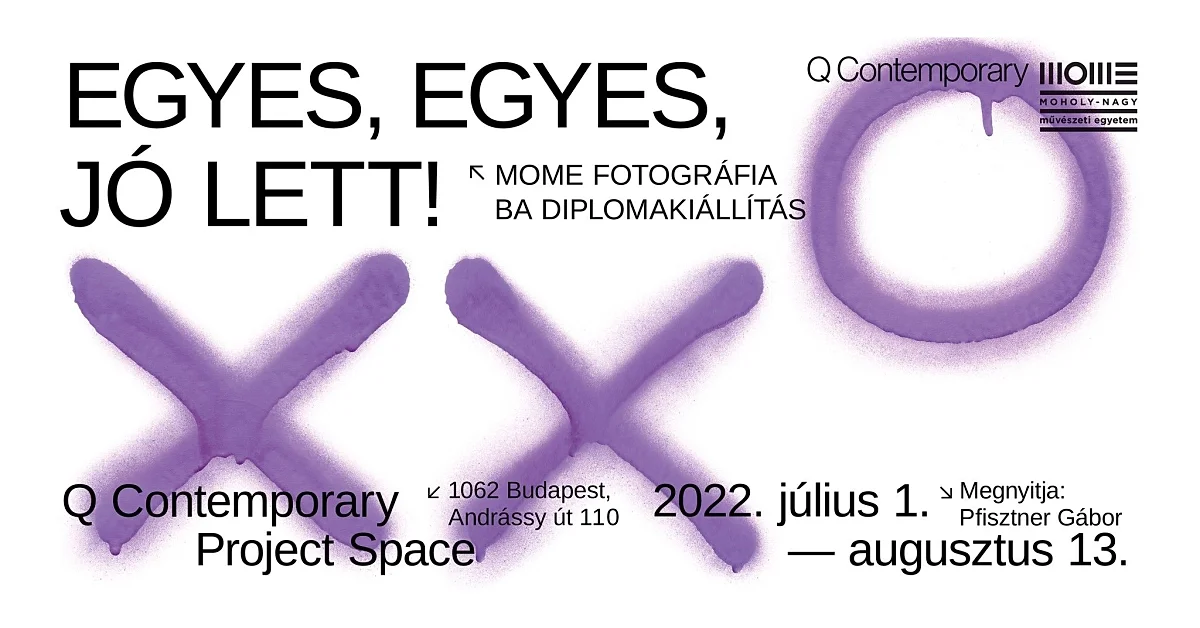 MOME Photography students' graduation exhibition at Q Contemporary Project Space.
The exhibition is not intended to represent the results of the last three years, but rather is an eclectic selection of extracts from the students' perspectives. Each project is diverse in its aesthetic and conceptual approach, and it would be pointless to find a connection along these lines. The focus is seemingly superfluous from the inside, but ultimately it shows some kind of a learning process, and this is a fragmented state of these processes. Whether the aim of this process is sequential self-therapy, exploration or some kind of experiment.

List of exhibitors:
• Ágoston Bényi
• Dániel Ferenczi
• Daniella Grinberg
• Maja Horváth
• Tamás Hadnagy
• Dóra Katona
• Barbara Krix
• Olivér Lantos
• András Pál
• Rebeka Pintér
• Ármin Silló
• Iringó Simon
• Márton Takács
• Ágnes Tar
• Emese Tóth

Opening speech: Gábor Pfisztner
The exhibition is open from Tuesday to Saturday from 12 to 6 pm.
Address: 1102 Budapest, Andrássy út 110.
Admission is free!
Event information
On view from: 2022. July 1. - 2022. August 13.
More events
In line with the established practice of international fashion schools and in sync with international fashion week calendars, the MOME FASHION SHOW returns under the professional tutelage of Ildikó Kele and Dóri Tomcsányi. The Fashion Show and Exhibition will feature a selection of diploma works by Textile Design BA and Fashion and Textile Design MA students.
The Budapest Design Week has been bringing together design professionals and enthusiast of the capital in mid-October for 20 years with exciting events. As part of these, Moholy-Nagy University of Art and Design once again presents a selection of diploma projects by freshly graduated MA students, this time downtown, off the University Campus.
A 5-day intensive course to help you learn the business basics and the design thinking methodologies to develop an initial Proof ofConcept (PoC)!