EGYES, EGYES, JÓ LETT!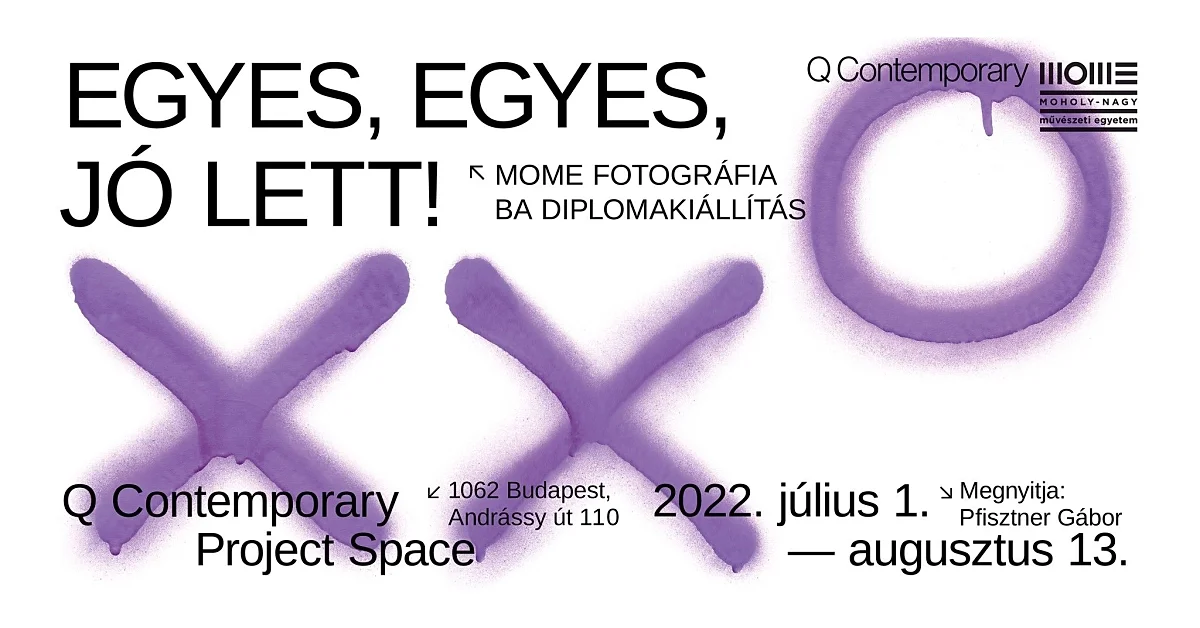 MOME Photography students' graduation exhibition at Q Contemporary Project Space.
The exhibition is not intended to represent the results of the last three years, but rather is an eclectic selection of extracts from the students' perspectives. Each project is diverse in its aesthetic and conceptual approach, and it would be pointless to find a connection along these lines. The focus is seemingly superfluous from the inside, but ultimately it shows some kind of a learning process, and this is a fragmented state of these processes. Whether the aim of this process is sequential self-therapy, exploration or some kind of experiment.

List of exhibitors:
• Ágoston Bényi
• Dániel Ferenczi
• Daniella Grinberg
• Maja Horváth
• Tamás Hadnagy
• Dóra Katona
• Barbara Krix
• Olivér Lantos
• András Pál
• Rebeka Pintér
• Ármin Silló
• Iringó Simon
• Márton Takács
• Ágnes Tar
• Emese Tóth

Opening speech: Gábor Pfisztner
The exhibition is open from Tuesday to Saturday from 12 to 6 pm.
Address: 1102 Budapest, Andrássy út 110.
Admission is free!
Event information
On view from: 2022. July 1. - 2022. August 13.
More events
At the end of March, Mirko Ilić, graphic designer and poster artist, will visit our university (MOME Budapest, Hungary) from New York.
The opening event of the master class of Margeaux Claude is a public lecture not only presenting her works, but also providing a glimpse into the possibilities of American art education and the Fulbright scholarship.
On Wednesday, March 22, from 17:00 to 19:00, Annabella Hevesi will talk about the adventures and challenges an emerging designer can face during product development - at home, as a woman. Since 2018, Annabella has been the lead designer of the Line and Round studio, and they worked with clients such as the Opera House, Sopron Basket and the Four Seasons Hotel.