Master School 1953-2023 I exhibition at FUGA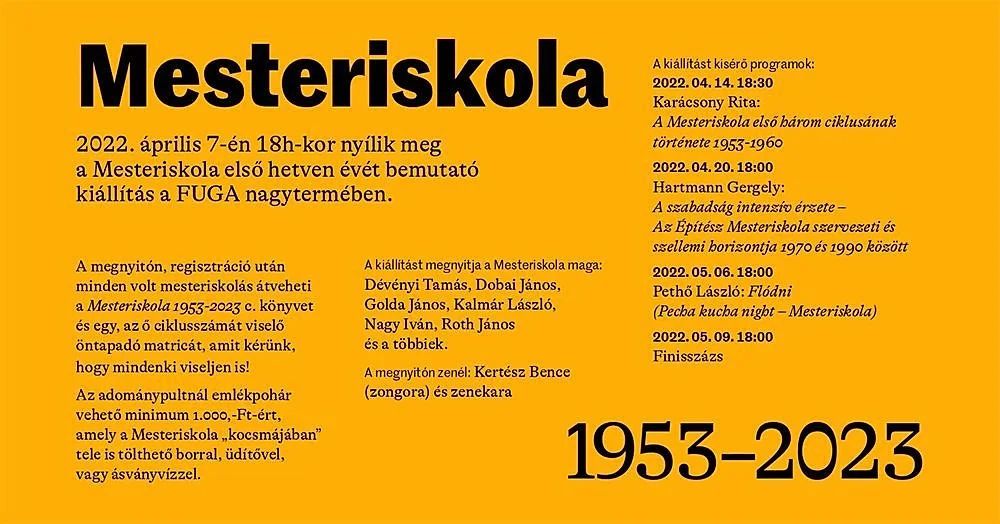 An exhibition introducing the first 70 years and presenting details about the past, present and future of the community of the Master School will open on 7 April 2022 at the great hall of FUGA.
The contextual exhibition documenting the first seventy years of the prestigious architecture postgraduate training, the Master School, will open on 7 April at 6:00 at FUGA. Several lecturers and masters teaching at MOME and its predecessor, the Academy of Applied Arts, including architects István Janáky and Péter Reimholz, have contributed to the working of the Master School.
The exhibition will be opened by the Master School itself, with
Tamás Dévényi, János Dobai, János Golda, László Kalmár, Iván Nagy, János Roth and others.
Music will be provided by Bence Kertész and his band.
More events
In line with the established practice of international fashion schools and in sync with international fashion week calendars, the MOME FASHION SHOW returns under the professional tutelage of Ildikó Kele and Dóri Tomcsányi. The Fashion Show and Exhibition will feature a selection of diploma works by Textile Design BA and Fashion and Textile Design MA students.
The Budapest Design Week has been bringing together design professionals and enthusiast of the capital in mid-October for 20 years with exciting events. As part of these, Moholy-Nagy University of Art and Design once again presents a selection of diploma projects by freshly graduated MA students, this time downtown, off the University Campus.
A 5-day intensive course to help you learn the business basics and the design thinking methodologies to develop an initial Proof ofConcept (PoC)!