Master School 1953-2023 I exhibition at FUGA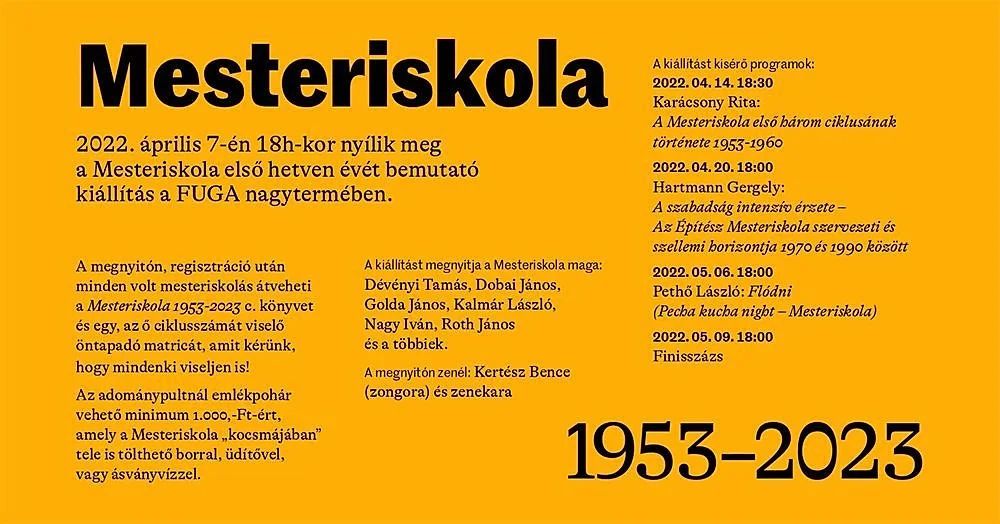 An exhibition introducing the first 70 years and presenting details about the past, present and future of the community of the Master School will open on 7 April 2022 at the great hall of FUGA.
The contextual exhibition documenting the first seventy years of the prestigious architecture postgraduate training, the Master School, will open on 7 April at 6:00 at FUGA. Several lecturers and masters teaching at MOME and its predecessor, the Academy of Applied Arts, including architects István Janáky and Péter Reimholz, have contributed to the working of the Master School.
The exhibition will be opened by the Master School itself, with
Tamás Dévényi, János Dobai, János Golda, László Kalmár, Iván Nagy, János Roth and others.
Music will be provided by Bence Kertész and his band.
More events
At the end of March, Mirko Ilić, graphic designer and poster artist, will visit our university (MOME Budapest, Hungary) from New York.
On Wednesday, March 22, from 17:00 to 19:00, Annabella Hevesi will talk about the adventures and challenges an emerging designer can face during product development - at home, as a woman. Since 2018, Annabella has been the lead designer of the Line and Round studio, and they worked with clients such as the Opera House, Sopron Basket and the Four Seasons Hotel.
Prominent figure of the contemporary Hungarian ceramics art, Mária Geszler will give a lecture at MOME on 22 March at 4 pm.