Moholy-Nagy University of Art and Design
International
MOME has been welcoming international students for over 30 years as part of the
European
Union's
Erasmus
Program
, and we are proud of our collaboration with nearly a hundred art and design universities worldwide. In 2022 September MOME also launched its first two full-time
English-language
master's
degree
programmes
to be followed by more. The growth of our international student body remains a key focus of our future goals since the presence of international students plays a key role in shaping our diverse community and culture.
ENG MA
We offer a wide range of courses in a variety of art and design subjects. Learn more about your chosen subject, find the perfect course and pursue your passion!
Regional Mobility Scholarship
MOME provides tuition fee support to foreign students who are accepted to international programs, come from a specific geographical region, and qualify for the support based on their professional accomplishments.
International Cooperations
Other study options
See the course listing below and find the perfect course at the right level and follow your passion at MOME.
As a non-degree student you can study here one or two semesters. One may study in English at all levels (MA,BA) in all areas, as Media Design, Animation, Graphic Design, Photography
Product & Industrial Design, Textile Design, Metalwork & Jewellery Design, Architecture, Theoretical Studies etc.
As an Erasmus+ student, you can study here for one or two semesters, in English language, at both BA and MA levels in all areas, such as: Media Design, Animation, Graphic Design, Photography, Product Design, Architecture, Theoretical Studies etc.
A MOME kötelességének érzi a háború elől menekülők melletti kiállást, és szolidaritást vállal az ukrán akadémiai közösséggel.
/
MOME вважає за свій обов'язок стати на захист тих, хто рятується від війни, і проявити солідарність з українською академічною спільнотою.
Student Service Centre and Registrar's Office (TIK) - International Office
Address
1121 Budapest, Zugligeti út 9-25.
Opening hours
Monday, Wednesday: 9:30-11:30, 13:00-15:00
Friday: 9:00-11:30, 12:30-14:00
English MA programmes
admission@mome.hu,
+36 30 080 0447
Erasmus incoming students
erasmus@mome.hu
+36 20 661 9155
Our Campus
Our university campus has become an open campus in dialogue with its physical and intellectual environment.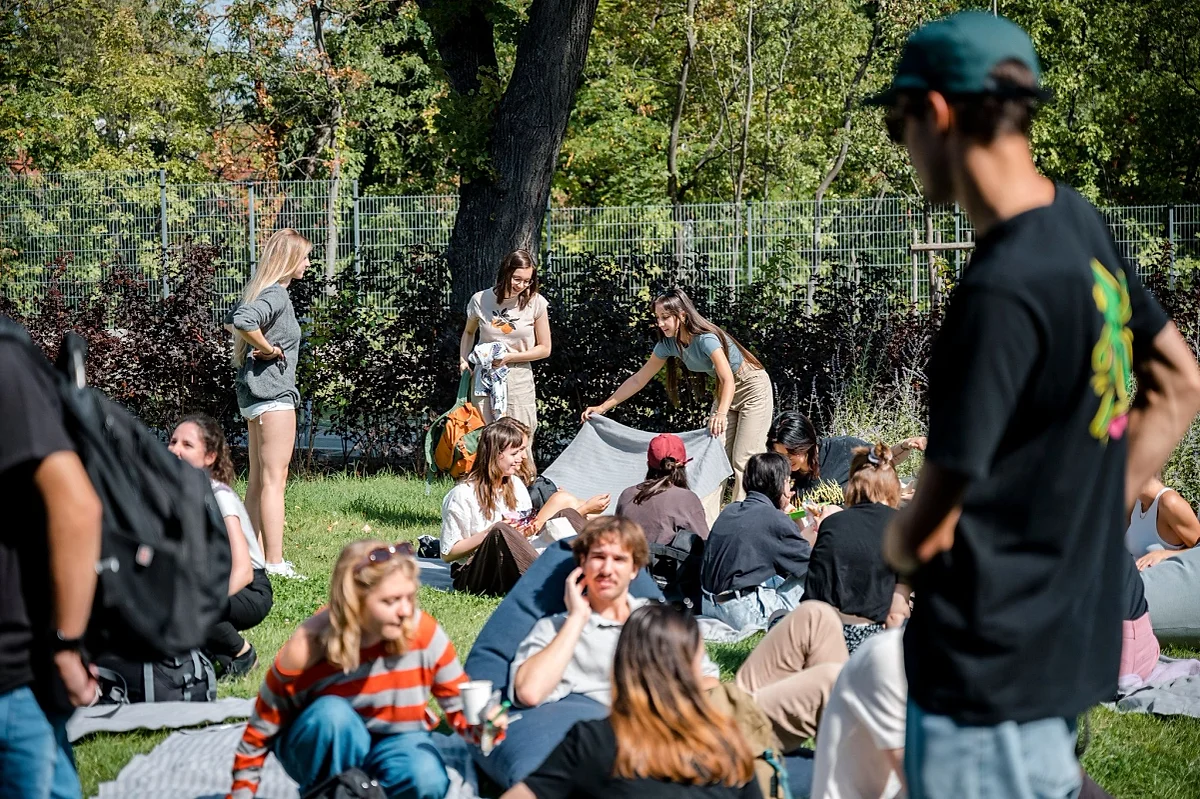 Hírek
Világunk minden szegletét áthatja a design, benne a funkcionalitás és az esztétikai élvezet olykor ellentétes értékei találkoznak, középpontjában pedig az eleven emberi test, a szóma áll - ennek összefüggéseiről gondolkodik a nemrég megjelent Somaesthetics and Design Culture című, számos, a MOME közössége számára ismerős szerző írását közreadó kötet, melyet Veres Bálint a MOME Doktori Iskola DLA programjának vezetője és Richard Shusterman, a Florida Atlantic University professzora, világhírű esztéta-filozófus közösen szerkesztett.
Hatékonyabbá teszi a kommunikációt, jobb döntéshozatali módszerekhez és eredményekhez vezet, és számos területen lendítheti előre a vállalkozásokat:csak néhány érv, amely az adatvizualizáció mélyebb megismerése mellett szól, amelyre mindazoknak lehetősége lesz, akik részt vesznek a MOME OPEN Summer University nyári kurzusán.
Buda Flóra Anna 27 című animációs filmje nyerte el a legjobb rövidfilmnek járó Arany Pálmát a 76. Cannes-i Nemzetközi Filmfesztiválon, a filmet a magyar közönség a június 1-én indult Friss Hús Fesztiválon láthatja