Moholy-Nagy University of Art and Design
Mercedes x MOME
MOME and Mercedes-Benz celebrate the 20th anniversary of their successful collaboration.
"Legendary cars are characterized by two fundamental characteristics:
outstanding
technology
and
fascinating
,
timeless
design
." – Gorden Wagener
"When I first came here 20 years ago, everything was much smaller", said Gordon Wagener in his opening speech at the Mobility Design Lab in June 2022. This is true. Both MOME and the vehicle design programme have come a long way in the last two decades. The cooperation was a great opportunity not only for the young students, but also for Mercedes-Benz, as Prof. h.c. Peter Pfeiffer,
the brand's head of design at the time, said. "Our main goal is to support universities and students around the world, as well as industry links.
Naturally, it is also in our own interest to contribute to the training of young people for Mercedes Design. We welcomed young designers as collaborators in our design department."
"We are intensifying our digital transformation, using new emerging technologies. The university's launching several Master's programmes in English language, which means we can attract top and most capable prospective product designers in the region or even in the world."



András Húnfalvi, teacher of MOME's Vehicle Design programme
"We are seeking to broaden the spectrum and reach students who enjoy exploring the subject of mobility. Today, there's no such thing as 'just car', the buzzword of the moment is micromobility."

Dániel Ruppert, teacher of MOME's Vehicle Design programme
"In times like these, you are lucky to have reliable partners and good friends – open-minded people who value exchange and enjoy creative discourse. That's what I value so much about our long-standing association with MOME: we inspire each other and continue to develop together."

Gorden Wagener, Chief Design Officer Mercedes-Benz Group AG
"When going to Budapest, we are always happy to see lots of very interesting – and sometimes quite crazy – ideas, including including cool artwork, excellent data models and some really amazing visualizations and animations."

Thomas Saeltze, Design Manager at Mercedes-Benz
"As a designer, you get inspired by the work of other creative people. Of course, it takes a lot of time to discuss all the different ideas with students for example, but it's always very inspiring for both sides. And sometimes there is a chance to even hire some of them and they become a member of our team."

Robert Lešnik, Head of Exterior Design at Mercedes-Benz
2001
The first contact between DaimlerChrysler and MOME takes place.
2002
Alongside Harard Leschke, Head of Mercedes-Benz Commercial Vehicles (Vans and Trucks) Gerhard Honer also becomes involved in the programme.
2003
The large-scale exhibition 'The Magic of Design' at the Museum of Applied Arts showcases the designs and models of several students.

2004
The university awards Senior Vice President of Mercedes-Benz Design Peter Pfeiffer the title of Professor Emeritus.

2008
Gorden Wagener becomes head of design at Mercedes-Benz and also takes over the management of the collaboration with the university.
2010
Gorden Wagener is awarded the title of Professor Emeritus by the University Senate.
2011
The exhibition 'Hommage á Mercedes-Benz' also features MOME students in Stuttgart, where nine designs, including a life-size model, are presented.
2012
To celebrate the anniversary of the collaboration, an exhibition entitled '10 years into the future' opens at the Palace of Arts in Budapest.
2014
In addition to the latest Mercedes-Benz models, Design Week Budapest 2014 also showcases five concepts developed in collaboration with MOME design students.
2015
The MOME-Mercedes-Benz cooperation is presented in Transylvania as part of the Design Week in Sfântu Gheorghe.
2017
MOME and Mercedes-Benz celebrate 15 years of collaboration at the Museum of Applied Arts.
2019
A spectacular and successful presentation is given at the Balassi Institute in Stuttgart by students from the MOME's Design department.
2019
The new MOME campus opens, including a dedicated workshop for the Vehicle Design programme.
2021
The Stefan Lengyel Scholarship of Excellence is established.
2022
Gorden Wagener opens the MOME Mobility Design Lab.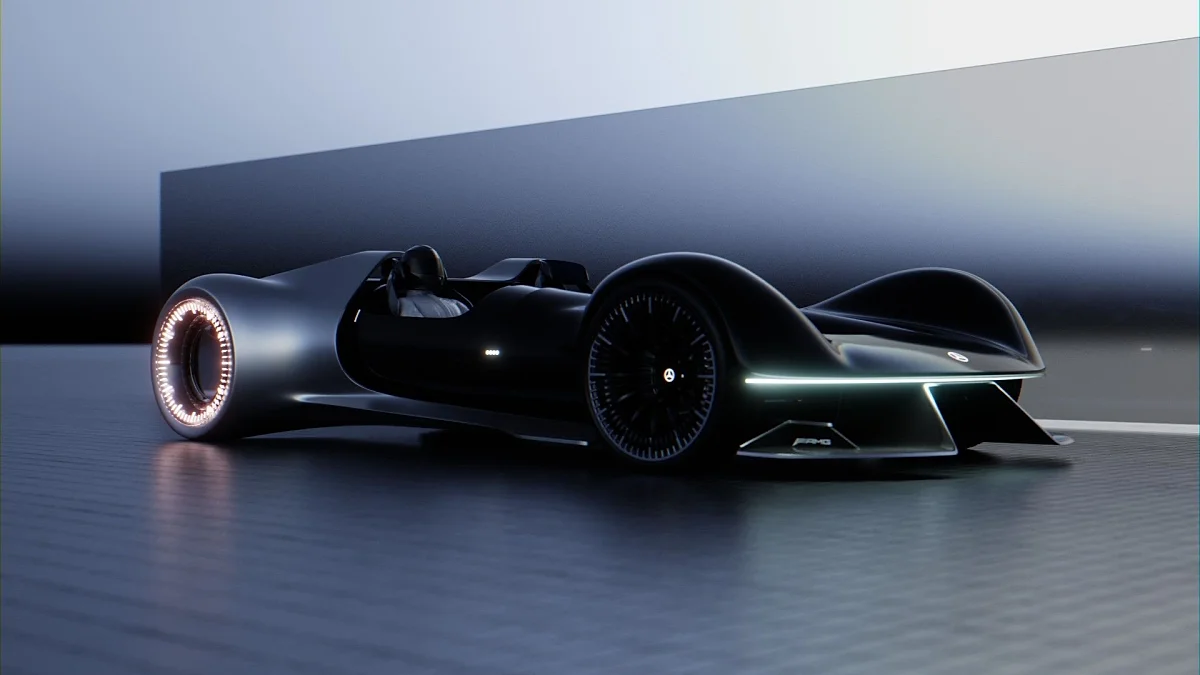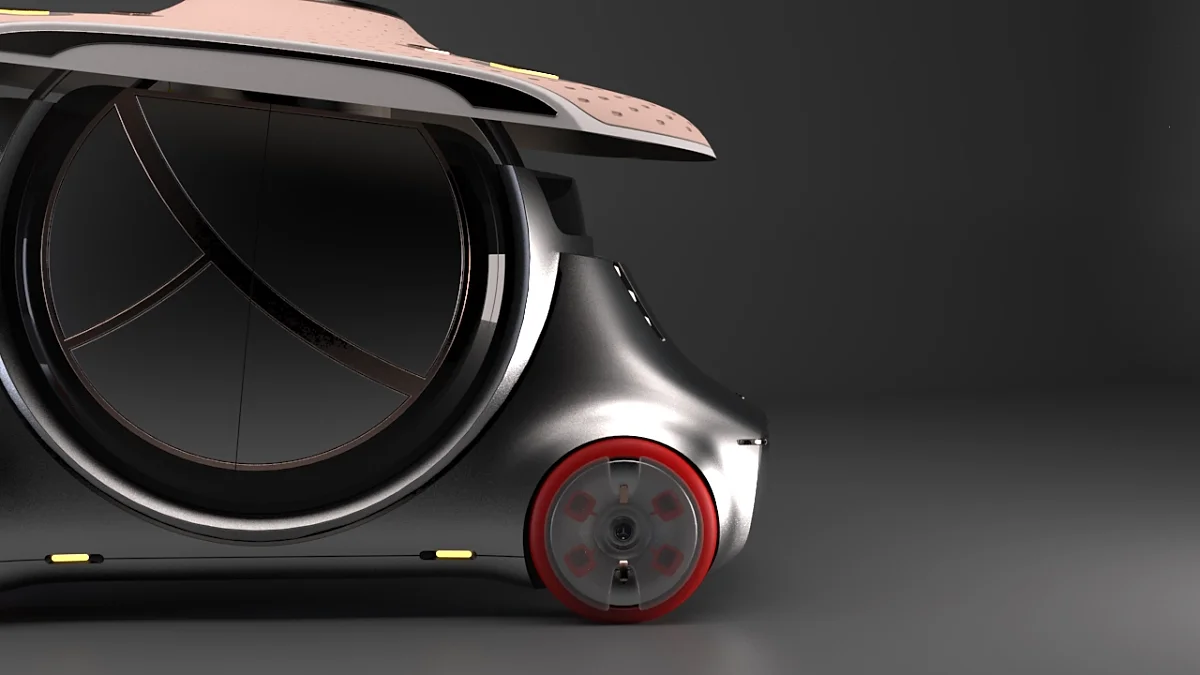 Student projects
Young vehicle designers and their projects under professional guidance from Mercedes-Benz
After extensive research, Máté Bendegúz Asztalos envisioned the Mercedes-Benz taxi of the near future: a self-driving eVTOL (electric vertical take-off and landing) aircraft that can easily travel between skyscrapers as a service for vertically sprawling megacities.
For the Mercedes-Benz call, Bálint Elek pictured a Mad Max-like dystopia from 2039. This is a world where rapid, destructive climate change is making more and more places uninhabitable, while at the same time creating new business opportunities, especially in Africa.
Marcell Nagy, who graduated from MOME in 2019, had plans to take the AMG brand in new directions, and in fact he inadvertently beat Mercedes engineers to the punch.
Publication
Vehicle design from clay models to virtual reality: both MOME and the vehicle design programme have come a long way in the last two decades.

In our publication available online, we showcase the milestones of our partnership over the past 20 years including recent year's outstanding student projects, as well as legendary vehicle designers and the recipe for iconic car designs.
Exhibition
Our exhibition showcased the milestones of MOME and Mercedes-Benz's journey together and the works of former students – now acclaimed vehicle designers – as you moved through the emblematic spaces of the university. The outstanding design concepts of recent years were displayed both in the form of physical models and digitally, in augmented reality, illustrating how the most advanced technologies are shaping the future of vehicle design.
News
Index visited the newly opened innovative vehicle design workshop of the Moholy-Nagy University of Art and Design, where young talents have been trained in close cooperation with the lead designers of Mercedes-Benz for 20 years, and things are picking up speed.
Vehicle design powerhouse opening at MOME
This year marks the 20th anniversary of the collaboration between Mercedes-Benz and the Moholy-Nagy University of Art and Design (MOME), to be celebrated by the university with a grand series of events. The graduation ceremony in July will feature chief design officer of the luxury brand Gorden Wagener, who will deliver a speech, as well as inaugurate the Mobility Design Lab, the university's new designer workshop exploring the future of transportation, together with the President of MOME Foundation.